So you're telling me…the Vancouver Canucks are first place in the National Hockey League?
Am I dreaming, or did we jump in a time machine back to 2011?
After their dominating win over a woeful Columbus Blue Jackets team last night, the Canucks jumped division rival Anaheim Ducks, and found themselves at the top spot in the NHL for the moment. They are tied with the Ducks and the Montreal Canadians for most points overall, but have two more wins than Anaheim and have played fewer games than Montreal.
It is hard to fathom the Canucks have sustained their success throughout the first quarter of the season, especially after the disastrous season under the tutelage one-year wonder John Tortorella.
This isn't the same Canucks team that took a nose dive into the bottom of the Western Conference in the second half of last season. While there are reasons to be skeptical about the Canucks early success, here are a couple of reasons why this team has earned the right to be considered as one of the better teams in hockey so far.
Rolling Four Lines
This is one the most notable reasons why the Canucks are off to a great start last year, and also why this team is the polar opposite of the team Tortorella coached last season.
The Canucks weren't off to a bad start last season either, although at the same point last year, game 23, the Canucks were amid a five game losing streak and had a record of 11-10-2. That was their first losing streak of five or more straight games, and there were two more that followed after that on route to a forgettable season.
One of the main reasons why the Canucks couldn't build off of their decent start last year is because Tortorella was running his top players into the ground. This wasn't only his fault, as he could only work with the roster that former General Manager Mike Gillis presented him with. However new General Manager Jim Benning said right away that he wanted to ice a team that could roll four lines.
Their depth was evident last night against the Blue Jackets. The top three lines all contributed on the score-sheet, while fourth line played over ten minutes and had a positive impact for the Canucks on the game.
The Canucks have solid chemistry developing for at least three of their four lines. Radim Vrbata has fit in seamlessly with The Sedin twins, Nick Bonino has found chemistry with wingers Chris Higgins and Alex Burrows, while rookie Bo Horvat has been a pleasant surprise centering Derek Dorsett and Jannik Hansen.
The bottom six on the Canucks has played meaningful minutes so far this season. Of all the Canucks forwards, only Derek Dorsett and Bo Horvat have averaged less than 12 minutes per game. Even those two are watching their ice time climb as the bottom six forwards are proving to Willie Desjardins that they can contribute both offensively and defensively to the team.
Miller is getting it done
While his numbers don't necessarily jump off of the screen, Ryan Miller has been successful so far in the Canucks crease, improving to an astonishing 15-3 this season. He registered 15 wins in all of his 40 games with the Buffalo Sabres last season.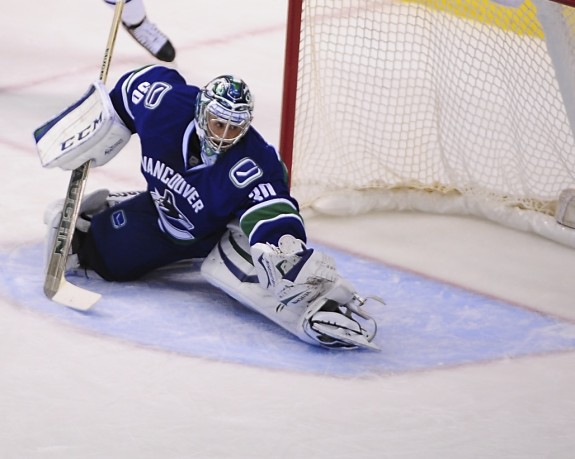 This can be credited to strong play by the Canucks defence as well. They ranked eighth overall in the league in team Fenwick, at 52%. To put that into perspective, Miller's former team, the Sabres, finished with a team Fenwick percentage of 43.1% last season.
The Canucks have also improved on their defensive play, led by the likes of Alexander Edler. After finishing with a league worst -39 last season, he has rebounded this year and looks much more like the number one defencemen the Canucks project him as.
Not to take anything away from Miller, who has to be given some credit for his outstanding record to start the season. There was a rocky stretch where he gave up 16 goals in four games, but he has rebounded to record a shutout in two straight games. There is hope that he can keep up his performance. His career save percentage is .915, and after last night's win over Columbus his save percentage on the season is at .914.
Take this success with a grain of salt
While it's great that Canucks fans are able to enjoy their teams surprising yet stellar start to the season, there is still a long ways to go.
Despite Ryan Miller's early season success, he won't to keep up a 5-1 win ratio throughout the rest of the season. His winning percentage right now sits at 83%. Last year's Vezina trophy winner Tuukka Rask had a winning percentage of 63%. When Miller won the Vezina back in 2009-10, his winning percentage sat at 62%.
The Canucks have also been relatively lucky on the injury front. Top six forwards Alex Burrows and Radim Vrbata have missed minimal time with injuries, and the Canucks are just dealing with their first major injury of the season to defencemen Dan Hamhuis. So far, Luca Sbisa has played well while stepping into a top four role. It waits to be seen if that can continue, considering that Hamhuis is likely out long-term.
There are other areas where the Canucks have lacked success, such as on the Powerplay and in the face-off circle. They are in the bottom half of the league for both of those categories. Nonetheless they should be credited for their hot start to this season, and everyone is contributing to the line-up in some form.
For the record, the Canucks were fifth in the Pacific Division last year, a spot where they never left for the rest of the season.
KPU Journalism Graduate. Trevor has been writing for The Hockey Writers since October 2014. He has contributed articles related to the Ottawa Senators, Vancouver Canucks, and other issues/stories regarding the game of hockey. Trevor currently lives in White Rock, B.C.