The Boston Bruins scored their third straight victory over the Chicago Black Hawks last night with a 4-3 win right in Chicago Stadium.  In the other two National Hockey League games, Toronto and Detroit battled to a 1-1 tie in Detroit, while Montreal won their second straight by handling the New York Rangers 5-2.
Prentice bags winner
At Chicago Dean Prentice's early third period game-winning goal capped a comeback from a 3-1 deficit for the Bruins against the Black Hawks.  Murray Oliver, Johnny Bucyk and Leo Boivin scored the other Boston markers.  Bobby Hull netted his 16th and 17th goals of the season for Chicago.  Chico Maki had the other.  Hull had an amazing 14 shots at Bruin goaltender Ed Johnston during the game.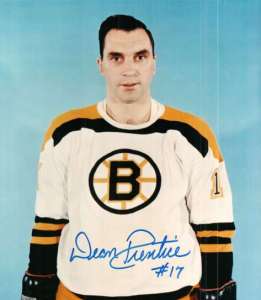 Aside from their three wins over Chicago, Boston has won only two other games so far this season.
Goalkeepers duel in Detroit
At the Olympia Stadium in Detroit, the Leafs survived an early onslaught by the Red Wings, thanks largely to some stellar netminding by Terry Sawchuk.  The former Detroit keeper stopped 15 of 16 shots directed his way, keeping Toronto in the game.   Floyd Smith, who counted on a power play, was the only Red Wing able to beat him.
Sawchuk's replacement in the Detroit goal, rookie Roger Crozier, was no less spectacular, matching Sawchuk save for save.  Both goalies ended up with 30 stops on the night.  George Armstong drew Toronto even late in the second session on a nice set up by Eddie Shack, who had several great chances himself.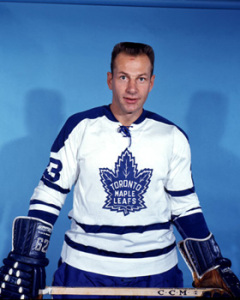 Toronto coach Punch Imlach, who was thoroughly disgusted with his team's dismal performance on Saturday, gushed over their play last night.  "That was about our best game in our last six or eight games.  It was just about 100 per cent improvement over the one last night at home.  We skated tonight, we had to, and I got more speed with new lines."
"Shack, Armstrong and Bathgate went all right together and so did Kelly with Pulford and Stewart.  Keon, Ellis and McKenney were going too.  That Sawchuk was good in goal."
Gordie Howe of the Red Wings drew an assist on Smith's goal, giving him an even 1,300 for his career.
Quick start carries Canadiens
The Montreal Canadiens scored twice in the first four mintues of the game and cruised the rest of the way in their 5-2 win over New York.  Jean Beliveau and rookie Yvan Cournoyer had the early goals, which definitely set the tone in this one.  Rangers' Rod Gilbert brought the home side to within one, but Dave Balon came right back to beat Ranger netminder Jacques Plante to give Canadiens a 3-1 lead.  Vic Hadflield had a late first period goal to make it 3-2, but that would be all she wrote for the New Yorkers.
Jim Roberts scored the only goal of the second period for the Habs, and Ralph Backstrom did likewise in the final frame.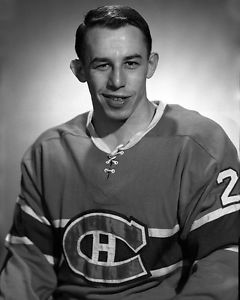 Montreal out shot New York 34-20 on the night. Henri Richard had his second straight solid game for Montreal. While he didn't find the range in this one, he did earn an assist on Balon's goal.
Coach Toe Blake was quick to point out the fine work by Richard up front, as well as Jacques Laperriere and Terry Harper on defence.  However, there was another player he felt deserved special recognition:
"But you have to give Jim Roberts the first star of the game."  Blake had shifted Roberts to right wing on a line with Backstrom and John Ferguson, and that resulted in the great goal by Roberts in the 18th minute of the second.
AHL: Bisons edge Reds, Amerks sting Hornets
The two American Hockey League games saw Buffalo stage a late come back to get by the Providence Reds 4-3, while the Rochester Americans had no trouble with the Pittsburgh Hornets, blasting them 5-2.
Pat Hannigan scored a pair of goals for Buffalo, including the winner in overtime.  Hannigan's  line mates Ray Cullen and Art Stratton took care of the rest of the Buffalo scoring.  Pierre Brillant, Serge Boudreault and Ed MacQueen connected for the Reds.  It was Buffalo's second straight road win this weekend.  Denis DeJordy, still replacing injured Ed Chadwick in goal for Buffalo, had another strong game, making 39 saves.  Ross Brooks played well in a losing cause for the Reds, stopping 34 Bison drives.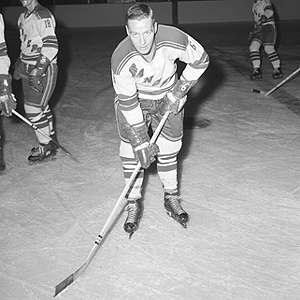 Rochester marksmen against the Hornets were Wally Boyer, Dick Gamble, Peter Stemkowski, Red Armstrong and Les Duff.  Yves Locas and player-coach Vic Stasiuk replied for Pittsburgh.