It's only been four games, but what a 'four games' for the 3-0-1 Montreal Canadiens… especially from the perspective of the offense. With 16 goals already, the team is pretty much firing on all cylinders, including some cylinders you wouldn't necessarily expect.
They may fall well short of the perfect 9-0 record they earned to begin last season, but everyone's off to at least a decent start this one. Some are even off to the best statistical starts of their careers.
Here are the six Habs who fall into that category:
Shea Weber (1G, 3A)
It's still way too early to declare the P.K. Subban trade a success, but it's worked out well so far (for both teams). Subban has two goals and an assist in his first four games as a Nashville Predator, while Shea Weber has been lights-out offensively for the Habs as well, with a team-leading four points in those four games so far.
You could make a case that Weber has had better starts in his career, but through four games what's the closest he's come to matching the success he's had in 2016-17? He managed two goals and one assist in both 2014-15 and 2008-09. He's also started three other seasons with three assists each.
So, he could be picking up right where left off in Nashville, which can only bode well for the Habs (and general manager Marc Bergevin and head coach Michel Therrien).

David Desharnais (2G, 2A)
This might be a mild surprise, considering David Desharnais started last season on fire, playing on a line with Tomas Fleischmann and Dale Weise. In his first 13 games of 2015-16, he scored 12 points (three goals). However, he managed just one goal and one assist through the first four games.
Furthermore, back in 2011-12? When he scored a career-high 60 points? He had just two goals and one assist in the first four games. So, Desharnais has always had the potential to be a primary offensive contributor. It's just that the team as a whole seems to suffer when he does, whether it's a coincidence or not.
While a solid season from Desharnais wouldn't necessarily be a bad thing, if he's still among the team leaders in scoring by the end, it could be a sign that things haven't exactly gone according to plan. Everyone wants Desharnais to succeed… but on the third line, not the first (unless you're maybe Therrien).
Jeff Petry (2G, 2A)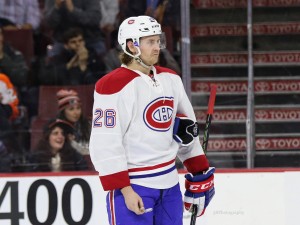 Another defenseman sharing the team lead in points, Jeff Petry's four (two goals) are arguably more impressive than Weber's, having come in just three games. Injured for the season-opening win over the Buffalo Sabres, Petry showed little to no rust with two points against the Ottawa Senators his first time out.
Always projected as a puck-moving defenseman, Petry was unable to gain much traction in that role with the Edmonton Oilers. He scored a career-high 25 points back in 2011-12, but only two of those were goals. He's already matched that total.
Needless to say, the career-high seven he notched in 2013-14 (17 points) should be easy to reach if he keeps up his stellar play.
Nathan Beaulieu (0G, 2A)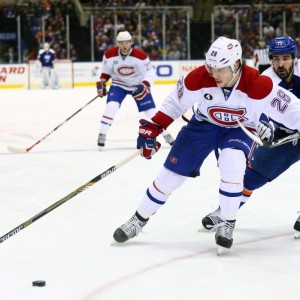 Technically, defenseman Nathan Beaulieu has only matched the two assists he scored in his first four games back in the lockout-shortened 2012-13. However, even if he scored those two in his first three games (going pointless in the fourth), this season's start gets an edge for a variety of reasons, or, more accurately, circumstances.
For starters, those four games back in 2012-13? They were the first of his career and he only played seven total that season at the very end between March 30 and April 15 (he ended up with just the two assists, total). So, the outlook for this season is much better, especially since it started alongside Weber on the top pairing.
Things don't get much better than that. Even if Beaulieu's success in the offense zone has been limited so far as a Hab, it can only go up from here.
Philip Danault (0G, 2A)
Not shockingly, Philip Danault's two points in his first four games (first two games technically… he hasn't registered a point since the shootout loss to the Senators) are a personal best. He only played two games total back in 2014-15 with the Chicago Blackhawks and managed 10 points overall in 2015-16 (with Chicago and Montreal).
He'll likely never become a top-six forward and seems entrenched on the fourth line. So, to a certain extent, this has more to do with luck than anything else. Still, as a forward who's strong defensively and seems to have endeared himself to Therrien, being able to chip in the odd point should only be seen as a good thing.
---
Complete Canadiens Coverage From THW
---
Al Montoya (2-0-1, .962 save percentage)
Backup Al Montoya is no stranger to great starts. In fact, the first game of his career was a shutout with the then-Phoenix Coyotes. He also technically started 2010-11 at 3-0 over his first four appearances (instead of his current 2-0-1 record).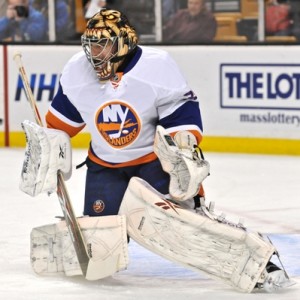 However, in terms of save percentage, the .962 save percentage he's rocking right now is tops through his first three appearances.
In 2010-11, he had a .953 (in four games, but a 3-0 record). In his first three decisions of 2011-12 (2-1), he earned the exact same number. Finally, last season, he started off with a .941 (2-0-1).
If there's one thing Montoya has taught fans, it's that he won't necessarily be able to keep up the pace, and that's acknowledging that even the most elite goalie will have a tough time maintaining a save percentage upwards of .940 over an entire season. For the record, his career average is .911 and the best of his career was .921 in 2010-11, which corresponds to one of the seasons listed above. However, so does 2011-12, in which he ended with a .893 save percentage, 3.10 goals-against average and a 9-11-5 record.
(Recent) history tells us the same thing, with Mike Condon getting off to a similarly hot start last season as a rookie before plummeting back down to earth with the rest of the team once Carey Price suffered his season-long injury and Brendan Gallagher was put on the shelf. If there's one good sign at least, it's that, even through a perfect 4-0 start last season, Condon managed a save percentage of "only" .942.
So, even though some might interpret it as Montoya having a steeper fall, his experience might be able to keep up at least some semblance of this impressive early-season performance. As long as Price is healthy and he's stuck riding the pine for the majority of the season, anything's possible. As last season proved, that's also key to keeping up the team's great start too.