Still San Jose's MVP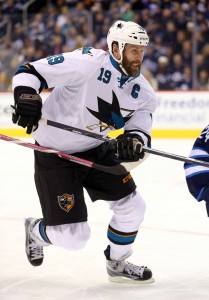 It is quite nice when the player you write about in connection with the Hart Trophy for league MVP carries his team to victory that night. So I owe Joe Thornton a Christmas present for that one. In all seriousness though, the Sharks No. 1 center controlled the game late, skating basically every other shift as he set up the game tying goal by Marc-Edouard Vlasic with just over 20 seconds remaining.
"He makes plays like that all night long" commented Vlasic on Thornton's game-tying pass.
"Their line in general, the whole game they were all over them" recalled Andrew Desjardins who opened the scoring in the second period.
"I think they do a great job every night" added Brent Burns, who tallied the game-winner in overtime. "When you're counted on offensively, the other teams can shut you down, makes it a little harder on those guys. They prove night in and night out that they get the job done."
"He [Thornton] was very good tonight, did a lot of things away from the puck that were important for our team too" noted head coach Todd McLellan. "We always talk about Jumbo offensively, obviously he made the pass to Vlasic but he did some good things away from the puck and won us some big face-offs as well."
Hard to say if stealing the puck off one of the game's best defenseman in Alex Pietrangelo is a play away from the puck or with the puck, but that one stood out in particular. It looked like the Blues had an easy breakout ahead of them until Thornton used that long reach of his to lift Pietrangelo's stick and take the puck away. It led to another scoring opportunity, one of seemingly dozens in the game created by No. 19 in teal. In the final half of the third period the Sharks were basically riding their top two lines every other shift. The fourth line didn't take one step on the ice and the third line was used sparingly with the Sharks pressing for a late tying goal. Thornton set up Pavelski for a number of looks that Blues netminder Jake Allen had to be at his best to stop. San Jose peppered the St. Louis goaltender with 28 of their 30 shots through the final two periods and overtime.
On the night Thornton won 62% of his draws and his 21:08 TOI was his highest since Oct. 23. When the Sharks needed to lean on him Saturday night, they did, and he came through, something he does quite a bit if you don't believe in the Sharks choking narrative. His tying assist tonight was brilliant, a clutch primary assist, something he has done better than just about anybody in league history.
Per @EliasSports, as we showed during the game, Thornton's 94 primary assists on game-winning goals is tied-5th most all-time.

— Darin Stephens (@SharksStats) December 14, 2014
Fifth most, let that sink in, fifth most  of all time. Fifth.
Yeah, that No. 19 guy, he's pretty good.