The New York Riveters have a lot of work to do in the upcoming season to rebound from last season's 4-12-2 showing and they took the first step towards that when they inked restricted free agents Morgan Fritz-Ward and Madison Packer on April 6. These two were both assistant captains in the Riveters' inaugural season and are obviously part of the foundation that the team wants to build upon; both were named to the NWHL's first All-Star game also.
Fritz-Ward is tenacious on the puck in all zones, has a motor that never stops running, and is a player that the Rivs can rely on in all situations. Packer's skills are balanced across the board and as the team's GM/coach Chad Wiseman said in a release: "She's someone we will rely on to help the young players make the transition from college to professional hockey."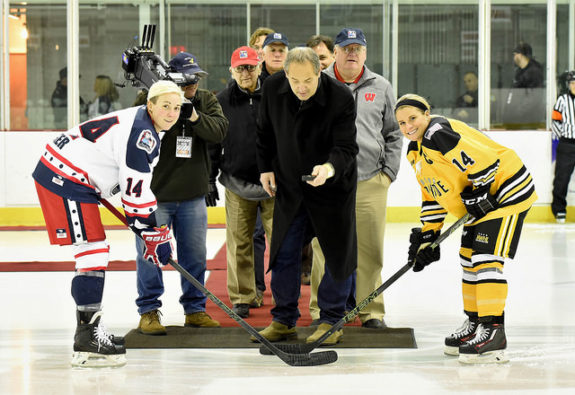 Here are three other players The Hockey Writers thinks the Riveters should be looking to bring back during the NWHL restricted free agency period (April 1-30):
Celeste Brown
Like Fritz-Ward, Brown is a player that plays a three-zone game and often will match-up against the other team's best players as we saw often last season. If you saw any of her matches against Hilary Knight of the Boston Pride – every shift was a battle – which is more of what the Riveters will need in their uphill climb to catch up with the other three teams. She finished the regular season with just four assists, before finally potting her first goal during the playoffs; you can bet she'll be hangry for that first regular season marker once the second season gets underway. Unfortunately Brown can't be cloned (that we know of) so here are two other necessary building blocks.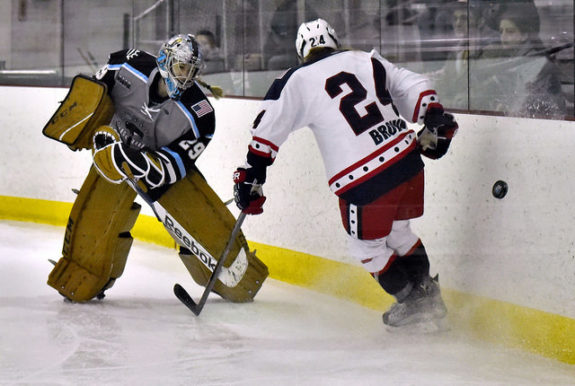 Bray Ketchum
Ketchum was the team's leading goal scorer, netting ten goals and 14 points while playing in every game for New York; half of those goals came via the power play which tied Kelley Steadman of the Buffalo Beauts for the most in the NWHL and her 60 shots on goal were also a team-high. The Rivs will need goals to keep pace with the Knight's, Stack's and Duggan's in the league and they already have a solid, local (Greenwich, Connecticut) product that is a proven commodity – and a fan favorite.
Ketchum ties the game with a snipe on a penalty shot:
#NWHL Bray Ketchum (@bdk27) ties the game for the @NYRiveters on a penalty shot. pic.twitter.com/lUflrxJCY4

— NWHL Gifs (@nwhlgifs) February 21, 2016
Kiira Dosdall
The end of the season really saw Dosdall excel and not just defensively – her seven points (1g-6a) tied captain Ashley Johnston for the team lead among blueliners. We saw frequent flashes of breath-taking brilliance from the 28-year-old on the power play and in the shootout as well, opening up the possibilities for what she is truly capable of if she finds a comfort zone, continues to evolve as its PP quarterback and a home on the Riveters back end. Her height (5'9") also makes her an asset to help protect the crease and block shots in the defensive zone and penalty kill.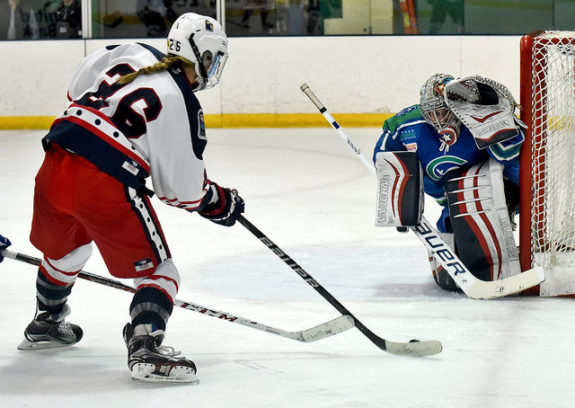 There will likely be others that are brought back that deserve a second go 'round with the Rivs such as Johnston, Gabie Figueroa and Janine Weber to name a few, but there may also be some new faces too, obviously, with the possibility of adding their 2015 draft picks like a trio of Boston College Eagles – Alex Carpenter, Haley Skarupa and Dana Trivigno. The NWHL unrestricted free agent period starts May 1 and runs through July 31.
Dan Rice is in his 9th year of reporting for THW & has covered NJ Devils home games for 15+ years at various websites. He began his journey working for legendary broadcaster/writer Stan Fischler from 2002-04 & completed an internship at the ECHL; he also has been writing features for the NWHL (nwhl.zone) website since 2016.