Celeste Brown had a memorable four years in college where she not only racked up 70 career points (42g-28a) and helped RIT (Rochester Institute of Technology) win the Division III National Championship as a freshman — she had three points in the third period of the final game — in addition to being named to the All-CHA Academic team there times. Last season, her second season as the Tigers captain, Brown helped lead her RIT to its first NCAA tournament bid as a division I school. Now, in the inaugural season of the NWHL, the 23-year-old is making even more memories as she is one of the trailblazers that is paving the way and inspiring all of the younger women out there that they too, can live out their dreams.
Every player, every person, has their own path that they took to get to where they are today, and Brown is no different. A native of Great Falls, Montana, she fell in love with the game as a young girl and eventually that passion pushed her to go to boarding school across the country as a teenager for the love of the game. Hard as it is being away from her family, she still gets to go home once or twice a year, unless they make the cross-country trek to come see one of her games. This first season with the New York Riveters has had its ups and downs, but through it all Brown has been one of the team's most consistent players week after week.
She's still hungry and chasing that elusive first NWHL goal (once it comes, a bunch more will follow; stay tuned in the playoffs), but she has chipped in four assists through 15 games and been a valuable member of the hard-working, grinding Riveters that is setting the foundation for the franchise's future. Like most of her teammates she has a day job too, and that also involves hockey (which is never a bad thing) as you'll read about down below.
Following the Riveters most recent match against the Boston Pride Celeste Brown was nice enough to give The Hockey Writers a few minutes of her time before rejoining her teammates for an autograph session for all fans in attendance. Even after a tough loss, her infectious smile was still gleaming, she was still excited to talk about our great sport, and it was evident that she truly loves the game of hockey.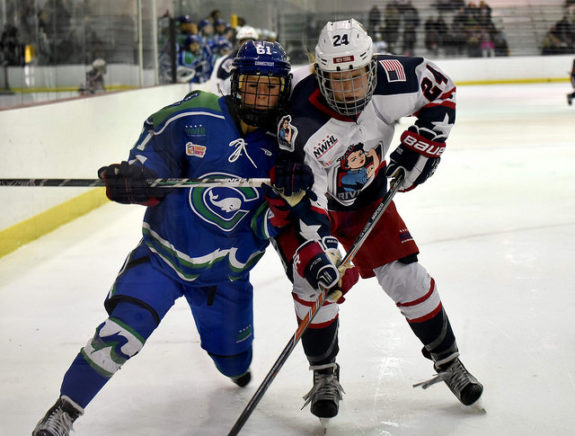 The Hockey Writers: Your team battled hard but came up short tonight; what's the biggest challenge playing against this Boston team?
Celeste Brown: Boston's a great team and they're battling for the top spot right now; they have a lot of talent, a lot of skill. They had a couple of surges against us and got some goals, but I think we need to capitalize on our power play (NY was 1-for-8) and build some momentum off of that. The score was 6-1, but we were with them; we're getting better everyday.
THW: The arena here in Brooklyn was packed tonight…
CB: Yeah, we have great fans. I think this Saturday night game is kind of helping us out. We're really lucky. We have some great fans here in New York; I'm hoping that it keeps going and rolls with us next weekend.
THW: You're originally from Montana, and went to school in New York State (RIT); what's been the biggest challenge living in New York City being a professional athlete and having a day job?
CB: That's the biggest challenge for our team, I think compared to other teams almost everyone here works. We only have a few girls that don't have full time jobs. It's sometimes tough coming to the rink at eight o'clock at night, being here for off-ice (practice) and then on-ice until midnight. It doesn't slow us down. We don't complain. It's just an obstacle that we have to overcome and I think — it actually makes us stronger. It helps us in those third periods when we're tired, we're used to it and we just have to battle through that; it helps.
JAP-AN outta here! @NYRiveters take on ramen and sushi ! pic.twitter.com/BN7hkpnRXU

— Celeste Brown (@celestebrown8) December 14, 2015
THW: So what is your day job?
CB: My second job I work at Lasker Rink up in north Central Park. There are two outdoor rinks, I'm an equipment manager and I coach young girls.
THW: In December your team had a unique trip to Japan, what was something that was memorable about the trip for you?
CB: The most memorable thing about Japan? (smiles) All of it! It was such a great team-bonding experience. That was really the first time we were all together for an extended period of time, I think it was our first actual road trip. It was a lot of fun. Just hanging out and talking with the girls at our meals and at the airports. It was all fun.
Yesterday had practice followed by a meal at Japanese hotel.. Simple meal but lots of plate #tryeverythingonce pic.twitter.com/x6CHMzsCDx

— Celeste Brown (@celestebrown8) December 16, 2015
THW: Obviously there are no professional hockey or otherwise teams in Montana, how did you get into the sport?
CB: So I got into the sport because we have a Junior team in our town that my dad and I would go watch. I got rollerblades for like my fifth birthday, and he asked me if I wanted to sign up (to play) and I was like 'yeah, sure'; the rest is history. Growing up I didn't watch a lot of NHL or the Olympics or anything — I just looked up to the guys on the ice (back home), so I guess I had a role model there.
THW: Do you have a favorite player now that you like to watch, male or female?
CB: I like (Jaromir) Jagr. He's sick (grins); he's in his 40's and still destroying the league.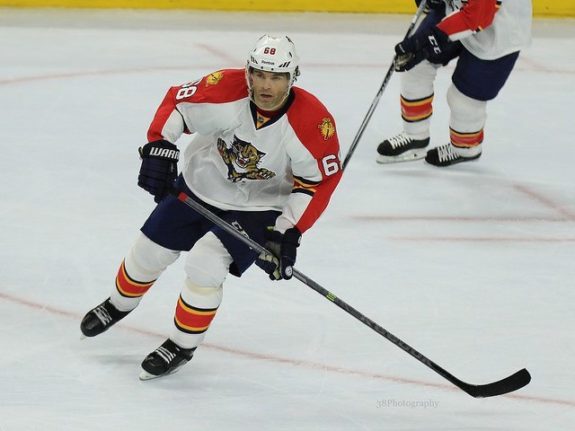 THW: After every home game you and your teammates sign autographs for all of the fans in attendance. What's the strangest thing that someone has asked you to sign?
CB: We signed a sneaker at one session (smiling), the girl took her brand new sneaker off and brought it through (the autograph) line. It was kind of fun.
THW: An NHL player once told us he was asked to sign his name on a person's body part; has that happened to you yet?
CB: Uh, I don't think so (smiles). Not yet! But I would not doubt it; it might happen.
THW: You play once a week, how do you prepare for a game? What did you do today leading up to tonight's game?
CB: Leading up I try to prepare my meals. I'm very particular about when I like to eat my meals and I like to eat on a schedule. I tell everyone I'm with or my roommate: I'm eating at this time. But that's really it. I get my coffee, come to the rink and just settle in, get into the zone and that's about it. I used to listen to music, but not anymore. I'm not really superstitious or anything, I just kind of chill and get ready. I'm pretty easy going.
THW: You're a professional athlete, who gets paid, to play hockey. If we told you a year ago at this time that you'd be doing this now, what would you're reaction be?
CB: Well it didn't exist, so I would've said something like: I hope it happens. And it did! I'm very fortunate, all of us are very fortunate. It's an honor to be in this league. It hasn't really sunk in at all. (smiles) When I'm leaving my job and I come here, and they say: Oh, you're going to your other job! I say, I guess I am, I get paid. It's really for the love of the game, getting paid is just like the icing on top.
Celeste Brown can be found on Twitter: @celestebrown8
Dan Rice can be reached via Twitter: @DRdiabloTHW or via Email: drdiablo321@yahoo.com. 
Dan Rice is in his 9th year of reporting for THW & has covered NJ Devils home games for 15+ years at various websites. He began his journey working for legendary broadcaster/writer Stan Fischler from 2002-04 & completed an internship at the ECHL; he also has been writing features for the NWHL (nwhl.zone) website since 2016.