Jim Neveau, Blackhawks Correspondent
When people discuss the Chicago Blackhawks, inevitably certain topics will always talk about.
The first thing will likely be about their remarkable resurgence. There will be talk about the Winter Classic, the change in ownership, Pat Foley returning to the booth, but the two most important pieces in the renaissance of Chicago hockey are two 20-year-old young men: Jonathan Toews and Patrick Kane.
The craziest thing about these guys isn't how young they are, or that they are arguably the two best players on the hockey team. The craziest thing about them is that they don't seem to be fazed at all by the swirl of attention that has surrounded them since they arrived in Chicago.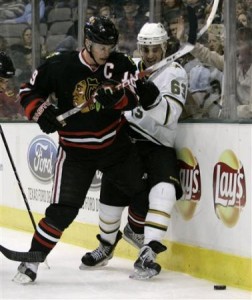 Jonathan Toews played a season at University of North Dakota, where he had been a college star, before he came to Chicago to start the 2007-08 season. He quickly made his impact, scoring a goal against Colorado in his fourth game that has been replayed ad nauseum in Chicago.
Patrick Kane, the no. 1 overall pick in the 2007 Entry Draft, came in with expectations that were far higher than his 5′ 9″ frame would indicate. He came out of Buffalo, NY and his performance with the London Knights earned him acclaim throughout the league as a future star.
With all of these expectations in mind, the duo of youngsters has not disappointed. Toews has 58 goals and 65 assists in his first two seasons, and he also missed 18 games last season so who knows how much better the stats could have been with those included. He also became the youngest captain in Blackhawks history at the age of 20 at the beginning of this season.
Kane has had great statistical success as well, scoring 46 goals in his first two years and tacking on 96 assists. He also showed that he can live up to the hype that comes with being the number one pick in the draft, handling his fame and celebrity with a mixture of coolness and youthful exuberance.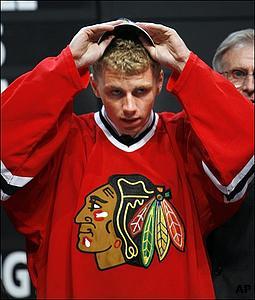 These two players have undoubtedly both had a great positive impact on the franchise in Chicago. They have drawn fans to the United Center (43 regular season sellouts in a row and counting), and they have become commercial icons in the city.
The real question we need to ponder, however, as these two get their first taste of Stanley Cup Playoff hockey, is which one of these guys will have the longer lasting impact on the city, the team, and the NHL as a whole? Sure, both are exciting and have good statistical marks for their first two years, but truly, which one of these guys will be considered greater? Who will be the bigger star?
Category One: Offensive Skill
Winner: Even

Kane seems to be a more adept passer than Toews, but Jonathan has shown a propensity to score power play goals (as evidenced by his three power play goal hat trick against Pittsburgh in February) and his presence in front of the goal also wreaks havoc.
Kane moves better with the puck, and he also is able to evade more checks with his smaller stature. Toews is also great on face-offs (which you have to be to be considered an elite center) and he also digs into corners for loose pucks in the offensive zone better than virtually any forward on the team.
This category has to be considered a wash, with Toews' scoring more goals in 16 fewer games, and Kane notching considerably more assists. Toews' face-off prowess and Kane's speed also cancel out in terms of creating plays for their teams.
Category 2: Defensive Skill
Advantage: Toews
Here is how the two players' stat lines break down defensively after two years in the league:
Toews: 39 blocked shots, 83 takeaways, 70 hits, +23
Kane: 16 blocked shots, 72 takeaways, 35 hits, -7
Listed above are the key defensive categories that have been taken into account in giving the advantage in this category to Toews. He shows a clear propensity for blocking shots, which helps keep the goalie from having to fight off every shot, and also enables possible breaks the other way.
Takeaways look extremely close, but when you consider Kane had a 20 takeaway advantage going into this season, it becomes a little less close. The 2008-09 season provided a swing of 31 takeaways in favor of Toews.
Toews also got double the hits of Kane, which shouldn't surprise anyone given how different their games truly are. The most telling stat of all, however, is plus/minus.
A +30 advantage over two seasons, especially considering how often the two young men played on the same line, is huge in terms of Toews being the better defensive player. Kane may be just as good at creating turnovers and opportunities for the Hawks that way, but Toews is clearly better at doing the intangibles like blocking shots and hitting guys in the corners that translates into that +30 advantage.
Category 3: Marketability
Advantage: Kane
Yes, I know, Toews and Kane have appeared in several ads together, and they both seem to have that certain aura about them (I call it youthful exuberance). I just think that Kane is slightly more marketable, simply because he strikes me more as having a more "matinee idol" look, and he also appeals more to the women in my life according to an informal poll conducted today.
Writer's Note: Jim's man-card has been revoked for a period of one week because of his talking about Kane's "matinee idol" looks.
Category 4: Intangibles
Advantage: Toews
There is a one-word answer as to why Toews wins this category: leadership. Anybody who can get voted the captain of one of the most storied franchises in the history of the game at the age of 20, then he is definitely worth his salt.
Kane may have the edge in speed, but Toews more than makes up for that with his intensity, willingness to take the fight to the other team, and he takes that "C" on his chest very seriously.
Toews also has the bigger body type that is required to be somebody not easily forced off the puck, and he takes full advantage of his size, especially when near the crease. Clear advantage here to Toews.
And the Winner Is…………….
Jonathan Toews wins this battle of the young Chicago stars. While Kane has some fantastic potential to be a great offensive force, scoring 30-35 goals a year and dishing out 65-70 assists, Toews will be the better all-around player.
He fits the Jarome Iginla type of player more. He is a scorer who can also play physical, and his leadership abilities often come out in the most difficult situations. Toews can take over a game, and if he can continue to show that intensity and clutch performance, he will most certainly be the face of the Hawks for years to come.
James started out for The Hockey Writers covering the Atlanta Thrashers in 2009, and has also covered the Chicago Blackhawks, served as NHL Correspondent, and is now a Managing Editor and the site's NHL Central Blogger. He also writes for The Golf Writers.