When hockey fans talk elite goaltenders, the obvious choice is Carey Price – and rightfully so. After that, it is a bit of a tossup, but a few of the goaltenders mentioned in particular are Henrik Lundqvist, Pekka Rinne, and Tuukka Rask. Even guys like Corey Crawford and Jonathan Quick are thrown into the mix due to their multiple Stanley Cup rings. All of these goaltenders are very good, yet being a member of the 'elite' category requires ridiculous numbers all across the board. Initially, I was going to write an article explaining why I thought Braden Holtby was an elite goaltender, but found it more fun (and interesting) to look at all of the numbers of some of the best netminders in hockey.
Below, I will include numbers I have calculated on a spreadsheet. I took 12 of arguably the best goalies in the league and lined up their stats. One will be last year's stats and the other two will their stats over the past three regular seasons and postseasons.
Regular Season Comparisons
First, we will look at their regular season numbers. This includes basic stats such as wins, losses, save percentage, and goals against. It will also include more in-depth numbers, such as even-strength save percentage and quality start percentage. I like looking at even-strength save percentage as a better indicator of how good a goalie is. A goaltender does not have much control over how the four guys play in front of him on the penalty kill. A bad penalty-killing team is more often than not the players fault, not the goalie's. Even-strength save percentage gives a better look at a goalie's performance when all things are considered "equal".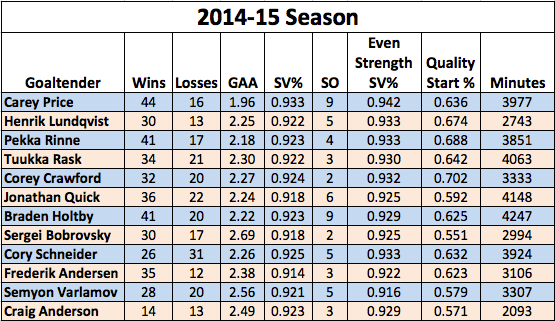 Next, we have the last three regular seasons: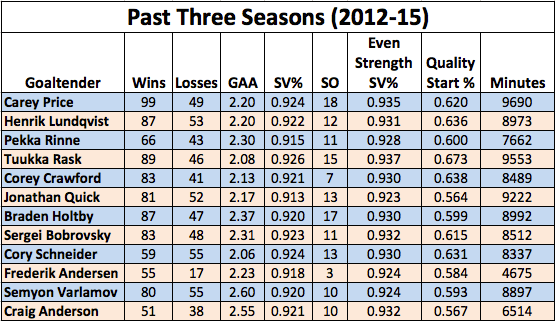 Postseason Comparisons
And lastly, a look at their postseason numbers over the past three seasons. This group of stats is a little harder to evaluate, due to some goalies play for much better overall teams (i.e. Lundqvist, Crawford). Still, I think it is always a good idea to look at their postseason performances as well.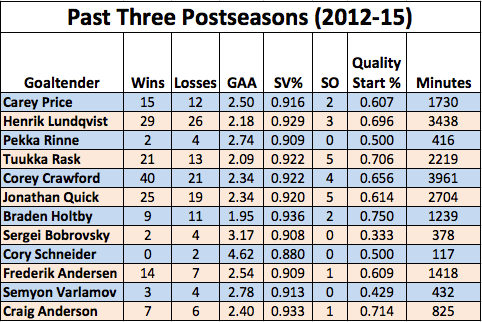 With all of the numbers and stats listed above, I have ranked the Top 10 goalies in the NHL. Here they are:
#10 – Semyon Varlamov (Colorado Avalanche)
Varlamov has quietly put together an impressive career with both the Washington Capitals and Colorado Avalanche during his seven-year career. While his career SV% is only at .918, he has posted his best numbers in that category in the past two seasons. In a strange twist, Varlamov had his 2nd worst season in even-strength SV% this past season at .916, but boasted a .942 SV% while shorthanded – easily the best in the NHL. He doesn't turn 28 until next April and should have many more productive seasons ahead of him.
#9 – Sergei Bobrovsky (Columbus Blue Jackets)
After winning the Vezina back in 2012-13, Bobrovsky's numbers have slowly fallen off over the past two seasons. During that Vezina-winning, lockout-shortened season though, he was absolutely dominant with a 2.00 GAA and .932 SV%, including a .942 SV% during even-strength. Since then, his numbers have digressed to much more average numbers. The Blue Jackets should be pretty good this season and Bob is entering his age-27 season. This is his chance to prove to us he still is the real deal.
#8 – Jonathan Quick (Los Angeles Kings)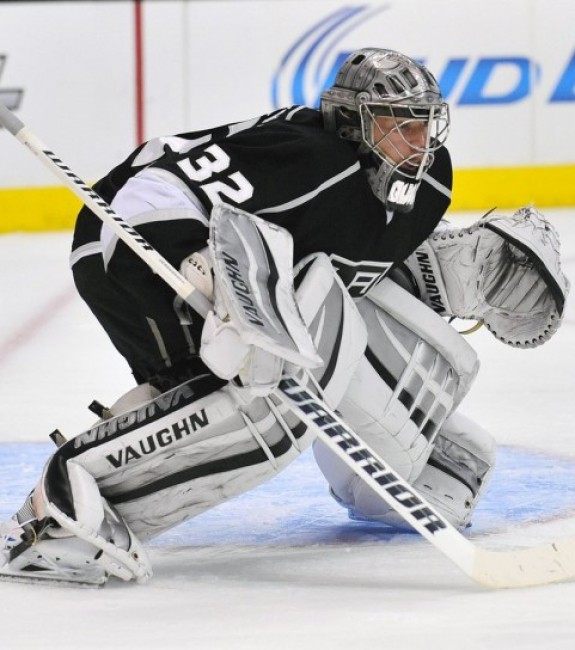 Back in 2011-12, there was not a goalie who had a better season than Jonathan Quick (except maybe Lundqvist, who won the Vezina that season). But Quick, after a dominant showing during the regular season (1.95 GAA, .929 SV%), went onto post even gaudier numbers on his way to a Stanley Cup (1.41 GAA, .946 SV%). After that postseason, many considered him the best in the game. Yet over the past three seasons, he has relatively average numbers; even when the Kings won the Stanley Cup again in 2014. Quick can certainly be elite – he just has not been lately.
#7 – Cory Schneider (New Jersey Devils)
While playing for one of the lesser teams in the Eastern Conference the past two seasons, Schneider has gone onto impress many after signing an estimated 7-year, $42 million extension with New Jersey back in the summer of 2014. His numbers have been fantastic all across the board, except in the postseason where the Devils have not made a trip since he has joined. Meanwhile, Schneider has some of the best numbers amongst goalies in the NHL. His 2.06 GAA and .924 SV% are in an elite group over the past three seasons. Hopefully (and I don't foresee this happening), New Jersey can put together a solid season in front of Schneider to show off how good he really is.
#6 – Pekka Rinne (Nashville Predators)
Just four seasons ago, Rinne could have been considered the best goalie in the game. Coming off of Top 3 Vezina Trophy finishes in 2010-11 and 2011-12, the Finnish netminder was an elite goalie in the NHL. Just like some of the other goalies I have mentioned earlier, his numbers have been on the slow decline over the past three seasons. Unfortunately for Rinne, injuries have hampered his production. But just last season, he returned to form – going 41-17 with a 2.18 GAA and .923 SV%. The Predators were a much improved team and Rinne's performance a lot to do with it. If he remains healthy, he should be a candidate for the Vezina once again this upcoming season. The Predators should continue their success and keep intact their strong defensive core.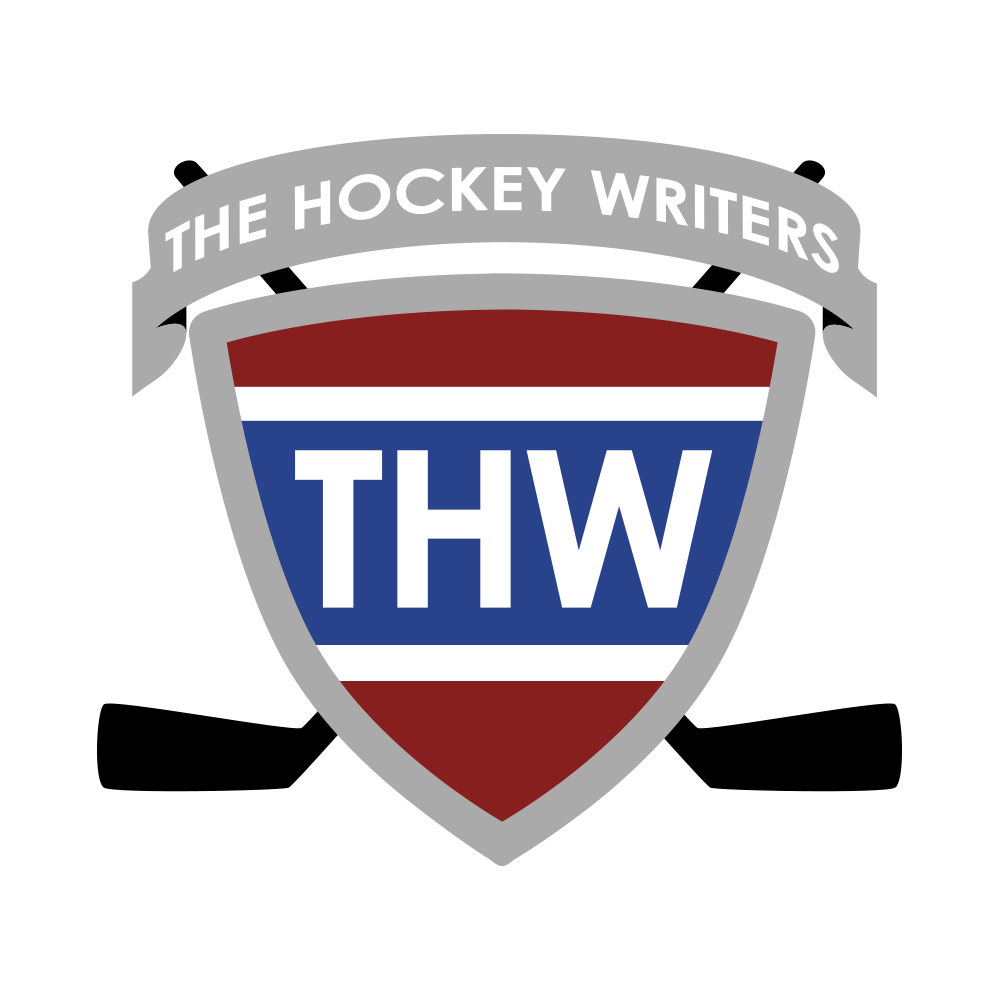 The Hockey Writers is:
1) A top-tier hockey media company delivering a top-notch, in-depth look at the NHL
2) A collective of some of the best hockey writers anywhere
3) A multimedia provider with daily podcasts and YouTube shows
4) Well-respected and widely-cited NHL prospect and draft resource