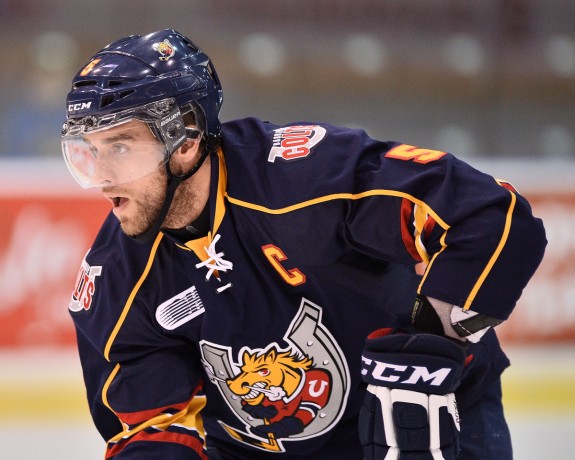 Believe it or not, the 2014 NHL Draft is only four months away.  Philadelphia, Pennsylvania will host this year's ceremony and there are some pretty big names from all around the world looking to be a top pick at this year's draft.  One league that is heads and shoulders above the rest this year is the Ontario Hockey League (OHL).  They seem to have a slew of promising talent this season that likely won't disappoint.  Here is a look at the top 10 OHL draft prospects for the 2014 NHL Entry Draft:
1. Aaron Ekblad – Defense – Barrie Colts
Hands down, Aaron Ekblad is the best player in the draft in my personal opinion.  It's more difficult to find a #1 defenseman than it is a top-line forward.  Furthermore, #1 defensemen hold much greater weight on an NHL team.  Ekblad has shown tremendous skill this season in the OHL and in international competition.  A force to be reckoned with on the back-end, Ekblad is a very strong, fluid skater who is poised with the puck on his stick.  He can carry the play up the ice, as well as get back on defense to break up a play.  His hockey sense is tops in this year's draft and can create scoring chances with a solid break-out pass.  For my money, he's the best the player this year's draft has to offer.

2. Sam Bennett – Forward – Kingston Frontenacs
Riding a 24-game point streak prior to going down with injury, Bennett is one of the most gifted forwards in the OHL.  Ranked 1st by Central Scouting, Bennett possesses a natural ability to put the puck in the net. While the Frontenacs have experienced highs and lows throughout the season, Bennett has been a steady scorer.  With a laser of a wrister, Bennett's shot is one of his biggest assets.  He has nifty hands that can get him out of trouble and his ability to process the game at top speed puts him above the rest of the OHL. While his defensive game isn't all there, he has shown improvement on the back-check.  If his play continues, Bennett will likely be a top 3 pick.

3. Michael Dal Colle – Forward – Oshawa Generals
I'm on the Dal Colle bandwagon. Since he stepped into the league he's proven his worth as a highly touted prospect. Dal Colle has become a jack-of-all-trades, master-of-none in regards to his offensive prowess. He's become a special blend of shooting, passing, vision, and awareness all mixed into one. A rangy, lanky forward, Dal Colle will need to build up some muscle for his 6'2", 170 lbs. frame, but ultimately he's a top-tier prospect.

4. Roland McKeown – Defense – Kingston Frontenacs
If you draft a player like Roland McKeown, you're not selecting him for his shutdown defense. Rather, his offensive play has set him apart from the majority of OHL defenseman. A smooth, quick skater, Roland is capable of making a great outlet pass, or controlling the puck from the defensive zone to the attacking zone, McKeown is another reason the Frontenacs are the highest scoring team in the Eastern Division. What he lacks on the defensive side of the puck, he makes up for it on offense.  Don't be shocked to see two Frontenacs go in the Top 5 if someone is in need of an offensive defenseman.

5. Nick Ritchie – Forward – Peterborough Petes
Not quite unlike his brother Brett (drafted by Dallas), Nick Ritchie is a power forward with deceptively quick skating. A force in front of the net, Ritchie boasts a 6'3", 236 lbs. frame and is tough to knock off the puck. If he puts all of his tools together, he's a force to be reckoned with. Not afraid to throw the body to make a big play, Ritchie has boatloads of potential and could become a more offensive, physically-gifted James van Riemsdyk.
6. Jared McCann – Forward – Sault St. Marie Greyhounds
McCann is a versatile forward capable of playing center or wing. He won't wow scouts, but many will take notice to his two-way play, grit, and puck possession. I've always gravitated to players who play equally well on both sides of the puck.  McCann has above-average hands and shot coupled with a tireless work ethic. The only knock on him may be his size and strength, but with some conditioning that shouldn't be a problem.
7. Brendan Perlini – Forward – Niagara IceDogs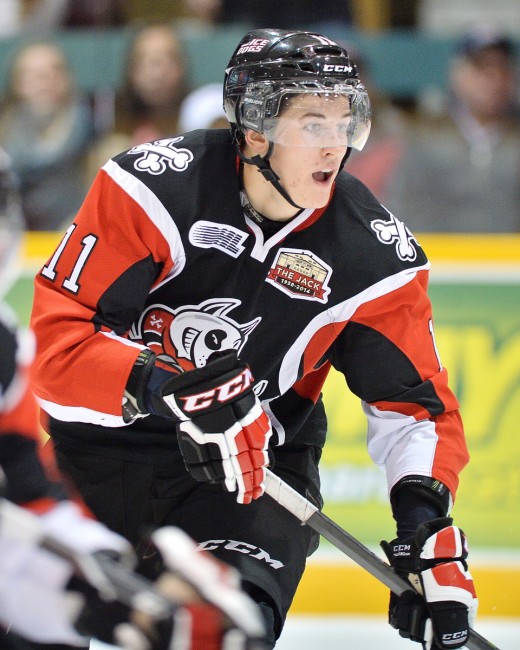 If you've seen Perlini play, the first thing you will notice is his acceleration and agility for a 6'2" center. An uncanny ability to deke in tight spaces, Perlini has cooled down a bit since the beginning of the season, but he's continually shown he can play with the best of them. Like Ritchie, he's difficult to separate when the puck is on his stick.  Thanks to his long reach, he's also an effective poke-checker. Perlini is still quite lanky with not much weight on his bones, so that's an aspect that he needs to build on to be able to succeed at the NHL level.
8. Nikolai Goldobin – Forward – Sarnia Sting
Like many Russian players, Goldobin has some issues in consistency and effort every shift. However, after watching the Top Prospects Game I came away very impressed with his overall skill and offensive instincts. He is a slick puck-handler similar to that of former Sting forwards Nail Yakupov and Alex Galchenyuk. Goldobin needs to develop more aspects of his game, but on offensive potential alone, he's arguably one of the most exciting players to watch.
9. Josh Ho-Sang – Forward – Windsor Spitfires
Ho-Sang has really come into his own this season with the Spits. Last year (and parts of this year), he had a tendency of holding on to the puck a little too long causing turnovers. Now, he's been able to slow his game down and still show great poise with the puck on his stick. He's an elite-level scorer, but Ho-Sang is still a bit rough around the edges. Some defensive aspects of his game need to be worked on and he's still a raw prospect. He played well during the Top Prospects Game, but some may argue he stood out because of his line mates than what he was actually able to do. I'd argue that to a degree because Josh has been able to score at a great pace despite the Spits being mediocre, at best.

10. Eric Cornel – Forward – Peterborough Petes
Another Peterborough Petes standout is playmaker, Eric Cornel. Another tall, lanky forward, Cornel has fantastic vision all around the ice. He can thread a pass through many defenders and his hockey IQ is top notch. Over the last two months, Cornel has scored 28 points in 22 games and has stood out as a model of consistency throughout January and February. With 53 points scored in 58 games this season, Cornel has definitely found his offensive stride in the OHL after only recording 16 points in 63 games last year, but that doesn't mean that the forward's two-way play should be ignored as he is an adept defensive forward also. Look for him to be a possible 1st round selection come draft day.
Follow Shawn Reznik on Twitter: @ShawnTHW