No, you won't find New York Rangers defenseman Ryan McDonagh on this list of the top former Montreal Canadiens the Habs might want back.
Granted, the Canadiens probably rue the day they traded his rights away for Scott Gomez just like many people are having signed up for website Ashley Madison these days. But, much like that last line, including him on this list would be way too easy.
He's a 6'1", 213-pound, all-star-caliber left-handed defenseman, of which the Canadiens are in dire need, with Andrei Markov probably on his last contract… and legs.
So, to make things a little tougher, why not limit our options to players the Habs actually had under contract once upon a time (McDonagh signed his entry-level deal after being traded)? Here are the top five:
5. Jiri Sekac
You absolutely know Devante Smith-Pelly has been a minor disappointment at the very least when many Habs fans still lament the loss of Jiri Sekac, despite the latter having been scratched regularly by the Anaheim Ducks last postseason.
Now, Sekac wasn't exactly a game-breaking talent in Montreal, with just 16 points in 50 games as a Hab last season. The fact remains the Habs gave up skill (and potential) in exchange for size and hitting ability, and, in today's quick-paced, possession-driven NHL, it might not have been the best idea, especially considering Montreal failed to score a whole lot during the playoffs (and in general).
Sekac obviously did as well (seven games and zero points), but he's on this list more so because of what he represents than his actual accomplishments. That's in part because he's still only 23 years old and Montreal, after signing him just last offseason, arguably gave up on him too soon.
https://www.youtube.com/watch?v=KtoQCncCcPw
He takes the No. 5 spot, meanwhile, because Smith-Pelly is only 23 as well and he can still turn this thing around, himself. He has proven to be a scorer at lower levels (and during the 2013-14 playoffs when he notched five goals), and he admittedly did have one more goal and three more points than Sekac this past spring.
Smith-Pelly may yet get Habs fans to forget all about his predecessor.
4. Yannick Weber
No, he isn't the most physical defenseman out there. Yes, he still scored 11 goals and 21 points for the Vancouver Canucks last season. Five of those goals came on the power play, the same amount as teammate Henrik Sedin. P.K. Subban meanwhile led man-advantage-mishandling Montreal with eight.
So, considering Montreal's 5.5% power play this past spring and his cost-effective $1.5-million contract, it would be foolhardy to argue Weber wouldn't be of use to the Habs now. Almost as foolhardy as letting him walk for nothing by not qualifying him few years ago—hindsight admittedly being 20/20 and all.
3. Francois Beauchemin
Francois Beauchemin should at the very least serve as a cautionary tale for general manager Marc Bergevin, in regard to defenseman Jarred Tinordi, who's no longer waiver exempt.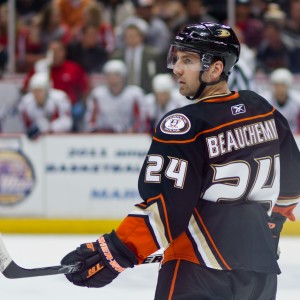 At one time Beauchemin was so unappreciated by the organization that he was playing in the ECHL. In 2004, the Canadiens placed him on waivers only to see him get claimed by the Columbus Blue Jackets, win a Stanley Cup with the Ducks, and finish fourth in Norris Memorial Trophy voting for the 2013 season.
The truly sad part? There wasn't even NHL hockey the season they lost him.
No one's arguing there's room on the Canadiens for Beauchemin right now (or that Tinordi will ever be in contention for a Norris nomination). He's on the wrong side of 35 and his current three-year, $13.5-million deal seems likely to become one the Colorado Avalanche would like to have back.
However, if money and salary-cap space weren't an issue, there's no doubt the left-handed defenseman would fit in somewhere beneath Markov on the depth chart… much like Tinordi.
2. Devan Dubnyk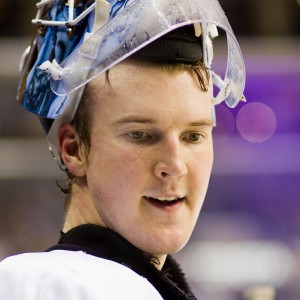 Imagine if Devan Dubnyk had actually stayed with the Canadiens organization following the 2013-2014 season. The Habs would now have two Vezina Trophy nominees in net right now instead of just the one winner.
*sighs in disappointment*
Admittedly, that's likely not how it all would have played out. Instead, Dubynk probably would have more realistically toiled in the minors, itching for an injury to Dustin Tokarski. Then, he maybe might have been considered to take over the backup role… and then play three games the entire season behind Carey Price.
So, in a weird way, Dubnyk owes his career resurgence to Bergevin for assuming like 99.9% of the hockey community that he was done. And also Mike Smith for being so hospitable to him in regard to the Arizona Coyotes net last season… yeah, to him and everyone else.
Dubnyk, acquired just prior to the 2014 trade deadline from the Nashville Predators for futures, never dressed for the Habs, immediately getting sent down to the Hamilton Bulldogs, where he went 2-5 with a .893 save percentage. The Habs can probably be forgiven in this instance for not knowing what they had.
Still, considering Tokarski's far-from impressive season last year, an upgrade might not be the worst thing in the world, as unrealistic as one would be that is. Even if only for Dubnyk to serve as trade bait.
1. Michael Cammalleri
Were New Jersey Devils forward Michael Cammalleri to be reinserted into the Canadiens lineup today he would inject much-needed scoring in a team that finished 20th last season. And that's just the regular season.
In the playoffs, they finished fourth from last, and everyone remembers what happened during the 2010 postseason, when Cammalleri scored 13 goals in 19 playoff games. The last time Montreal saw playoff scoring even close to that was from… uh, Rene Bourque last season?
Maybe not the best argument after all, seeing as the Blue Jackets are obviously more than welcome to keep Bourque to themselves. However, the point stands: Cammalleri should never have been traded away by then-GM Pierre Gauthier, much less in the middle of a game in which he was playing.
While a Cammalleri trade do-over would effectively erase a particularly embarrassing chapter from team history, it has undeniably worked out for the best as the last time he played for the Habs they finished third from last. Last season they finished second.
It's not that trading away Cammalleri prompted the change. It prompted the draft picks like Alex Galchenyuk that the Habs acquired as a result. Had they not traded Cammalleri, who knows how that 2011-12 season would have ended? They likely would have finished a few spots higher.
With the Habs falling just short of the Presidents' Trophy last season and on the verge of contending for the Stanley Cup, every little bit helps. Cammalleri, despite his 5'9" frame, brings a lot more.