It may seem a bit ridiculous to be looking forward to the trade deadline when a single shift hasn't been played in the regular season yet. However, it's the offseason and hockey fans need something to talk about.
I'm not ready to count the Flyers out of the playoff hunt for 2016 yet, but it's important for fans to be realistic in terms of expectations for the upcoming season. Most are, thankfully, and realize that the Flyers' roster is talented, but has weaknesses.
Their offense and goaltending are contending-caliber, but the defense is far from it. The prospect pool is deep on the backline, but Ron Hextall has continually preached patience when pressed about their NHL debuts.
There's a glut of #4/5 defensemen on the Flyers' roster that are currently occupying the roster spots that could be going to a youngster. However, it appears that Hextall has planned for a seamless transition to integrate the prospects over the next two seasons.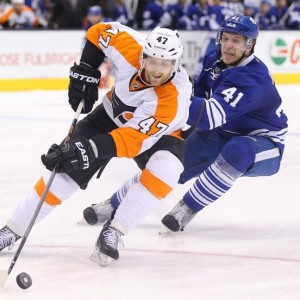 Contract Timing
Excluding the untradeable contract of Andrew MacDonald (which has 5 years and $30M remaining), the Flyers don't have a single NHL defenseman signed for more than two seasons.
Luke Schenn and Evgeni Medvedev will be unrestricted free agents, and Brandon Manning and Radko Gudas restricted free agents after next season. The season after that Mark Streit, Michael Del Zotto, and and Nick Schultz will be unrestricted. All will be prime targets for a trade deadline deal.
Prospects Samuel Morin, Travis Sanheim, Ivan Provorov, and Robert Hagg, however, are signed beyond two years. And Shayne Gostisbehere will assuredly be re-signed by then.
The timing of expiring contracts will work very well for bringing prospects onto the NHL roster patiently. As the 2016 Trade Deadline approaches, GM Ron Hextall will be forced to make an honest assessment of his team's chances to make the playoffs.
If he believes they have a good chance of making it, he won't make the team worse by trading defensemen. But if they're on the bubble or on the outside looking in, expect Hextall to do something similar to the 2015 deadline moves, where he shipped off Braydon Coburn and Kimmo Timonen.
The combined return for those two ended up being Radko Gudas, a 1st round pick, two 2nd round picks, and 3rd round pick. If Hextall can work similar magic with his expiring contracts on defense, the Flyers' retooling will be accelerated even further.
Moving a couple of bodies off the defense will also open up spots for the young studs that will be suiting up for the Phantoms in 2015-16. Morin, Gostisbehere, or Hagg would then have a chance to play the last 15-20 games of the 2015-16 season with the NHL squad. Just enough to give them a taste before likely assuming full-time duty in 2016-17.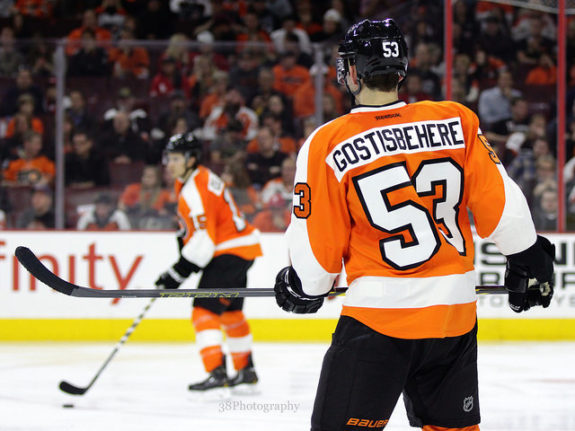 The 2017 trade deadline will be much of the same, opening up spots for whichever defensemen haven't yet made the transition to the NHL. Despite the fact that all five currently show great promise, fans must remain realistic with their expectations. It's highly unlikely (near impossible) that all five end up being consistent NHL defensemen. It's just how prospects work. I don't know which one will bust, but chances are one will.
Projecting the Backline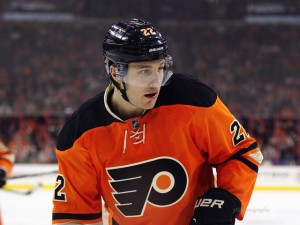 All things considered, here is how I believe the Flyers' defense will look at the beginning of next season, and what it could transform to by the time the season is over:
Beginning: Mark Streit, Andrew MacDonald, Michael Del Zotto, Luke Schenn, Evgeni Medvedev, Nick Schultz, Radko Gudas
Ending: Mark Streit, Andrew MacDonald, Michael Del Zotto, Samuel Morin, Shayne Gostisbehere, Nick Schultz, Radko Gudas
By 2016-17, I would be shocked if Ivan Provorov wasn't also on the opening day roster. Travis Sanheim could be, but his current trajectory makes it look like he would be more of a mid-season call-up in 2016-17. Robert Hagg is a wild card.
Expect plenty of wheeling and dealing for Hextall over the next two years as the Flyers defense makes the transition from the old guard to the new.
Bill Schoeninger is a Philadelphia Flyers writer and current Boston University student studying business. Coming to THW from Hometown Hockey, Bill follows and writes about the Flyers, Boston University Terriers, and NHL Draft prospects. Follow him on twitter @BSchoeninger17