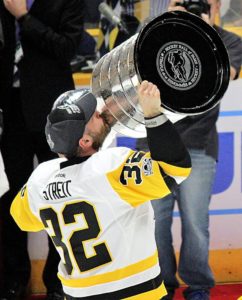 Through the 2017 NHL season, only three different Swiss-born hockey players have won the Stanley Cup. The first was goaltender David Aebischer who did so with the Colorado Avalanche in 2001 as Patrick Roy's backup. The second came a few years later when Martin Gerber manned the net for 60 regular season games for the 2006 Carolina Hurricanes as they would go on to obtain the trophy.
Just last season, veteran Swiss defenseman Mark Streit lifted the Cup for the first time. He came over to the Pittsburgh Penguins at the trade deadline in a deal that initially saw him shipped from the Philadelphia Flyers to the Tampa Bay Lightning. The Bolts would immediately send him to the Penguins for a fourth-round pick in 2018. Streit would win the Cup after playing 784 regular season games, plus 34 more in the playoffs. He has since retired early into the 2017-18 NHL season.
It is more important to note however that between Gerber's victory and then that of Streit's, over a decade went by since a Swiss player had won the Stanley Cup. With a recent influx of highly talented Swiss players into the league, it would appear that natives of the European country may be winning the Cup with more regularity now. They may also play more vital roles in championship teams than what Aebischer, Gerber and Streit had done.
THW takes a look at the top five Swiss-born players currently in the National Hockey League.
5)Yannick Weber
Yannick Weber does not score a lot from the back end, but he is ever capable of getting the job done defensively. Similar to another name that will appear later on our list, Weber is a key reason why the Nashville Predators made it to the final round of the Stanley Cup playoffs against Streit's Penguins. Weber appeared in all 22 playoff games for the Preds. During the regular season he recorded a goal and seven assists 73 games, and was at times Nashville's best shutdown man of their defense corps.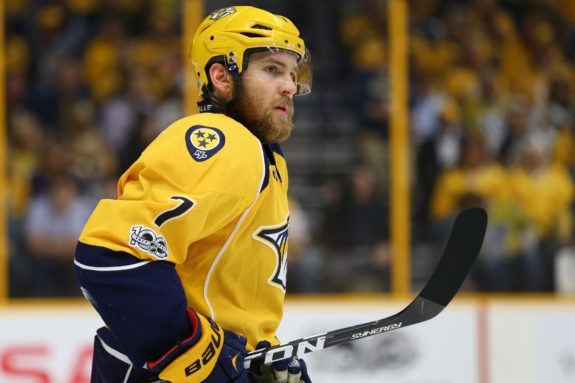 Weber was initially a third-round selection of Montreal Canadiens back in 2007. Never really becoming a mainstay in Montreal, he ended up signing as a free agent with the Vancouver Canucks in July 2013. In his three seasons with the Canucks was when Weber began to show that he was a full time NHL defenseman. His finest point total came during the 2014-15 season for Vancouver when he set career highs in goals (11), assists (10) and points (21).
After signing with Nashville in July of 2016, it is doubtful that Weber will be on the move anytime soon. He has found his niche with the Predators, and they seem to feel he is a key ingredient to their success. Weber does a fine job of rounding out the best defense in the entire league right now. If he stays healthy, he will play in his 400th NHL game during the 2017-18 season.
4) Sven Baertschi
The NHL career of Sven Baertschi got off to a rather slow start. The Calgary Flames took him with the 13th overall pick of the 2011 draft. In parts of four seasons with the Flames, Baertschi never managed to play more than 26 games in a season with the big club. Certainly disappointing after being taken at such a high selection. It would take a trade to the Vancouver Canucks in March of 2015 for Baertschi to really begin to shine.
After coming over to Vancouver, Baertschi has had back to back seasons of more than 65 games. He has also managed to hit double digits in goals in what appears will be three straight seasons, at least. Baertschi's finest numbers came in 2016-17 when he registered 18 goals and 17 assists for 35 points. Those were career highs in each offensive category.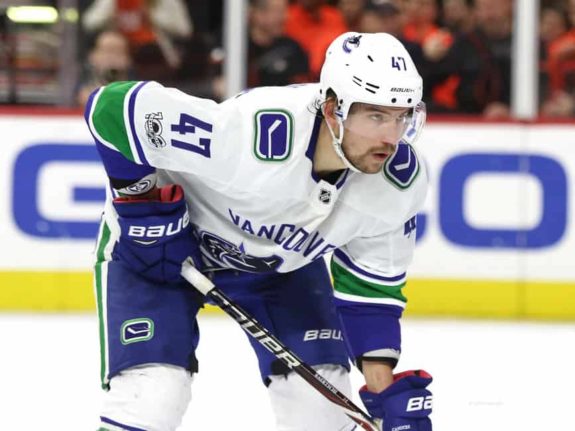 Baertschi is still in his mid-20s. Barring any sort of trade, he looks to be an important player for the next few years of Vancouver Canucks hockey. Look for him to hit the 20-goal plateau either this year or next.
3) Nino Niederreiter
Much like Baertschi, Nino Niederreiter's NHL career started slowly. The difference being though that Niederreiter righted the ship more quickly and more exponentially. The New York Islanders took him 2010 with the fifth overall selection. In 64 games with the Isles, Niederreiter scored just two goals. During his fullest season with New York – 2011-12 when he played 55 games – he scored just one goal and no assists. Certainly a tough beginning for a highly touted pick.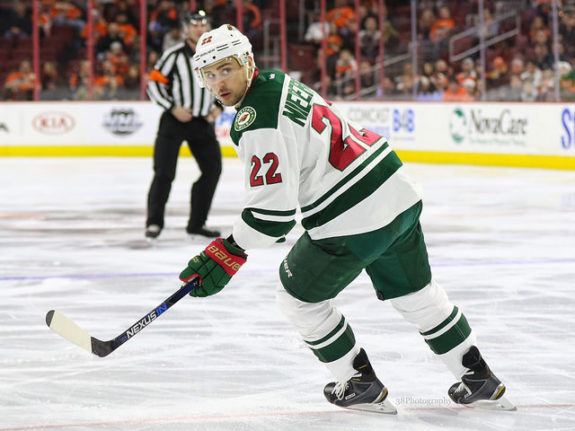 But after being traded to the Minnesota Wild during the summer of 2013, Niederreiter has absolutely exploded offensively. He has hit double digits in goals for five straight seasons. The 2016-17 season was his finest one yet in which he hit the back of the net 25 times and added 32 assists for 57 points. Those were the third most goals for the Wild and fourth most points.
What a difference a few years makes as well. Niederreiter was a minus-29 in his poorly productive '11-'12 season. In '16-'17, he finished the year as a plus-17. He has also found his sweet spot, in terms of his place in the NHL and his productivity. It would be fair to say that Niederreiter will hit 25 goals for another three to five seasons with ease.
2) Nico Hischier
Talent alone is why Nico Hischier ranks so highly on this list. Playing in his rookie season for the New Jersey Devils, he has already generated eight goals and 18 assists in 41 games. That is an average of .634 points per game, which is presently the highest amount of any Swiss skaters in the NHL.
The Devils knew what they were doing – but they could not really miss – by taking Hischier as the top overall selection of the 2017 draft. He was widely regarded to be taken in that spot no matter which team had the selection. Prior to being drafted Hischier tore up the QMJHL with his scoring. In 57 games for the Halifax Moose in '16-'17, he scored 38 goals and 48 assists. Those production numbers led all QMJHL rookies that season. Not surprisingly, Hischier was also awarded the Mike Bossy Trophy as the best professional prospect in the entire league. This same trophy has been awarded to Vincent Lecavalier, Marc-André Fleury, and Sidney Crosby.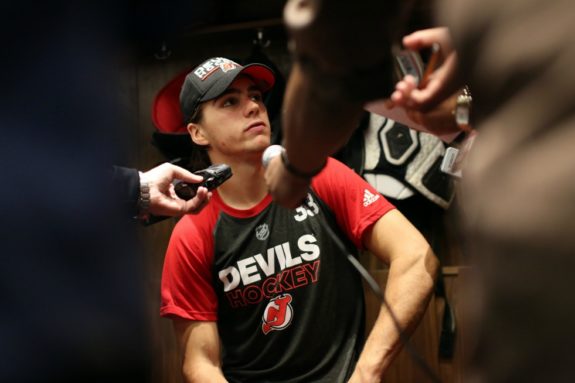 In his rookie NHL season, Hischier is already showing shades of being the next Pavel Datsyuk. He is capable of playing both ends of the ice so well – better than most players 10 years his senior. Hischier has already had two three-point games in his rookie campaign too – two goals and an assist Oct. 19 against the Ottawa Senators, and then a goal and two assists against the Chicago Blackhawks on Nov. 12.
This is just the very beginning for Hischier. He will most assuredly grow into an elite player for many years to come.
1) Roman Josi
Roman Josi has been one of the most underrated defensemen in the NHL for quite some time. When speaking of elite D-men, talk typically goes toward the likes of Erik Karlsson, Brent Burns, Drew Doughty, and Duncan Keith. Josi is oftentimes forgotten for how truly skilled a player he is. This is a travesty of sorts.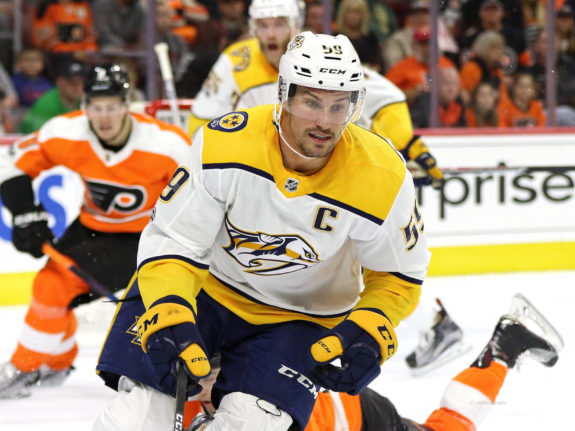 Through 444 NHL regular season games, Josi has totaled 72 goals and 191 assists. That equates to .595 points per game, which trails only Hischier among Swiss players. That being said, Josi is also a blueliner and has played 400 more games than Hischier has.
Josi's finest performance statistically came during the 2015-16 NHL season when he scored 14 goals and 47 assists for a career high 61 points. Twice Josi has compiled 40 or more assists in a season. With the exception of his rookie year in which he only played 48 games, Josi has always managed to hit double digits in goal scoring from the back end.
When the Nashville Predators made it to the Stanley Cup final in 2017 against Pittsburgh, Josi was one of the main reasons why they did. He has become a true cornerstone in Nashville, and will continue to be for many years to come. No wonder either that he presently Nashville's team captain. It should be no surprise that Josi is at the top of our list. When all is said and done on his career, he may likely be considered the greatest Swiss player of all time in NHL history.
General Manager of the Buffalo Beauts (NWHL). Hockey history writer "The Hockey Writers". Credentialed media for the NHL Combine and 2018 IIHF World Junior Championships in Buffalo, NY, USA. Born and raised in Buffalo, NY. Lifelong hockey fan for over 40 years. Proponent of the women's game.