It is officially December. The holiday spirit will be in full swing as people everywhere ready for the hustle and bustle of a busy month. Many will have a Christmas wish list filled with presents they want themselves or have to buy for people they know.
In that fun spirit, I have decided to take a look at a couple of items that the Toronto Maple Leafs probably have listed on their own personal wish list for the rest of the season.
Item #1: Jonathan Bernier Gets Back on Track
One of the biggest stories coming from the Maple Leafs so far this year has been their goaltending. After giving Jonathan Bernier a deal for two years and $4.15 million, it was widely thought that he would be the number one netminder for the Buds.
It's been a cruel quarter season for Bernier, as he has yet to win a game and has been marred by his own sub-par play that often results in soft goals against him. This has forced Mike Babcock to make drastic moves which have included sitting Bernier in favour of the rejuvenated James Reimer and more recently, the young Garret Sparks.
Arguably the biggest storyline of the season already, the Leafs and Bernier are wishing for a way to get the snakebitten goalie his confidence back. Being an NHL goaltender is not an easy task. You need to have the mental fortitude, combined with the necessary skills, to have a chance of making it.
Bernier's confidence is at an all-time low, and the Leafs will continue to resort to more and more desperate options until something gives and he figures it out, or he fades into obscurity as the third stringer.
Item #2: Veterans Play Well and Increase Their Trade Values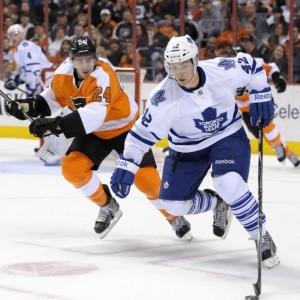 The Maple Leafs are in a full scale rebuild. Despite the occasional winning streak and good play, this year is not about doing overly well. This season is focused on accumulating as many draft picks and prospects as the organization can manage. Smart drafting is key to finding success in the NHL today.
The Buds drafted nine players over seven rounds last year. That's up from six from 2014 and the five out of 2013.
New management knows scouting and drafting smartly are the keys to the success of this franchise. That is why they need their veteran players do play well and increase their value before the trade deadline.
If they are having good seasons, they could prove attractive and valuable for a team looking to make a deep run into the playoffs. The Leafs would then secure coveted picks and prospects which could be used to make deals for 2016 and beyond.
Item #3: Their Young Prospects Keep Developing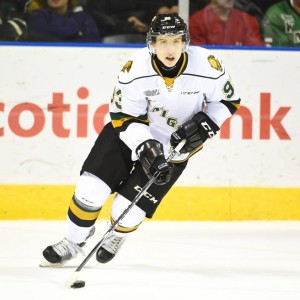 Youth is the future of this franchise. The Maple Leafs are heavily relying on the development of their bright young stars, both with the Toronto Marlies and across the CHL and Europe. William Nylander, Connor Brown, Garret Sparks (who had a phenomenal NHL debut) and Kasperi Kapanen are some of the names who are making waves with the first place Marlies this year.
Don't forget the even younger generation who are plying their trade in the CHL. Mitch Marner and Travis Dermott were just invited to tryout for Canada's World Junior camp. A good showing for both of those players would make Maple Leaf fans and management incredibly happy.
There's no guarantee the Maple Leafs get all the things they want on the list. Few things in life are guarantees after all. However, the franchise is in good hands, which should be reason enough to be a little bit optimistic for whatever the future holds.
My name is Anthony Fusco. Through school, I completed a joint degree involving an Honours B.A. in Journalism from Wilfrid Laurier University and a Videography and Broadcasting degree through Conestoga College.
I currently work for the University of Toronto as a Varsity Sports Announcer and for the Toronto Maple Leafs as part of their game presentation squad.
I'm also the play by play voice of the Kelowna Falcons, a baseball team located in British Columbia.
My goal is to one day be a hockey broadcaster.