We knew that Auston Matthews would be a prolific goal scorer in the NHL after his four-goal NHL debut back in 2016-17. Since then Matthews has continued to impress and improve and that has never been more evident than the hot streak he's been on to start the 2018-19 season.
Through six games, Matthews has tallied 10 goals and four assists to lead the NHL with 14 points and he's made it look easy. The Toronto Maple Leafs' defence has been questionable for stretches, but their offence has been devastating with two seven-goal games already under their belt and Matthews has been the main contributor to their success.
Now it may seem early to even begin to think about it, but when he's already got 10 goals in six games it makes you think ahead in the season. Can Matthews score 50 goals? And could he win the Maurice "Rocket" Richard Trophy for most goals in a season?
Matthews Through Six Games
Matthews has never looked better and that says a lot about the work he put into the offseason after suffering multiple injuries last season. Matthews missed 20 games last season from a concussion and a back and shoulder injury and from the way he played in the playoffs against the Boston Bruins it seemed that the shoulder injury he suffered was still having a lingering effect on his play.
And somehow Matthews still netted 34 goals in 62 games despite having an injury-riddled season.
Now Matthews looks better than ever before. He's much stronger on the puck which is making it incredibly difficult for the opposition to take possession of the puck and if that wasn't enough it looks like his shot is even more explosive than the past two seasons.
Auston Matthews is the 15th player in NHL history to score at least 10 goals in his team's first six games of the season – and just the 5th to do so in the modern era (since 1943-44). #NHLStats pic.twitter.com/FvtOdWvBpO

— NHL Public Relations (@PR_NHL) October 14, 2018
With 10 goals and 14 points in just six games, Matthews has easily eclipsed his start to the past two seasons. In the 2016-17 season, it took him 22 games to hit 10 goals and he had a total of 18 points at that point. In the 2017-18 season, it took him only 14 games to hit 10 goals and he again had 18 points.
Now Matthews was great to start both of those seasons, but looking at how long it took him to score 10 goals helps to contextualize just how insane his start to this season has been.
50 Goals and the Rocket Richard Trophy
50 goals and a possibility of winning the Maurice "Rocket" Richard Trophy shouldn't seem impossible at this point after what we've seen from Matthews.
In his rookie season, Matthews tied for the second most goals in the NHL with 40 goals behind only Sidney Crosby who won with 44 goals. Last season Alexander Ovechkin won the prestigious award for the seventh time by leading the NHL with 49 goals. Matthews finished with just 34 goals but had missed 20 games due to injuries meant he only played 62 games.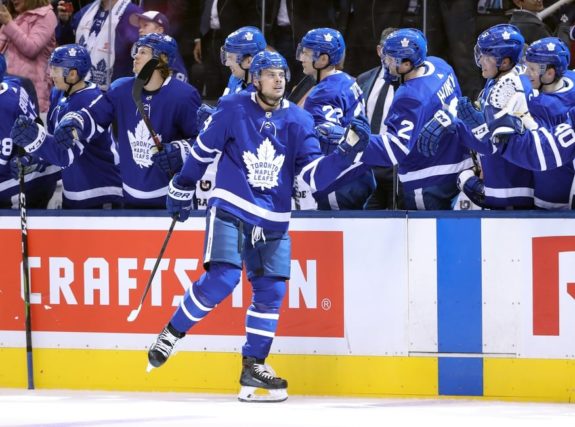 Now based on his goals per game (G/GP) for that season of 0.55 G/GP it would mean that Matthews would have hypothetically had 45 goals if he played the full 82 game season. And that would've been good enough for the second most goals in the NHL.
Right now Matthews is scoring at an unsustainable pace by having a shooting percentage of 50% which will obviously settle down through the course of the season. Now if his shooting percentage goes down to what he had in either of his two previous seasons for the rest of the 76 games in the season it's very likely that Matthews ends up with the most goals in the NHL.
Okay, now time to put basic math skills and hockey knowledge to work.
Each season Matthews averages just above three shots per game and that's no different this season with 20 shots in six games for 3.3 (repeating) shots per game. Now if this average continues over the remaining 76 games of the season then Matthews will have 250.8 shots in that time. So if we apply his shooting percentage from 2016-17 of 14.3 we end up with 35.86 goals in that time and his shooting percentage from 2017-18 of 18.2 ends up with 45.64 goals.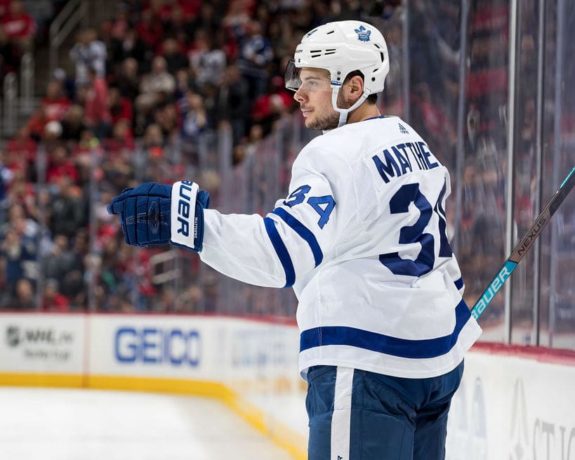 Now that's all just based on presuming he plays the full season and some rough number work, but what that gives us an idea of is that Matthews could very likely score between 35 and 45 goals in the remaining 76 games, assuming his shooting percentage immediately drops down to normal. So with the 10 goals he already has, it's likely that Matthews will score 45 to 55 goals this season, which would either put him near or at the top in league scoring based on the most goals scored in the past two seasons.
And one thing to note to end this all is that Matthews isn't even playing with his regular linemate in William Nylander, who hasn't played yet due to a contract dispute and has been replaced by Kasperi Kapanen on that line. So Matthews could continue his high scoring rate when Nylander comes back, as hard as that is to believe.
Toronto Maple Leafs contributor for The Hockey Writers.
I've been a fan of the Toronto Maple Leafs since I was a kid and have always had an interest in writing. At The Hockey Writers, I get to enjoy both of my passions as well as writing about small convoluted details in player contracts and stats.