The Seattle Kraken have been a surprise this season. Tonight they play the Toronto Maple Leafs after beginning a road trip with a come-from-behind 5-2 win over the Edmonton Oilers on Tuesday, while the Maple Leafs lost to the St. Louis Blues in a shootout. 
Related: Ranking NHL Team Logos
Ex-Maple Leafs' assistant coach Dave Hakstol has his team playing well, and it should be an interesting game tonight. In this edition of Maple Leafs News & Rumors, I'll take a look at some of the injuries and illnesses that might impact the game. As well, I'll look at some news emerging from the Maple Leafs' AHL affiliate, Toronto Marlies.
Item One: William Nylander Might Not Play Tonight
William Nylander missed practice yesterday because he was ill and was reportedly "questionable" for tonight's game. If that's the case, it might mean that Mitch Marner will be reunited with Auston Matthews and Michael Bunting on the team's "old" first line.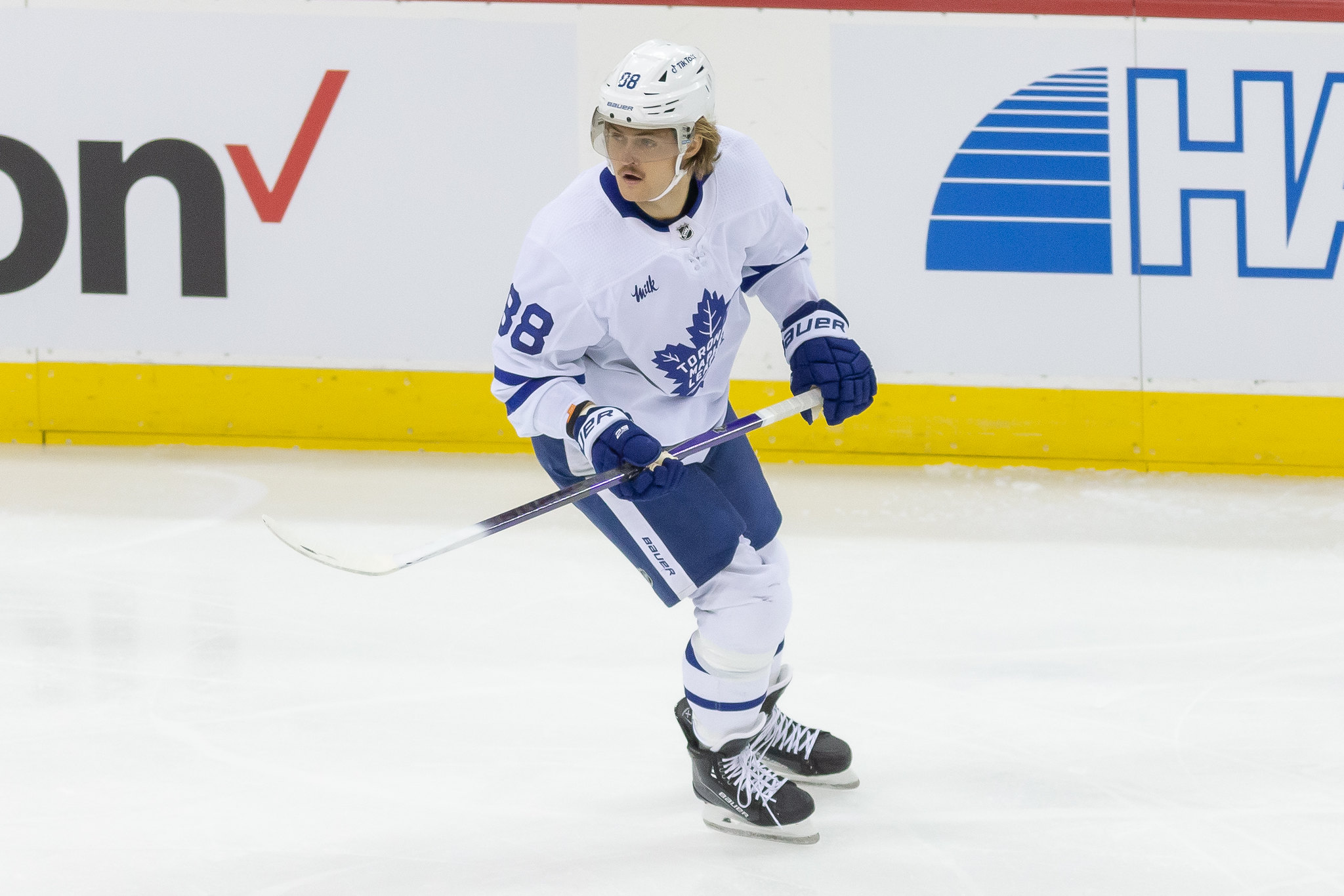 Who will draw in to replace Nylander? There's speculation that Wayne Simmonds might get the call. The last game he played was on Dec. 10, almost a month ago. 
Item Two: Defenseman Carl Dahlstrom Is Skating 
Speaking of not playing for a while, Carl Dahlstrom has been a forgotten man in Toronto. However, he's been working on his recovery from a shoulder injury he suffered many months ago. The word is that his return to playing shape is far from imminent, however.
He probably has three more months of recovery ahead, but he has started skating, and that's a good sign. Given the evolving blue line this season with the trade for Conor Timmins, Dahlstrom might not get a chance to play even when he has recovered. 
Related: The 2012 Maple Leafs – Lightning Blockbuster Trade That Wasn't
---
Latest News & Highlights
---
The one thing that Timmins and Dahlstrom have in common is that neither defenseman has scored an NHL goal. For the 27-year-old Dahlstrom, it's been 67 games without scoring, and the 24-year-old Timmins has played 52 games without scoring. 
However, both defensemen are unlikely to match teammate Victor Mete's frustration. On Oct. 17, 2019, Mete scored his first NHL goal in his 127th regular-season game. The NHL record for goal-scoring frustration is David Hale, who scored for the Phoenix Coyotes on Nov. 26, 2008, after 231 games without a goal.
Item Three: Joey Anderson Returned to the Marlies
When Rasmus Sandin returned for the crazy game against the Blues, Joey Anderson was loaned back to the Marlies. Anderson had played seven games with the big club and looked solid on the fourth line.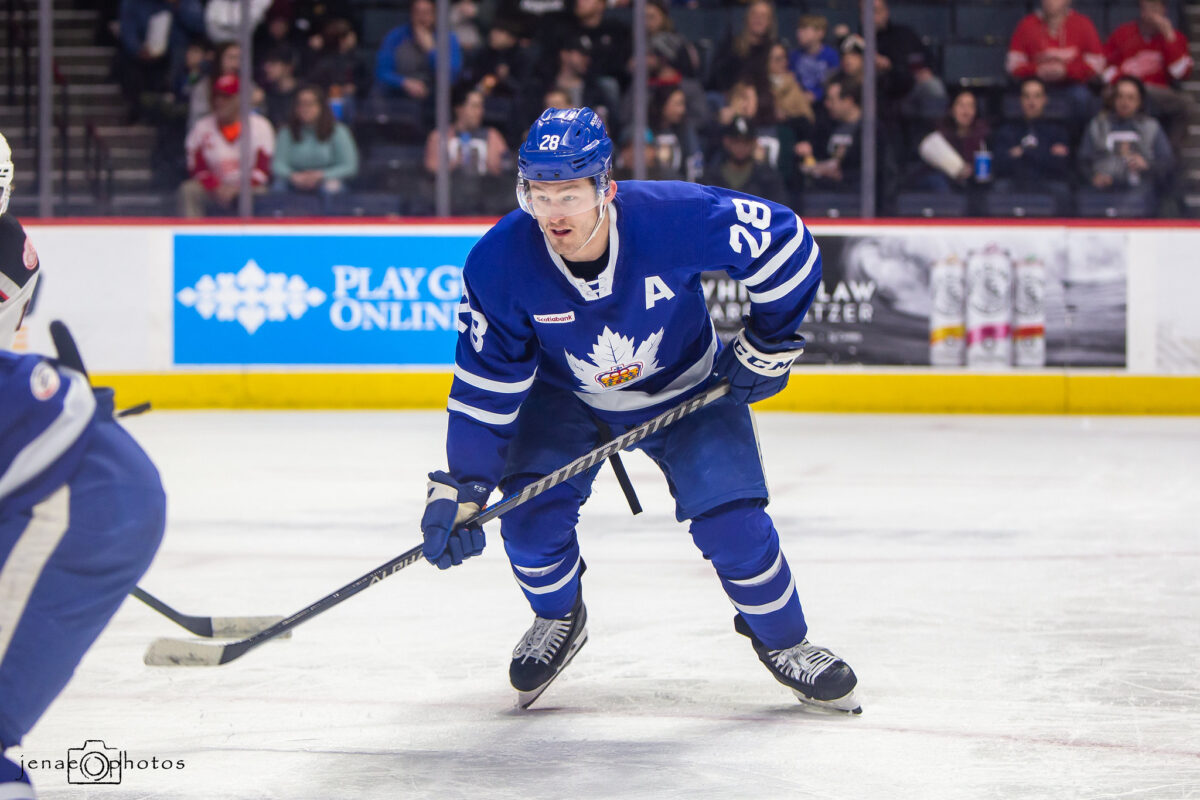 Anderson scored a goal in his time with the team, but he was a healthy scratch for two games prior before he was returned to the Marlies. That's because Dryden Hunt has jumped in to claim what was Anderson's fourth-line spot. Hunt has brought a bit more physicality to the team and, in the Blues' game, almost scored. 
Related: Three Maple Leafs Options After Dryden Hunt Arrives
It looks as if Hunt might be the missing piece for the team's fourth line to play with Pontus Holmberg and Zach Aston-Reese. There's something about his game that is a step up from others who have auditioned for the role.
Item Four: Adam Gaudette Finally Scores Again
On Tuesday night, the Marlies played their first game of the New Year, and like their parent club, the game went to overtime. However, the Marlies pulled out a 5-4 overtime win against the Utica Comets. Those who might not follow the Marlies, they are doing much better than their parent club in overtime; they have a solid 4-1 record in extra time.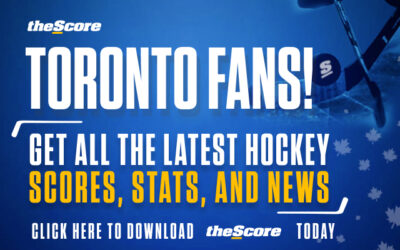 In that game, Adam Gaudette scored the game-winning goal. That's a good sign. In mid-December, Gaudette was given a three-game suspension for a hit on Belleville Senators' Viktor Lodin. Before that, he had scored 12 goals in a 16-game span for the Marlies and showed some strong John Tavares-type play in front of the net.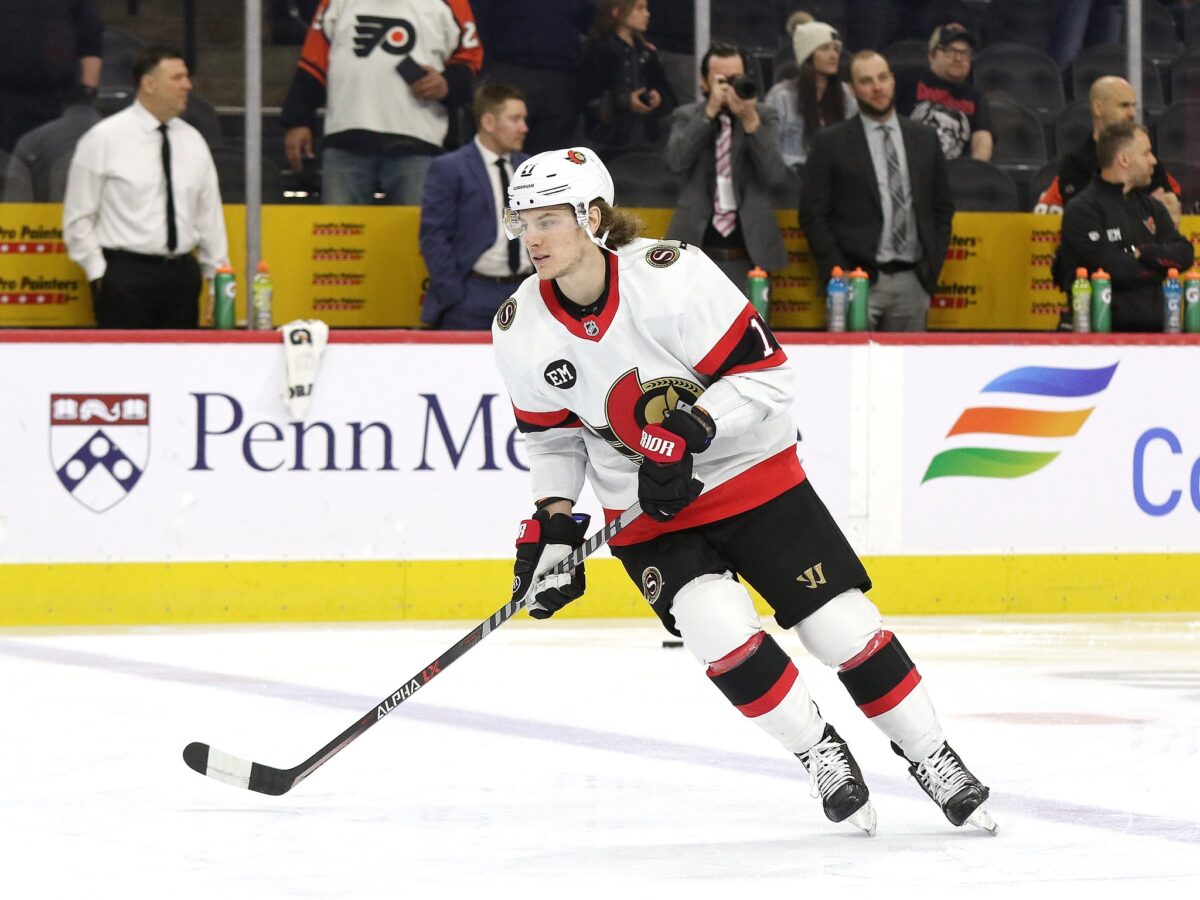 After the suspension (he also had a minor injury), Gaudette hadn't scored much. However, Marlies' coach Greg Moore noted that, although Gaudette had been in a bit of a goal-scoring drought, "in our last few games, he has maybe been our most productive individual player at creating scoring chances. He has not been playing badly. It just wasn't finding the back of the net for him. There was a burst of emotion there to finally feel it."
What's Next for the Maple Leafs?
Speaking of the Marlies, goalie Joseph Woll has been on a roll since returning from injury. He's a perfect 7-0-0 and has been making key saves for the Marlies. 
Related: Joseph Woll's Return Carries New Maple Leafs' Goalie Issues
His goals-against-average is 2.29, and his save percentage is .926 in seven AHL starts. That's a good sign for the organization, which might now have three strong goalies in their system behind Matt Murray and Ilya Samsonov. Erik Kallgren and Keith Petruzzelli also are in the system along with Woll.
The Old Prof (Jim Parsons, Sr.) taught for more than 40 years in the Faculty of Education at the University of Alberta. He's a Canadian boy, who has two degrees from the University of Kentucky and a doctorate from the University of Texas. He is now retired on Vancouver Island, where he lives with his family. His hobbies include playing with his hockey cards and simply being a sports fan – hockey, the Toronto Raptors, and CFL football (thinks Ricky Ray personifies how a professional athlete should act).
If you wonder why he doesn't use his real name, it's because his son – who's also Jim Parsons – wrote for The Hockey Writers first and asked Jim Sr. to use another name so readers wouldn't confuse their work.
Because Jim Sr. had worked in China, he adopted the Mandarin word for teacher (老師). The first character lǎo (老) means "old," and the second character shī (師) means "teacher." The literal translation of lǎoshī is "old teacher." That became his pen name. Today, other than writing for The Hockey Writers, he teaches graduate students research design at several Canadian universities.
He looks forward to sharing his insights about the Toronto Maple Leafs and about how sports engages life more fully. His Twitter address is https://twitter.com/TheOldProf