As a hockey fan, the NHL offseason is one of the most exciting aspects of the sport. Everyone has something to be excited about regardless of where their team finished in the standings. There's the NHL Draft, which is always a circus with teams making last minute deals on the draft floor, and it's where a top draft pick can immediately change a team's fortunes.
Then, after that, teams have a week to qualify restricted free agents (RFAs) and try and work out a deal with their pending unrestricted free agents (UFAs) before they hit the open market on July 1. Then, we have the free agency period, where teams scramble over each other to sign players to what often are over-the-top contracts.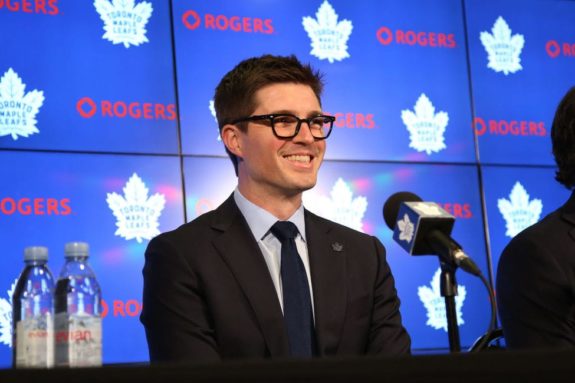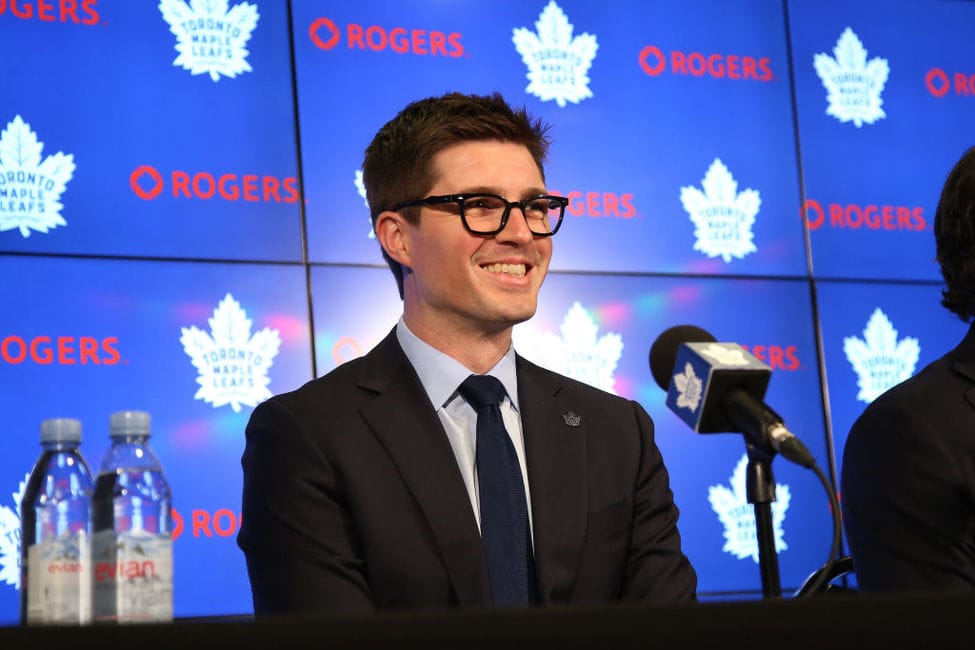 This offseason the Toronto Maple Leafs, and new general manager Kyle Dubas, have a few potentially franchise-altering decisions to make.
Trade 25th Overall for Defense?
The Maple Leafs are in a position that they haven't been in for over a decade where they can afford to trade their first-round draft pick. They have a highly skilled core with a number of young star players and have plenty of complementary players rising through the ranks who can over time fill in the gaps outside of that core.
Picks in the 20 to 31 range are often more hit-or-miss than those in the 1-10 range where it's harder to have a bad pick. So with the Maple Leafs picking 25th overall in the first round, it makes sense that they might want to get creative with the pick. If there's nobody that they're particularly interested in, then it might be best to trade down to somewhere in the second round while adding another pick in exchange. Or in the same thought if there's a specific player they want to pick then they might want to trade up in the draft.
But what would make the most sense would be packaging this first-round pick to acquire that much-needed help on defense. We've already seen the Maple Leafs do just that at the 2016 draft when they traded a 30th overall first-round draft pick and a 2017 second-round pick to the Anaheim Ducks for Frederik Andersen.
So, maybe there's a deal to be made at the draft that'll help the Maple Leafs' defense for the 2018-19 season. If not, there are lots of good defensemen in this draft that could help the Leafs a few years down the line.
Signing Tavares: The Superstar Free Agent
John Tavares is going to be the best player to hit free agency in a long time if the New York Islanders can't get a deal done by July 1. Superstars rarely leave their team via free agency in the modern salary cap NHL, but we almost had a glimpse of what that'd be like with Steven Stamkos nearly making it to July 1 before re-signing with the Tampa Bay Lightning.
The Islanders have made a big push to make some quick changes that could entice Tavares to return. First, they hired Lou Lamoriello to be their president of hockey operations after his contract with the Leafs expired. This is a great move for the Islanders, who need to quickly turn the organization around, and Lamoriello is one of the best at doing just that. Then, one of his first moves was to fire long-time general manager Garth Snow and coach Doug Weight.
And then, an even bigger surprise was hiring Barry Trotz, who had recently resigned as head coach of the Washington Capitals after having just won the Stanley Cup. The timing and how quickly this all happened point to the Islanders doing everything they can to convince Tavares to re-sign with them. We will only know if any of this worked to convince him on July 1 when free agency begins.
Like a lot of teams, no doubt, if John Tavares gets to the UFA shopping period, and it is still an "if" at this point, TOR is believed to be putting together a promotional video for JT that may even include a cameo pitch or two from some current Leaf players.

— Bob McKenzie (@TSNBobMcKenzie) June 18, 2018
Now, whether Tavares would sign with the Maple Leafs is a different story. Most NHL teams are likely putting pitches together, but with all the interest, it will really just be up to Tavares since he could easily play wherever he wants as every team would make space for his contract.
Although it will be tight and limit what they can do contract-wise down the road, it's possible for the Maple Leafs to afford Tavares. An offer coming from the Maple Leafs would likely be a seven-year contract worth, at least, an average of $10 million annually. If the Leafs can sign Tavares in free agency, it would easily give them the best center depth in the league with Auston Matthews, Tavares and Nazem Kadri down the middle.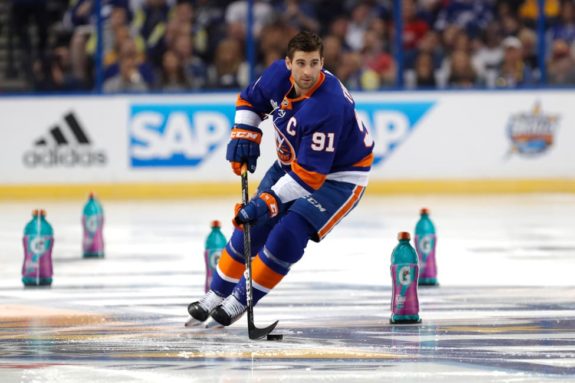 It would also replace the lost scoring from James van Riemsdyk as he's likely heading to free agency along with Tyler Bozak and Leo Komarov.
The opportunity to add a superstar center from free agency is extremely rare, so the Maple Leafs and Dubas need to do everything in their power to have Tavares wearing the blue and white by the start of the 2018-19 season. After the draft is over their attention needs to turn to getting Tavares signed at the start of free agency and give him every reason to want to come and play in Toronto.
Nylander's Contract
Whenever a top player needs a new contract it can become the sole focus of a team. But with the Maple Leafs, they've made it clear that they're going to take their time getting a new deal done with William Nylander.
Kyle Dubas says he plans to meet with William Nylander's agent in the coming days: "We've got lots of time and patience to work with that. There's no real end-date in my mind. We'll just keep working towards it."

— Jonas Siegel (@jonassiegel) June 22, 2018
Now, what would a new contract look like for Nylander? Well, there are a number of comparable contracts around the league based on other wingers who signed contracts in their early 20s, and by looking at those we can get a general sense of what he would end up signing for.
On the high end of comparables are David Pastrnak and Johnny Gaudreau. Pastrnak signed his six-year $6.66 million per year deal heading into the 2017-18 season after putting up 70 points in 75 games in 2016-17. Then there's Gaudreau, who also signed his six-year $6.75 million per year deal at the start of the 2016-17 season after finishing the 2015-16 season with 78 points in 79 games.
Based on points, Nylander shouldn't get a contract worth any more than either of Pastrnak or Gaudreau's deal. In the 2016-17 season, Nylander finished with 61 points in 81 games and he repeated that 61-point total again this past season. So if a 70-plus point season heading into contract negotiations gets a winger a six-year deal in the high $6 million range, what does a 60-point winger get?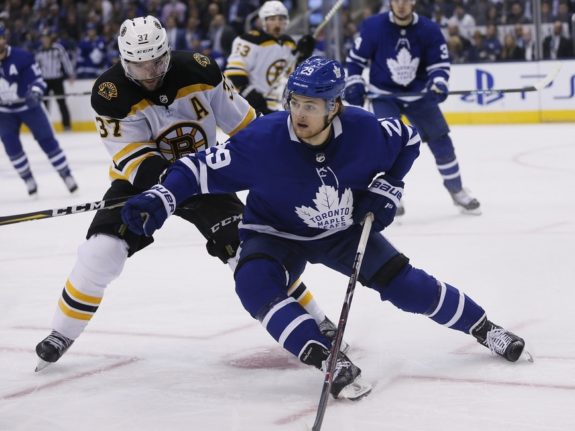 The two best comparables for what Nylander could get are Nikolaj Ehlers and Filip Forsberg. Ehlers signed his extension a year ahead of time in the fall of the 2017-18 season, but it doesn't kick in until the upcoming 2018-19 season. So this means that his contract was based on the 2016-17 season when he finished with 64 points in 82 games. That got him a seven-year contract worth $6 million annually.
Forsberg got a similar deal of six years at $6 million a year. He signed that contract in the summer following the 2015-16 season when he put up 64 points in 82 games.
So when looking at all those numbers it points to Nylander getting a six or seven-year contract at $6 million a year. Although we've been worried about what kind of contract he would get, with numbers being thrown around as high as $7 million, there's no reason to expect anything higher than what Ehlers or Forsberg got. And Dubas has all summer to focus on getting the right contract worked out.
A Busy Leafs Offseason
This is going to be a busy offseason for Dubas' first year as general manager. From the draft and deciding on what to do with the 25th overall pick, to trying to land Tavares in free agency, the rest of the summer is spent working on Nylander's new contract.
There's a number of other small things to look after as well, with some Toronto Marlies' players needing new contracts. Dubas must decide what to do with their three goalies in Curtis McElhinney, Garret Sparks and Calvin Pickard as it looks like at least one of them will be moved.
This will be an exciting and busy summer for the Maple Leafs that will have long-term effects on the future of this franchise.
Toronto Maple Leafs contributor for The Hockey Writers.
I've been a fan of the Toronto Maple Leafs since I was a kid and have always had an interest in writing. At The Hockey Writers, I get to enjoy both of my passions as well as writing about small convoluted details in player contracts and stats.