It's now been two weeks since the Washington Capitals put an end to the Vegas Golden Knights' magical season and hoisted the cup in Sin City (and are now doing it again thanks to the NHL Awards), which has given us time to reflect and to turn our focus forward.
Sure, we all wanted to see the full Miracle Hollywood treatment, but instead, we got Friday Night Lights (movie, not the show). Both great sports films, yet only one with a victorious ending (spoiler alert).
Looking back, it's hard to be disappointed in an expansion team losing in the Stanley Cup Final, regardless of how bitter a taste it left in your mouth. Remember, none of this was supposed to happen. Half of these players weren't supposed to still be here. General manager George McPhee was supposed to hand consensus number one pick, Rasmus Dahlin, a Golden Knights sweater at next week's draft.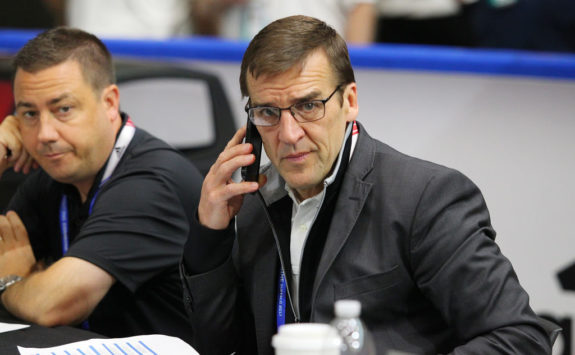 Instead, the team doesn't even have a first-round pick. Think about that. An expansion team traded away their first-round draft pick in their SECOND DRAFT. They should be in the very early stages of their six-year plan, and yet, they've thrown it out the window.
Instead, they now turn their attention to free agency, both in retaining their emergent stars and becoming major players in the open market. Even those Erik Karlsson trade rumors continue to swirl. Reminder: this wasn't supposed to happen!
And yet here we are. So having had two weeks to marinate on this, almost enough time for Capitals players to sober up (maybe), I've come to a conclusion: It's better the Golden Knights didn't win the Cup.
I know, I know… hot take alert. But hear me out.
It Keeps the Golden Knights Motivated
We can all agree there were a number of factors that played into why the Golden Knights were such a smash success this year. Having so many players in contract years. The large chips on their shoulders from being left exposed, or even offered as a sacrifice by their former teams. Their overwhelming speed, and being flat-out good.
But can that carry over into a second year in the 2018-19 season? How long can one, or a collective, hold a grudge? What can they do for an encore?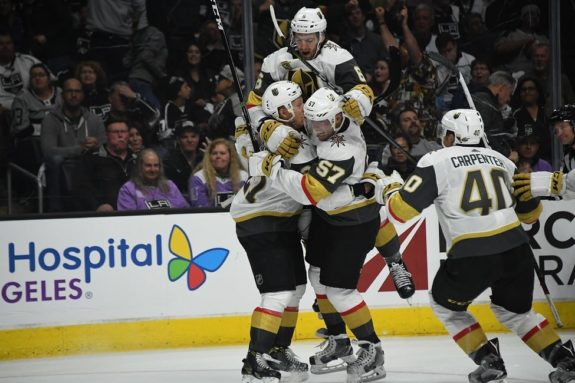 Their motivation now shifts as they had their chance, threw it all on black, and watched as the Cup slipped between their fingers. These players know you don't get a chance to win it all very often, and coming so close will make them hungry for more.
Although many scoffed at their initial lineup, the Golden Knights find themselves with the core in place to be a perennial contender, depending on what they can accomplish this offseason with so many expiring contracts. Many Knights played themselves into talks for serious raises, and while you can imagine most players will want to come back, the fact is that this remains a business, and some will not return, regardless of how much they enjoyed the ride.
But you can rest assured that this team, in whatever form, will be driven to match, and somehow surpass the level of success they achieved this year. The Golden Misfits have unfinished business.
The Golden Knights' Fanbase Stays Hungry Too
So let's say the Golden Knights were able to cap that miracle season and take the cup in their first year.
…what's next?
Almost as big a story as the team itself was the response to the Golden Knights in Sin City. It's now safe to say that Las Vegas is a hockey town — who thought we'd be saying that?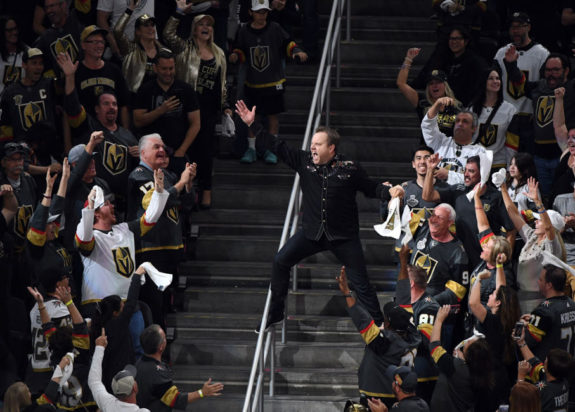 But if the team would have won the Cup right away, it would have been too much, too soon. Not that they need to be as long-suffering as, say, St. Louis Blues, Vancouver Canucks, or Buffalo Sabres fans, but winning it all right off the bat does no good to keep fans hungry for more.
To come so close keeps the fanbase more engaged because they haven't had their parade yet either. Now that they know what the Cup means, Golden Knights fans will come back with a vengeance, wanting it more than they could have ever imagined.
Let's not forget too that the arrival of the NFL looms on the horizon. Had the Golden Knights already won their championship, perhaps some fans would shift their focus to the city's other shiny new Las Vegas Raiders? I'd say they stick around now.
Losing Saved Las Vegas Money
While the Vegas Golden Knights were a massive financial success this year and gave a major boost to the local economy, had they won the Cup, the team actually would have cost sportsbooks millions.
Many people threw some cash down on those season-opening 500-1 odds, and would have made out like bandits had the Golden Knights capped off their Cinderella run. However, in losing, the Golden Knights actually protected their city's beloved sportsbooks from a large payout.
Is that backward thinking? Sure. But still!
What's Next?
Perhaps the best part is it gives us an easy answer to that question: WIN THE CUP!