Last summer, when the New Jersey Devils bought out Devante Smith-Pelly's contract, his future in the NHL looked uncertain. The Washington Capitals decided to take a low-risk chance on him, signing the 25-year-old right-winger to a one year, two-way, league-minimum contract. After a championship season in Washington, his new team has a slew of reasons to want to bring him back.
But the issue of signing Devante Smith-Pelly is unlike any standard free agent situation. It's not a just a matter of whether the Capitals can afford the price tag a breakout performer will command on the open market, as is the case with John Carlson. It's not just a matter of assigning a dollar value to a blossoming player's potential, as is the case with Tom Wilson.
For Smith-Pelly, an array of factors tug his value equation in different directions. This makes the decision to re-sign him one of the most complicated tasks the Capitals front office faces this offseason.
Evaluating Smith-Pelly's Postseason Rise
Smith-Pelly's regular season was forgettable at best. His 16 points were the least of any Capitals forward who played in more than seven games. Even when former coach Barry Trotz gave him a chance on the top line with Alex Ovechkin and Evgeny Kuznetsov, Smith-Pelly failed to produce offensively. Simply put, Smith-Pelly's regular season gave the Capitals no justification for making any effort to re-sign him.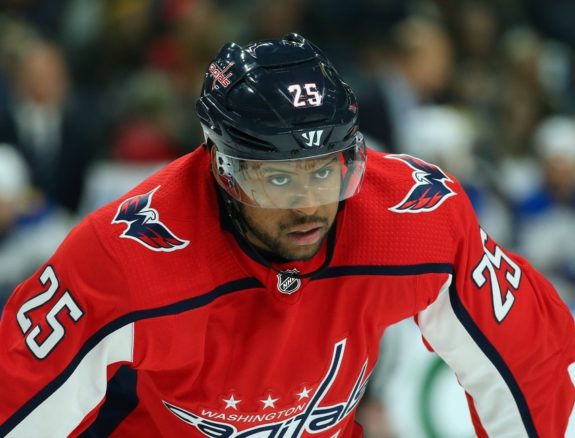 But, as the saying goes, the playoffs are a different beast. And from mid-April on, Smith-Pelly was a different beast too.
In the postseason, Smith-Pelly matched his regular season goal total of seven in 51 fewer games. Despite mostly playing on the fourth line, he was tied for fourth on the team in goals, ahead of players like Tom Wilson and Nick Backstrom who spent most of the playoffs in the top six.
His goals were timely, too. Smith-Pelly scored three goals in the final three games of the Stanley Cup Final. This included his marquee playoff moment, a diving goal in Game 5 that tied the game midway through the third period. Minutes later, Lars Eller went on to score the eventual game-winner and clinch the Capitals' first ever Stanley Cup.
Due to sample size, the regular season is likely more useful than the playoffs for predicting a player's long-run output. That being said, the Capitals may not have won the Stanley Cup were it not for Smith-Pelly's depth contributions.
It was not even the first time the man they call 'DSP' stepped up in the in the postseason. In the 2014 Stanley Cup Playoffs, the Anaheim Ducks called Smith-Pelly up from the AHL to play on the team's top line with Ryan Getzlaf and Cory Perry. That year, he led the Ducks with five postseason goals.
Smith-Pelly's regular season production indicates that he is a replaceable, bottom-six talent. In an offseason where the Capitals need to worry about signing key contributors like Carlson, Wilson, and defensive revelation Michal Kempny, giving such a player any significant amount of money does not seem viable.
On the other hand, Smith-Pelly may just be 'one of those guys' who can elevate his play in the intensity of the postseason. For a franchise that spent so many years struggling to get over the championship hump, that type of player is tough to give up.
Smith-Pelly a Washington, D.C. Icon
Clinton Yates of the Undefeated wrote an extensive piece on the significance of a black hockey hero in Washington, D.C. In a predominately black city, Smith-Pelly is that hero.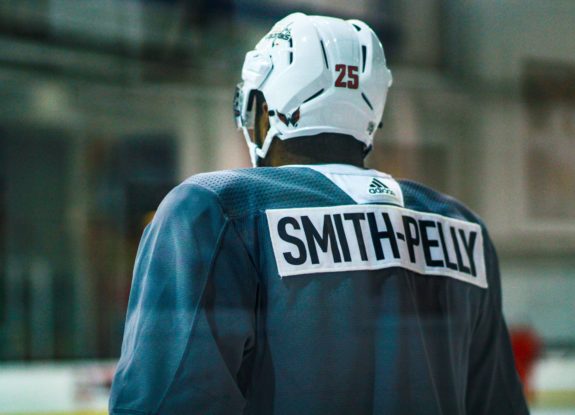 In February, Smith-Pelly was subject to racial taunts at a game in Chicago. Months later, scores of Washington fans were chanting his name at a championship parade. The man named after R&B singer/songwriter Devante Swing is living proof that anyone can persevere, thrive, and become a hero in this sport.
The hockey purist may argue that a player's on-ice effectiveness, not his role model status or cultural significance, should determine his contract.
But the NHL has spent a lot of energy and resources trying to sell the 'hockey is for everyone' narrative. Smith-Pelly is living proof that this is indeed the case. His presence in Washington, D.C. can help grow hockey in a local demographic that the sport has had a hard time reaching.
Will Smith-Pelly Give Caps a 'Hometown Discount'?
Especially if the Capitals re-sign Carlson, who is due for a major pay raise, it could be difficult for the Capitals to sign Smith-Pelly and remain under the salary cap. Due to recency bias and Smith-Pelly's tremendous playoff performance, he will likely command a bit more money than the average fourth-liner.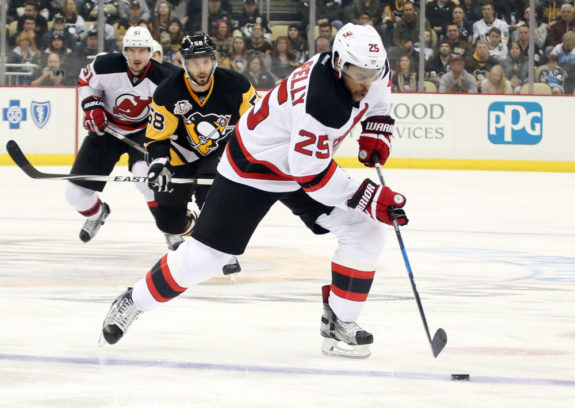 Smith-Pelly himself may be willing to take a slight pay cut in Washington. After spending four seasons with four different teams, he has finally found a city and team that has embraced him. Having already been bought out once in his career, Smith-Pelly knows the ramifications of signing a contract somewhere he does not fit in.
The Capitals must weigh Smith-Pelly's long-run performance trends against his playoff heroics and significance to the city of Washington, D.C. On the other side of the coin, Smith-Pelly may have to weigh money against stability.
Kevin Hargrave covers the Washington Capitals for The Hockey Writers. A recent graduate of Ohio State University, Kevin was a freelance feature writer for the Lantern, Ohio State's student run newspaper. With The Hockey Writers as the first major outlet he has contributed to, Kevin hopes to pursue a career in sports media.