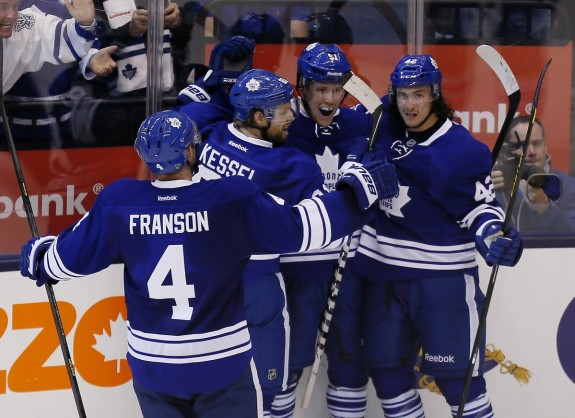 It was a move that was described by many as a major mistake at the time.
Even I was critical of Dave Nonis' decision to make Tyler Bozak a member of the Toronto Maple Leafs for the next five years at a price of $21 million, and to a certain extent I still am. He averaged just .61 points per game the season before and just .56 prior to signing the contract. And yet somehow, Bozak was signed to a deal that gives him a cap hit more lucrative than TJ Oshie and nearly equal to Andrew Ladd and his Toronto linemate, James van Riemsdyk.
THE MISTAKE
The reasoning was simple for the Leafs and Bozak at the time: he was a number one centre. Unfortunately, it seemed as though the Maple Leafs failed to realize he played on the first line only by default — Bozak somehow happened to have chemistry with the team's top goal scorer and he was their top offensive centreman. Placed on most other teams, Bozak wouldn't find himself in the same role.
It was a move that was looked down upon by just about everyone. Cam Charron of The Leafs Nation called Bozak "an absolute drain on Toronto's offence."  Chemmy of Pension Plan Puppets said the league's top wingers will "carry him on their backs." Even CBC icon Don Cherry had some choice words for Bozak.
"I mean, there's a classic case of overpaying a guy. Ridiculous. He's a plugger, he's playing with (Phil) Kessel and he can't get 20 goals. You could get 20 goals playing with Kessel (laugh)." – Cherry
(Side note: Had Bozak played a full 82-game campaign this season scoring at his current pace he would have notched 27 goals. Injuries have hampered him this season.)
Even I wrote about Tyler Bozak on multiple occasions leading up to free agency. Almost a year ago to the day, I wrote this piece calling Bozak the Leafs' worst nightmare. Then there was this one, where I went as far as saying Bozak "holds the talents of a regular third line guy."
But regardless of how you felt at the time, the deed was done everyone had to live with it. Tyler Bozak remained a Maple Leaf and if things continue to go the way they are, he likely will for four more years beyond 2013-14.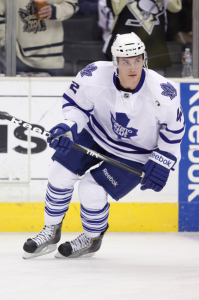 THE WISDOM
Not everyone viewed Bozak as an untalented, useless hockey player. In fact, most agreed and still do agree that there is a place on the Leafs' roster for him. Because of this it wasn't necessarily the fact that Nonis and his staff re-signed Bozak that got everyone riled up. It's that he was, at the time, undeserving of the contract he received. That's not the case anymore, however.
As noted above, Bozak is scoring at a rapid pace (.89 points per game) that would see him notch 27 goals in an 82-game season. You might say this is just a fluke year like the one Nikolai Kulemin had in 2010-11 when he managed 30 goals. However, there is reason to believe Bozak's career is on the up-and-up.
Maple Leafs teammate Morgan Rielly recently referred to Bozak as "one of the top players in the league." That might be a little extreme but he has become one of the most important offensive players in the Atlantic Division. Bozak's numbers improve on a nearly year-to-year basis making it plausible to assume that he is peaking with this season's numbers. If that's the case or even if he continues to produce at a similar rate over the duration of his current contract, the Leafs got Bozak at a rather cheap price.
Is Tyler Bozak a number one centre? That's something I'm still not fully convinced on. However his play this season combined with the direction his career appears to be headed indicate that he can hold down a regular top-six role on any NHL team. That plus the minutes he eats on special teams make $4.2 million more than acceptable.
THE PROBLEM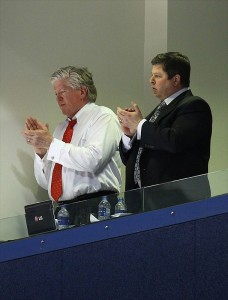 We've established that everything is fine and dandy right now. Tyler Bozak is playing well, making his $4.2 million contract acceptable to Maple Leafs fans and the top line is pumping out goals like a volcano shooting out lava when it erupts. But for Leafs management, work still needs to be done.
There is no guarantee Bozak will score at the same rate next season. If he does then maybe he should remain the team's first line centre in 2014-15. But if he doesn't, the Leafs will be forced to do what they have in seasons past: utilize a second line player on the top line by default.
The word "if" is a dangerous one in the world of professional sport. Tyler Bozak's contract will continue to be fitting only if he continues to be effective offensively. If not, the Toronto Maple Leafs will be left to scour the trade and free agent markets for a top line centre, something that isn't exactly simple to find.
But for now GM Dave Nonis can breathe a sigh of relief as Tyler Bozak continues to make him look like one of the wisest men in Toronto.
Twitter: @LukasHardonk | Email: lukas.hardonk@gmail.com | Lukas' archive