Going into last offseason, the biggest question was not if the Toronto Maple Leafs were going to make a trade, it was how many were they going to make. Candidates to be moved included Phil Kessel, Dion Phaneuf, Joffrey Lupul and Tyler Bozak. By the time spring training rolled around, only Kessel had been moved out. That created some questions surrounding Bozak.
We all remember how Bozak and Kessel are best of buds. They even lived together, as shown on the 24/7 special a couple of years ago. With Kessel now gone, would Bozak's play deteriorate without his buddy on his right wing? Well, anyone who thought that was wrong.
Through 47 games, Bozak has scored 10 goals and recorded 21 assists for a total of 31 points. Meanwhile, Kessel has played in 51 games, scoring 15 goals and recording 18 assists for a total of 33 points. If not for the entire team's problem creating offense in the last month, there's a pretty good chance that Bozak would be ahead of Kessel in points at least. He is also the Leafs best faceoff man by a longshot. With all the talk about possession in today's NHL, Bozak helps the Leafs out immensely with that.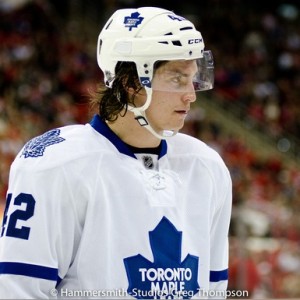 Would It Be Worth It?
The point is that it might be very detrimental for the Leafs to lose Bozak. Now that might have already happened with the elbow to the head he received from Ottawa's Mika Zibanejad. Hopefully, he won't be out for too long.
However, the Leafs could still receive offers on Bozak if there are teams that want players with term left on their deals, no matter how unlikely it might be. The thing is that the Leafs have a choice to make regarding their future around the center position.
William Nylander is all but certain to be with the Leafs next season. Mitch Marner could join him if the Leafs choose it would be better to join the Leafs than spend another year in the OHL. Nylander is a center and it has been said that the Leafs see Marner as a center as well. So if they do both join the Leafs next season as centers, what do the Leafs do with Bozak and, by extension, Nazem Kadri?
Bozak still has two more years left on his deal with a cap hit of $4.2 million while Kadri is a restricted free agent at the end of this season. It would be a fair bet to say that at least one of these two will not be wearing the new Maple Leafs jersey next season. That at least gives room for one of the rookies. Marner could at least start on the right wing.
If the Leafs decide to move Bozak, they need to make sure they get a good return. There are aspects of Bozak's game that bring the intangibles the Leafs need and those won't be replaced right away. So whatever the Leafs would get in return, it needs to be worth it. Kadri could also be moved because he might get the Leafs a better return.
So what would you do? Would you trade Tyler Bozak? Maybe even Kadri?
Toronto Maple Leafs Writer At The Hockey Writers.