Tyler Ennis is one of only a few players to have seen firsthand the chaotic transformation the Buffalo Sabres have endured over the past few seasons. Currently the longest tenured Sabre, he has seen many of his best friends and teammates come and go. In saying goodbye to longtime and fan-favorite Sabres like Jason Pominville, Ryan Miller, Thomas Vanek and Drew Stafford (just to name a few), Ennis has actually managed to survive the full-on demolition and rebuild of the Sabres.
With the Sabres management and coaching situation currently in flux, so too is Ennis' status with the team. Having been through thick and thin with the organization, there's probably no other player fans want to see succeed more than him.
Tyler Ennis – Welcome to The Show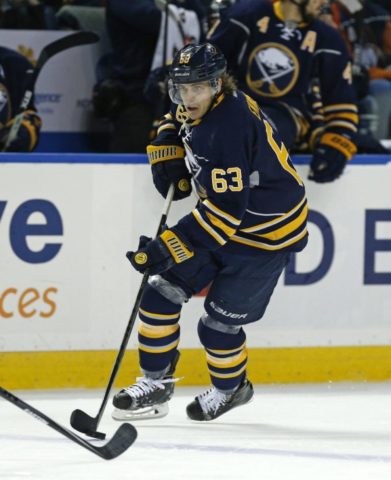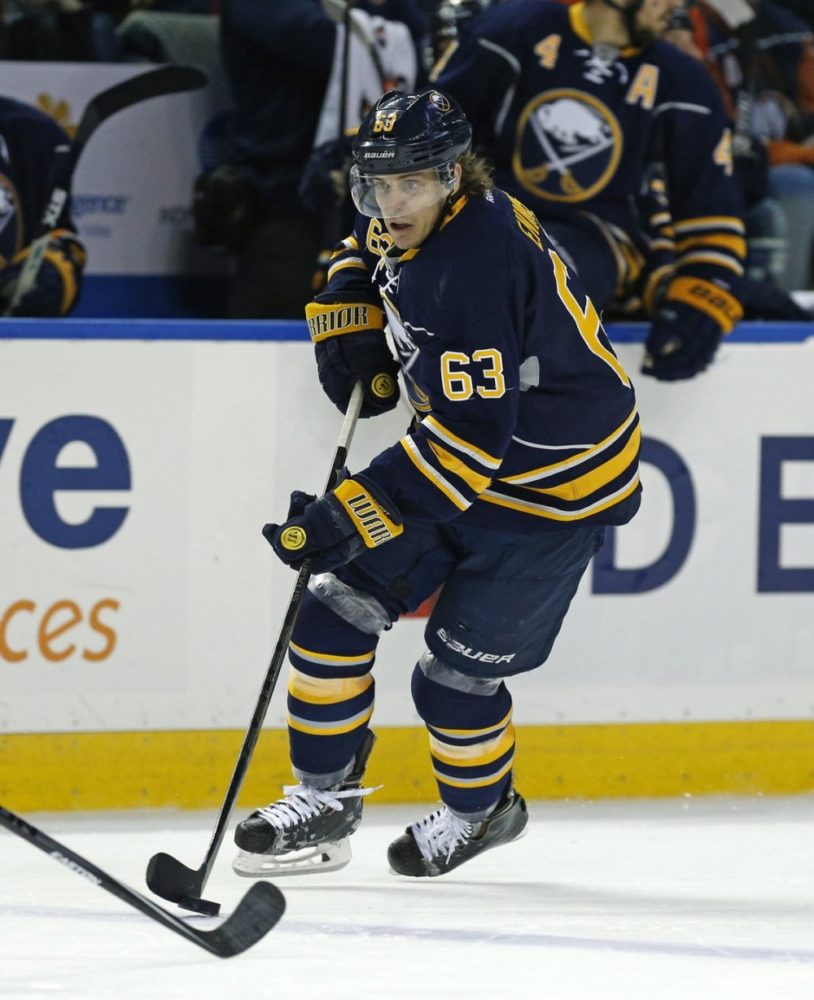 Ennis made his NHL debut Nov. 14, 2009, against the Philadelphia Flyers. It was a game he would never forget as he scored his first NHL goal, firing a bad-angle shot past goaltender Ray Emery late in the second period.
Ennis spent most of the 2009-2010 season with the Sabres' American Hockey League affiliate, the Portland Pirates where he put up 23 goals and 42 assists for 65 points. His 23 goals had him tied for the lead among AHL rookies. He also capped his AHL rookie season off by winning the Dudley "Red" Garrett Memorial Award, as the top rookie in the AHL. Former Sabre and Pirate Nathan Gerbe, won the award the season prior.
Ennis entered onto a Sabres team vastly different than the one he's played for the past couple seasons. The 2009-2010 Sabres put up 100 points, winning the division title. In typical Buffalo fashion, the Sabres were eliminated in the first round of the playoffs in six games by the Boston Bruins. Despite a swift playoff exit, Ennis managed a team-best three assists and tied with Jason Pominville for a team-best four points.
The 2010-2011 season was Ennis' first full season with the big club. He played all 82 games of his sophomore season, registering 20 goals and 29 assists. The Sabres did experience a regression in the standings from a season prior, though. Following a division title, they managed to squeak into the playoffs owning the seventh spot. For a second consecutive season, the Sabres found themselves eliminated from the playoffs in just the first round, but not before Ennis cemented himself a hero in the hearts of Buffalo fans.
In probably the most memorable moment in recent Sabres' history, Ennis scored another big goal against the Philadelphia Flyers.
That goal was invariably a peak in Sabres history with which a steep decline soon followed. Even though the following season Ennis caught fire with linemates Drew Stafford and Marcus Foligno, the Sabres fell short of the playoffs posting 89 points, good enough for only ninth place in the Eastern Conference. Dark days soon followed for all of Sabres nation.
Surviving The Tank
It probably comes as a surprise to Ennis that he's still a member of the Sabres organization. To say the the Sabres 'cleaned house' over the years is very much an understatement. Former general manager Darcy Regier started the facelift by trading longtime Sabre Paul Gaustad, along with captains Pominville and Vanek.
Ex-GM Tim Murray continued the demolition by trading another former captain in Steve Ott, along with face-of-the-franchise goalie Ryan Miller. Through all of this, not only did Ennis manage to stay with the team, but he also earned himself a very respectable contract extension.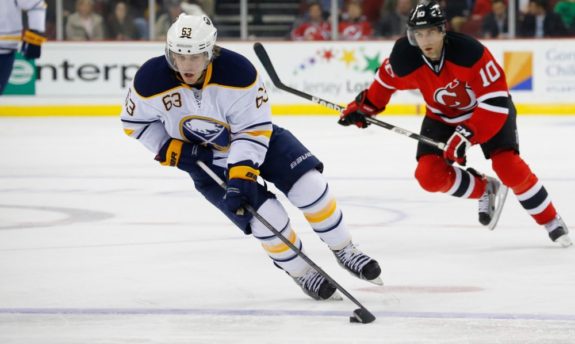 Coming off a two-year bridge deal with an average annual value of $2.8 million, Ennis signed a five-year, $23 million deal in the summer of 2014. Murray wasn't completely sure of Ennis' specific role on the team when he signed him, but he knew that he certainly belonged. Murray said,
Is he a center? Is he a winger? We talked about that with his agent and where he fits. He fits somewhere on this team. I have to look down the road and when I feel we're going to be a competitive team. Is he the No. 1 center on that team? He may not be. He may be this year and next year he may be a No. 2 left winger. It depends on what we bring in here. That's going to dictate where he fits.
Ennis did more than just solidify a role for himself in the lineup. He was one of the more productive Sabres on a historically bad team. The anemic Sabres offense only managed to score 150 goals in the 2013-2014 season, and 153 in 2014-2015. Former Sabre Cody Hodgson led the Sabres in points with 44 (20 goals, 24 assists) during the first season of 'the tank', but Ennis was right behind him with 43 points (21 goals, 22 assists).
The second year of the arduous rebuild, Ennis led the Sabres in points (46) and was the only Sabre to score 20 goals. He also managed to score highlight reel goals like this…
For being such a productive player on a remarkably bad team, fans could only wonder how well he would produce with a half-decent team around him.
Picking Up the Pieces
The Sabres team Ennis now finds himself on is unrecognizable from the team under that of a ferocious rebuild. Back when he signed his extension, he was arguably the best forward on the team. Now he finds himself struggling to solidify himself as a top-nine forward, competing with players like Kyle Okposo, Evander Kane, and Sam Reinhart along with a slew of up-and-coming prospects like Justin Bailey, Nicholas Baptiste, and Alex Nylander.
One would think after adding so much talent to a Sabres roster, Ennis would have benefited greatly and flourished under such circumstances. However, adversity played a prominent role in stunting his progress.
Ennis only played 23 games in the 2015-2016 season. After sustaining an 'upper-body injury' earlier in the season, he found himself the victim of a vicious Alex Ovechkin hit, leading to a concussion. That marked an early end to a season full of hope and optimism not only for himself but for the team and the city of Buffalo as well.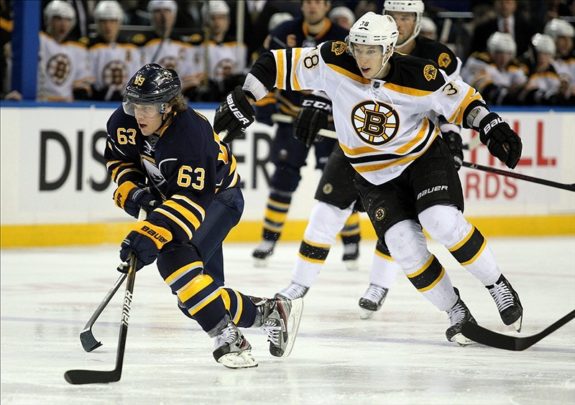 Ennis' injury and road to recovery were depicted on a very touching episode of Beyond Blue and Gold. Recovering from a concussion can be a whirlwind for not only the athlete but also his family and teammates. Ennis said, "There's days where you feel great and days where it's tough. To say I wasn't scared at some point would probably be a lie."
This past season for Ennis was diluted with injuries as well. He did play 51 games but missed the majority of time due to a groin injury. In those 51 games, he put up only five goals and eight assists. Both fans and management alike naturally cut Ennis some slack due to the lack of playing time over the past few seasons, but many are speculating now whether his contract is inflated or that he might fall victim to the expansion draft.
Ennis still has the potential to help the Sabres become a playoff team, especially if he stays healthy. With the tumult currently surrounding the Sabres, his status with the team remains a giant question mark. Maybe he is used as a trade chip for a defenseman, or maybe he's exposed in the expansion draft.
No matter what the circumstances, he has proven he is a valiant athlete when faced with adversity. Him making the NHL as an undersized player speaks for itself, along with his fortitude in recovering from a serious concussion. Many fans want Ennis to remain a Sabre to see the entire rebuild through, but such a proposition for both him and the Sabres may not be in the cards.