Tyler Toffoli was a longtime member of the Los Angeles Kings and a fan favourite. At the 2020 trade deadline, however, he was dealt to the Vancouver Canucks, where he excelled. Following his stint in Vancouver, he signed a four-year contract with Montreal. This means it's unlikely he'll return to the Kings any time soon. Here is a look back at Toffoli's tenure with LA.
Prior to Cracking the Kings Roster
Toffoli was drafted 47th overall in the 2010 NHL Entry Draft by LA. It took him a few seasons to make the NHL, but he was dominant in the OHL and, later on, the AHL. In 2010-11, he participated in his third season in the OHL with the Ottawa 67's, where he scored 57 goals and added 51 assists in just 68 games played. This led OHL right-wingers in scoring, securing him his first Jim Mahon Memorial Trophy. He played one game with the Kings' AHL affiliate, the Manchester Monarchs, in 2011, where he scored a goal.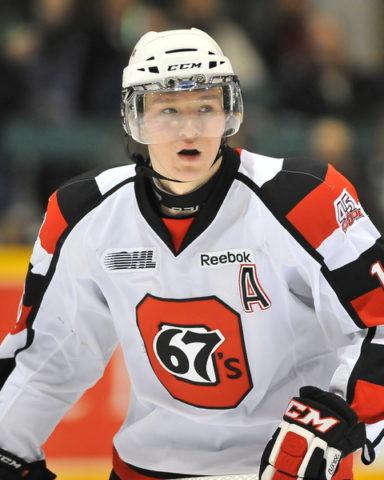 In 2011-12 Toffoli solely played for the 67's, where he scored 52 goals and posted a total of 100 points. This once again led all right wings in points, nabbing him his second-straight Jim Mahon Memorial Trophy.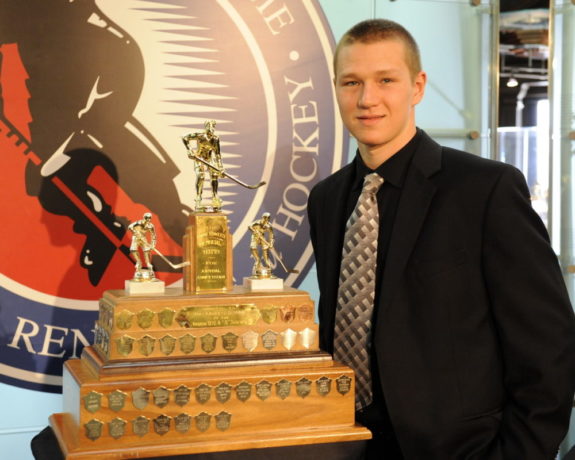 After his dominant OHL career, Toffoli began playing in the AHL, where he immediately continued dominating. In his AHL rookie season (2012-13) he scored 28 goals and potted 23 assists, propelling him to win the Dudley Garret Memorial Award as the AHL rookie of the year. Due to his excellent play in the AHL, he was called up to play for the Kings near the end of the 2012-13 NHL season. In 10 regular-season games with the Kings, Toffoli notched five points. This was good enough to keep him on the team during the 2013 playoffs, where he posted six points in 12 games.
The 2013-14 season was the final season that Toffoli played in the AHL. After NHL training camp, he was assigned to play in Manchester. In 18 games played, he scored an impressive 15 goals and added eight assists for a total of 23 points, leading to him being called up to the Kings main roster early into the season.
His Tenure in LA
Toffoli had a solid first season in 2013-14. Averaging a measly amount of time on ice (TOI) at 12:45 per game, he only managed to produce 29 points (which is still his career-low). However, he played with heart and was responsible with the puck, indicating that he could be something special. He had a takeaway-to-giveaway ratio of 23-25, a very good total for a rookie. He showed he had heart and could play with an edge to his game, throwing 57 hits in 62 games played (0.91 hits per game). Finally, he posted a plus/minus rating of plus-21, ranking second on the team.
In the 2014 playoffs, he truly proved his worth, playing an integral role in LA's Stanley Cup victory. He posted 14 points (sixth on the team), and played a very important role in the Kings' reverse sweep of the San Jose Sharks, as he had a series-leading two game-winning goals (GWG).
In 2014-15, Toffoli had a breakout season. In 76 games played, he scored 23 goals and added 26 assists. His 23 goals marked the first time he hit the 20-goal mark in the NHL, and since 2014-15 he's only had one season where he either scored less than 20 or was on pace for below it.
2015-16 stands as Toffoli's best. He set career highs in goals (31), assists (27), plus/minus (plus-35), and points (58). His plus-35 ranking was the highest in the NHL, and he would have won the plus/minus award had it not been discontinued in 2008.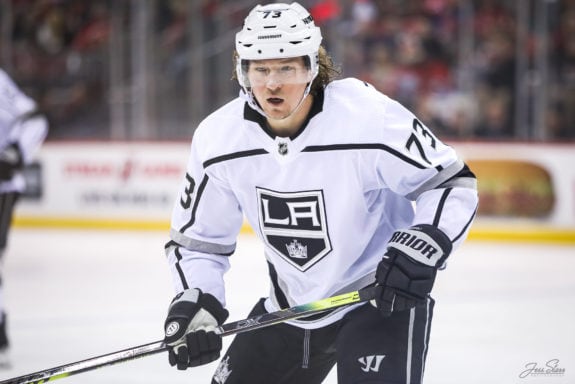 Following his career year, Toffoli had an injury-riddled 2016-17, where he scored 16 goals and added 18 assists in 63 games played. Had he not been injured, he was on pace for 21 goals and 23 assists, which would've been in line with the rest of his career.
2017-18 witnessed a bounce-back year by Toffoli. He managed to play in all 82 of the Kings games, where he posted 24 goals (third on the team) and 47 points (fourth on the team). His 47 points remain his second-highest single-season total, while his 24 goals are tied for his second-highest goal total. In the 2018 playoffs, he had zero points as LA was embarrassingly swept by the Vegas Golden Knights, marking his last playoffs as a member of the Kings.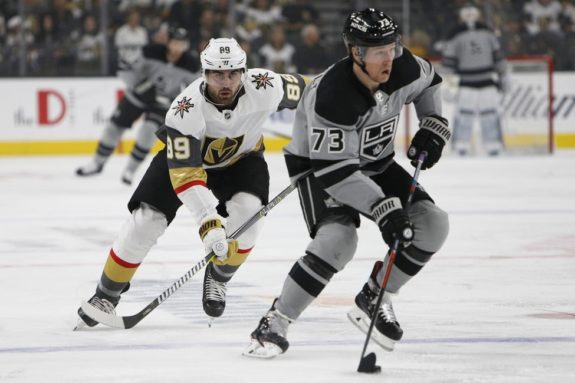 2018-19 was the worst campaign of Toffoli's career. In 82 games played he scored a mere 13 goals and posted 34 points. Both of these are the second-worst totals he's ever had in either category. However, his lower totals came in his rookie year where he played in 62 games, and he was on pace for more goals and points than 2018-19. He also had a minus-16 rating, marking the first time he had a negative plus/minus. His final year in LA (2019-20) saw him once again post 34 points with LA (17 of them were goals). He did this in 58 games played, before being dealt to Vancouver at the trade deadline.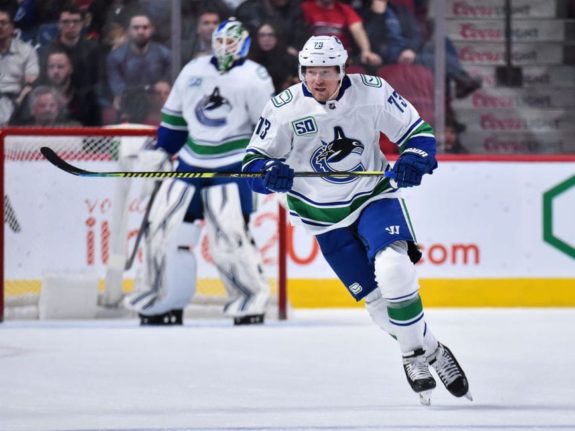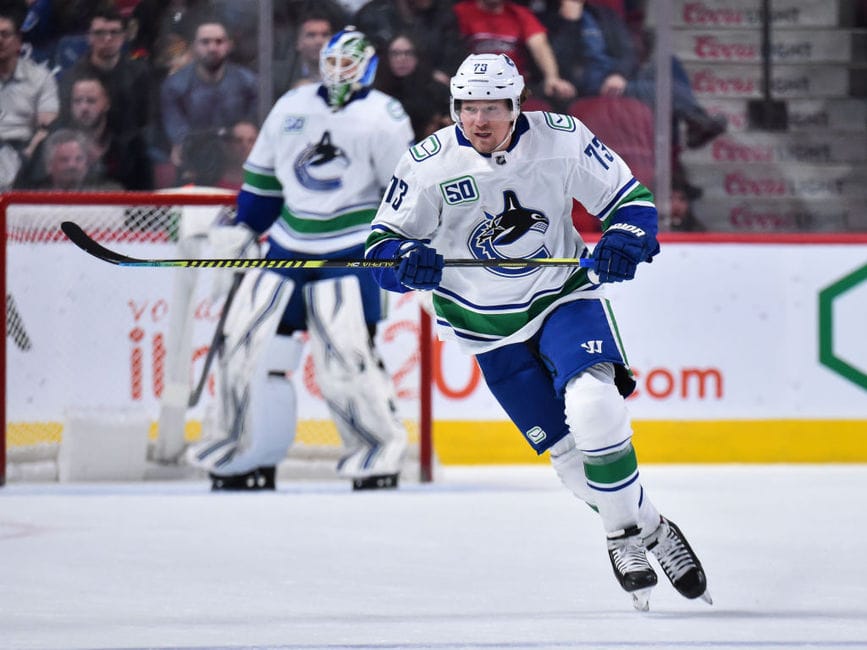 Toffoli was quite successful in Vancouver, posting 10 points in 10 regular-season games after being dealt there. He was injured for much of the 2020 playoffs, but he had an impressive four points in seven games. Subsequently, he was signed by Montreal as a free agent.
A Great King
Tyler Toffoli was a great player for the Kings. He scored timely goals, he played with lots of heart, and he became a fan favourite. Most importantly, he helped propel the Kings to their 2014 Stanley Cup victory. After trading Toffoli, Kings' General Manager Rob Blake said this:
"Tyler has been a huge impact on the Kings organization with the Stanley Cups and everything that will be remembered for how hard he worked and everything he's been able to accomplish"

From 'Kings Trade Tyler Toffoli to Canucks for Two Players and Two Draft Picks,' Los Angeles Times, 02/17/20
Toffoli had a huge impact on the Kings and he's a fan favourite who will be remembered for years to come.
---
---