The end of the regular season is winding down and the University of North Dakota hockey team is tied for fourth place in the National Collegiate Hockey Conference standings. The Fighting Hawks control their own destiny, but they need to sweep the Miami RedHawks in Oxford, Ohio, if they want to host a first round NCHC playoff series. They don't have a lot of room for error. They need two wins.
Last Saturday, after losing to Nebraska-Omaha, UND senior captain Gage Ausmus said it best.
"Right now, every guy in the locker room needs to realize what's on the line and what's at stake here," Ausmus said. "We have to play with our backs against the wall now."
It's now or never, for the Fighting Hawks, they're running out of games. If they want to qualify for the NCAA playoffs they need to string together some wins. The RedHawks are in a similar situation and they're looking to defend their home ice.
All Business
Wednesday, at the men's hockey press conference, the head coach and the players were all business. They know that they have little room for error. The calendar has switched to March and the Fighting Hawks are now in playoff mode. They know what's on the line this weekend.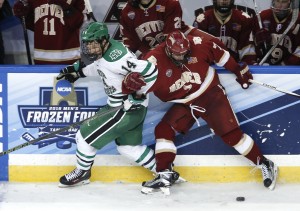 "It's something we already addressed, this is a must-win weekend for us," UND head coach Brad Berry said. "It's a playoff weekend. We know what's in front of us. Again, we know that we've got to perform. On Friday, I thought we executed well. On Saturday, we didn't execute as well. It's one of those things, whether you're at home or on the road, you know the job in front of you.
"This is where experience (comes in)… whether it's the coaching staff or the players that have been to a national championship game, we've been through pressure before. I know it's a totally different group, but this is where we have to rely on guys that have a little bit of experience to getting us through this time. Our guys know what's is in front of them."
Junior forward Austin Poganski echoed his head coach's comments.
"This business has been very business-like," Poganski said. "It's do or die now. I think it's been more business-like, guys have been really sharp in practice and we're ready to go."
Miami Struggling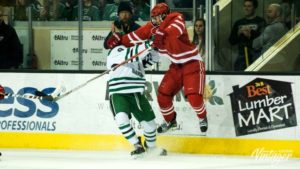 Looking at Miami's record for the last 10 games, a sweep isn't out of the question. If the Fighting Hawks bear down and play a 60-minute game, they should get a favorable result.
Like the Fighting Hawks, the RedHawks have struggled to get wins during the second half of the season. Since January 14, 2017, the RedHawks are 1-8-2 (.227).  During the same time, the Fighting Hawks are 4-6-0 (.400). Since reaching .500 at 8-8-5, Miami has gone 1-9-2 over the last 12 games.
RedHawks Already in Playoff Mode
Make no mistake about it, the RedHawks are going to defend home ice. They're not going to just roll over and let the Fighting Hawks come into Steve Cady Arena and sweep them. RedHawks' head coach Enrico Blasi said that his team is already in playoff mode.
"We've been playing like that for a while," Miami head coach Enrico Blasi said. "Our league is like that week in, and week out. You're always playing desperate… urgency. I think those words come to mind each time we step on the ice with any opponent in our league.
"This weekend is magnified. They're playing for home ice. We're playing to see what we can do and make sure that we're playing our best hockey going into next week. It's going to be an exciting environment. We know how good North Dakota is. They're well coached. They've got weapons up and down their lineup and we've got to be ready to go. We've got to make sure that we're playing on our toes."
The fans should expect a war this weekend. There's a lot on the line.