This weekend, the University of North Dakota hockey team entertains the St. Cloud State Huskies in an important two-game conference series. This is the final home series of the regular season.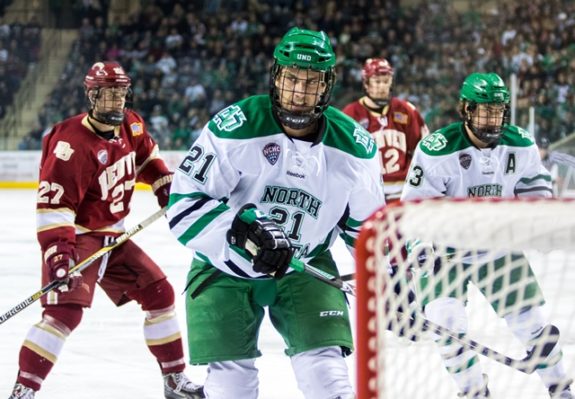 Series History
All-time, UND leads the series against SCSU 62-37-12 (.613). In Grand Forks, UND  leads the series against the Huskies 30-16-6 (.635). In St. Cloud, UND leads the series 26-20-6 (.558), At Neutral sites, UND leads the series 6-1-0 (.857). Under head coach Dave Hakstol, ND leads the series 24-15-7 (.598). In the last 10 games, UND trails 3-6-1 (.350).  UND has split the last two series against the Huskies.
Tale of the tape
#1North Dakota (22-6-3, 13-5-2-0 NCHC) vs. St. Cloud State Huskies (15-14-1, 10-9-1-0 NCHC).
Date: February 27-28, 2015
Game Time: Friday 7:37 p.m. CT, Saturday 7:07 p.m. CT
Location: Ralph Engelstad Arena, Grand Forks ND.
Last time out: SCSU swept UNO (4-3 W, 2-0 W)
Last time out: UND swept WMU (3-1 W, 3-2 W O.T.)
SCSU Offense: 24th Nationally
SCSU Defense: 25th Nationally
SCSU PWR: 14th
SCSU Last 10 games: 6-4-0 (.600)
UND Offense: 7th Nationally
UND Defense: 10th Nationally
UND PWR: 2nd
UND Last 10 games: 8-1-1 (.850)
TV: Friday:  CBS Sports Network, DirecTV 221, DISH Network 158
Live Streaming: None
TV: Saturday:   Midco Sports Network, FOX College Sports Atlantic, DirecTV 608, DISH Network 449
Live Streaming: NCHC.TV
Our @CBSSportsNet schedule continues Friday with a showdown between #1 @UNDmhockey and @SCSUHUSKIES_MH #NCHCHockey pic.twitter.com/Nx4Fu3sZK2

— The NCHC (@TheNCHC) February 24, 2015
Key Players to watch
North Dakota – Forwards: Drake Caggiula (15g-16a—31pts), Michael Parks (12g-19a—31pts), Mark MacMillan (16g-9a—25pts), Nick Schmaltz (4g-19a—23pts), Luke Johnson (6g-12a—18pts), Brendan O'Donnell (10g-5a—15pts). Defense: Jordan Schmaltz (3g-22a—25pts), Paul LaDue (4g-13a—17pts), Nick Mattson (2g-11a—13pts), Tucker Poolman (6g-5a—11pts), Keaton Thompson (1g-7a—8pts), Gage Ausmus (2g-2a—4pts). Goalies: Zane McIntyre (22-6-2, 1.96 GAA, .932 SV%), Cam Johnson (0-0-0, 5.54 GAA, .765SV%).
UND Injuries: None reported.
St. Cloud State – Forwards: Jonny Brodzinski (17g-12a—29pts), Joey Benik (11g-18p—29pts), Kalle Kossila (4g-20a—24pts), David Morely (12g-11a—23pts), Patrick Russell (10g-13a—23pts). Defense: Ethan Prow 3g-12a—15pts), Andrew Prochno (3g-11a—14pts), Tim Daly (1g-6a—7pts). Goalies: Charlie Lindgren (14-13-1, 2.30 GAA, .916 SV%), Rasmus Reijola (1-1-0, 2.36 GAA, .892 SV%)
Special teams
St. Cloud State – The Huskies penalty kill is ranked 44th in the nation (73/92, 79.3%). The Huskies power play is ranked 3rd in the nation (29/124 23.4%).
North Dakota – UND's penalty kill is ranked 23rd in the nation (108/127, 85.0%). UND's power play is ranked 17th in the nation (27/132, 20.3%).
 UND can clinch Penrose Cup this weekend
According to the NCHC, UND can win the Penrose Cup (either outright or shared) this weekend, but needs at least five points vs. St. Cloud State and help in other conference games.
UND on playing the Huskies
This weekend, UND looks to slow down the speedy Huskies. There's a lot of excitement surrounding this series. Not only is this the final home series of the season, this is also senior weekend.
"I think some of their guys are getting healthy," junior defenseman Jordan Schmaltz said. "They're starting to play a lot better. It's going to be a war out there. It starts with Friday night. We have to come out hard and carry it through the weekend."
"They're a great team," junior forward Drake Caggiula said. "Maybe their standings don't show how well they've been playing, but they're definitely a great team. In my three years here, they've always given us trouble playing at the Ralph. They're trying to make their way up the Pairwise Rankings and so are we. It's going to be a hard-fought series."
"I haven't watched much of them, I have to be honest with you," head coach Dave Hakstol said. "I think they do a lot of things well. They play with pace. Their power play is at nearly 24 percent. Their lines seem to have really good depth to them."
Hakstol continued, "I am not over evaluating them. I am more worried about what we're doing. We're coming out of a really hard-fought series – a real physical series. There will be some similarities this weekend, but there will also be some major differences coming home. I am really just preparing our team and making sure that we're at our best."
Series Prediction
First, I believe that UND is due against SCSU. In recent years, UND has struggled against the Huskies in Grand Forks. In the last four home games against the Huskies, UND is 0-3-1. Ironically, the Huskies are also the last team to sweep UND (November, 2-3, 2013).
UND needs to get over the hump this weekend and get points. UND is looking to secure the top spot in the NCHC standings. With that in mind, UND sweeps this weekend.
Eric is a 1996, 1999 graduate of the University of North Dakota. Eric covers the University of North Dakota Hockey and Division I college hockey. Eric is the Contributing Editor for Inside Hockey.