Last season, the University of North Dakota went 34-6-4. The Fighting Hawks won a league title and a NCAA title.  During the offseason, while Hawks fans were celebrating their eighth NCAA title, UND would lose nine players from the 2016 championship team (Drake Caggiula, Bryn Chyzyk, Colten St. Clair, Coltyn Sanderson, Nick Schmaltz, Troy Stecher, Paul LaDue, Luke Johnson, and Keaton Thompson). Three of these players are playing in the NHL (Caggiula with Edmonton, Schmaltz with Chicago, and Stecher with Vancouver).
Departures aside, during the first half of the season, the Fighting Hawks have been plagued by inconsistency. Currently, there are eight freshmen and 11 sophomores filling major roles for the Hawks' and at times, their age has shown. Fans shouldn't look at that as an excuse, that's a reality. At the halfway point, UND is 9-6-3 and 3-4-1 in the NCHC.
Inconsistency Plagues Special Teams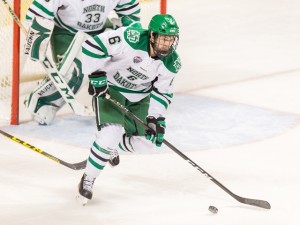 During last season's NCAA championship run, UND's special teams were very good, their power play finished 21st in the nation 31/162, (19.1%) and their penalty kill finished sixth in the nation 140/162, (86.4%). Last season, UND game up two shorthanded goals.
Through 18 games, inconsistency has plagued UND's special team's. Currently, UND is ranked 32nd nationally on the power play, 14/81 (17.3%) and 46th on the penalty kill, 64/80 (80.0%). Through 18 games, UND has already given up four shorthanded goals.
Recently, in a game against Western Michigan, Broncos defenseman, Taylor Fleming was assessed two five-minute majors in the third period (one for kneeing and one for checking from behind). When the two major penalties were over, UND had come up empty handed. UND would go on to lose the game 3-1.
That's inconsistent special teams play; a team shouldn't expect to win a hockey game when they fail to score on back-to-back five-minute majors. For the game, UND went 0-6 on the power play. During the weekend in question, UND's power play was plagued by inconsistency, the Hawks would go 1-9 on the man advantage.
"It was the lack of execution," junior defenseman Tucker Poolman said. "Just not playing together, as far as making the little plays that make a power play successful – as far as getting it deep – little passes and pops, (we weren't ) moving our feet. As a team, here, including myself, it wasn't good enough."
Play 60-Minute Game
A recurring theme this season has been UND's failure to play a full 60-minute game. At times, we've heard players say, we weren't ready to play at the drop of the first puck. For whatever reason, UND hasn't been giving a full 60-minute effort and it was showing in the box scores.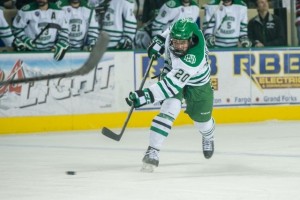 "We didn't come with the right mindset," senior captain Gage Ausmus said after losing to the Michigan State Spartans. "We kind of looked past them and that's the thing with a young team, any team. In college, any team can you beat you no matter what their record is. I think we kind of came into this game not focused and prepared for what they had to bring.
"Obviously, we have to come with a different mindset. I think that's pretty easy with our group. Last weekend, we played in St. Cloud, we put together two 60-minutes games and that's what we need to do to win the game with the group we have this year. We need to play the first, second, and third periods. I think we only put together one good period tonight. Obviously, tomorrow we need to realize we need to bring it from the start."
Earlier in the season, during a six-game stretch, the Hawks went 0-4-2 (.166). During those six games, they were outscored 10-19. Obviously, it's very hard to win hockey games with goal differentials like that. UND was struggling, and having trouble cashing in on offensive opportunities.
The Hawks Aren't Panicking
During the rough patch in question, the Fighting Hawks said all of the right things. They know what they have to do and they haven't played that bad. They just need to play a 60-minute game and clean up a few minor mistakes that get magnified when a team is struggling for wins. Even with the consistent first half, the Hawks' players aren't panicking.
"I wouldn't say panic," junior forward Austin Poganski said during a recent press conference. "I would say more urgency. I wouldn't say desperation mode but we can't really afford too many mishaps. We've got to keep improving as a team and building as a team and just get a few wins."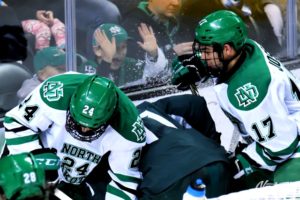 Sophomore defenseman Christian Wolanin echoed his teammate's comments.
"Saturday night's post-game losses are always a little bit edgy," Wolanin said. "We have a good staff, we have a good group of guys. We know what we need to do. Obviously, this is a little frustrating. But there's no panic. We know what we need to do to get back on track."
Finally, in the first half, UND hasn't played all that bad. Inconsistency aside, the Hawks are close to being a very good hockey team. Most of the mistakes they've made are fundamental (turnovers in defensive zone, not getting pucks deep) and if they can clean up some of these minor mistakes, they will have success in the season half of the season. The Hawks have to learn how to play a consistent, 60-minute game and not take parts of games off. Recently after a heartbreaking 3-2 loss to the Denver Pioneers, head coach Brad Berry explained.
"You can look back through the game, it's those lapses in games where you give up one goal or two goals." coach Berry said "Whether it's having a lead or chasing a game, there are lapses in games where you're leaving Cam (Johnson) stranded back there and having to make good saves. You can't do that. We're playing good teams and we're playing a good team next weekend."
Eric is a 1996, 1999 graduate of the University of North Dakota. Eric covers the University of North Dakota Hockey and Division I college hockey. Eric is the Contributing Editor for Inside Hockey.