Imagine if the University of North Dakota didn't have junior All-American goalie Zane McIntyre this past season. There's a very good chance they wouldn't be one of the top-ranked teams in the nation. Also, there's good chance UND doesn't win the National Collegiate Hockey Conference regular season title, either.
McIntyre's solid play between the pipes was one of the reasons UND made a return trip to the Frozen Four. McIntyre was UND's most valuable players during the 2014-15 season.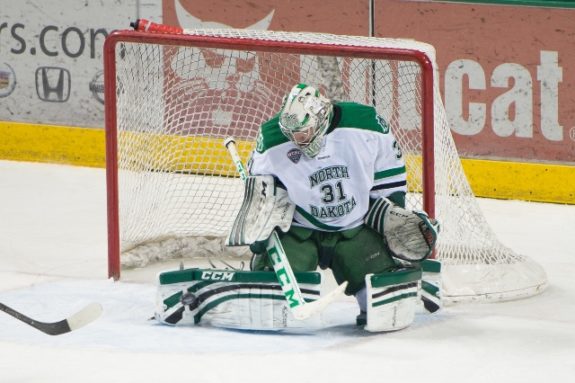 McIntyre's teammates were happy that he was their starting goaltender last season.
"I think night in, night out, he's our best player," senior forward Brendan O'Donnell said. "All year, he's been there for us. He's bailed us out numerous times. It gives you confidence as a player, being able to make plays, knowing that if you happen to make a mistake he's there to back you up. I can't say enough good things about Zano. I think for our hockey club he's huge. I don't think there's a word to describe what he means to our hockey team."
"He means a lot to our club," senior forward Michael Parks said. "I don't know if there's any other way to put it. He's so consistent. I don't want to say that we almost take him for granted now, but he's so reliable. When we need a big save, he just does it and he makes it look easy."
Last week, it was revealed through McIntyre's family advisor that he was forgoing his senior season to sign a professional contract with the Boston Bruins. McIntyre was drafted by the Bruins in the six round of the 2010 NHL Entry Draft (165 overall).
Last week, former Boston Bruins backup goalie Niklas Svedberg: 18 GP, 7-5-1, 918 SV%, 2.33 GAA, two shutouts, signed a contract with Salavat of the KHL. With Svedberg signing a contract with Salvat, it makes perfect sense for the Bruins to sign McIntyre.
UND fans weren't all that shocked by the revelation and most expected the move. Nonetheless, McIntyre's exit stings.
Honestly, there's not much left for McIntyre to accomplish in college. The only thing to evade McIntyre during his remarkable career at UND is a national championship and a conference playoff title. After his three-year stint at UND, McIntyre is leaving an impressive legacy behind.
McIntyre's Resume
During his career at UND, McIntyre (58-24-8 (.679), 2.10 GAA and a .926 SV%). McIntyre also has four shutouts in 92 games.
This past season, McIntyre played in 42 games posting a (29-10-3, 2.05 GAA and a .929 SV%). McIntyre led the nation in wins (29), games (42) played and game started (41).
On a conference level, McIntyre was ranked third in the National Collegiate Hockey Conference in goals against average and second in save percentage. McIntyre also lead led the National Collegiate Hockey Conference in wins, winning percentage, minutes played, games played and games started.
McIntyre will leave UND as the all-time leader in goals against average 2.10 and save percentage .926. McIntyre is also ranked sixth in games played (92) and third all-time in wins (58). McIntyre is seventh all-time in saves (2,384).
Finally, in the single-season department: McIntyre is second in wins for a season (29) and ranked fifth (1.99) and sixth (2.05) in GAA. McIntyre will leave UND as one of the top goaltenders in save percentage: ranked second (.929) 2013-14, fifth (.926) 2014-15 and seventh in (.920) 2012-13.
Whoever becomes UND's starting goaltender next season, will have some big skates to fill. McIntyre will be missed on and off the ice and his absence will create a hole that's going to be hard to fill.
Eric is a 1996, 1999 graduate of the University of North Dakota. Eric covers the University of North Dakota Hockey and Division I college hockey. Eric is the Contributing Editor for Inside Hockey.