Stop me if you've heard this before – it was like a playoff game. Well, the truth is we will hear it a lot this season, given the structure of the schedule. Wednesday's game between the Toronto Maple Leafs and Montreal Canadiens was indeed like a playoff game. What happens a lot in the playoffs? People you don't expect to make the big plays that suddenly turn the tide of a game. You know, those hardworking third and fourth-line players who do their job, but don't get the spotlight, become the heroes. That's how Toronto beat Montreal 4-2.
The Leafs' first three-goal scorers not only got their first goals of the season but combined the trio had not scored in more than 1,100 days. Perhaps the most notable goal scorer was Ilya Mikheyev. The Russian speedster had not found the back of the net since December 27, 2019. That was the same night he had his wrist cut by a skate blade, which ended his regular season. In his first 13 games this season, he'd managed just 3 points, a far cry from his 23 points in 39 games he had as a rookie.
"I felt it was good," said Mikheyev after the game. He admitted he was frustrated at times, but his coaches and teammates kept helping him. "Every player wants to score goals when you can't sometimes, you just keep working to help the team, do what you can do for the team because it is team play. We want to be better, and I just try to help the team with everything I can do."
Mikheyev's Work Ethic Pays Off
"I feel great for him," said Sheldon Keefe, "he's worked extremely hard, not just in our games, and he's had a ton of chances, and he's really worked, he's maintained his good defensive play. He's continued to work at his game in practices and off days, development days. It's nice to see him get rewarded, for sure. You like to see that."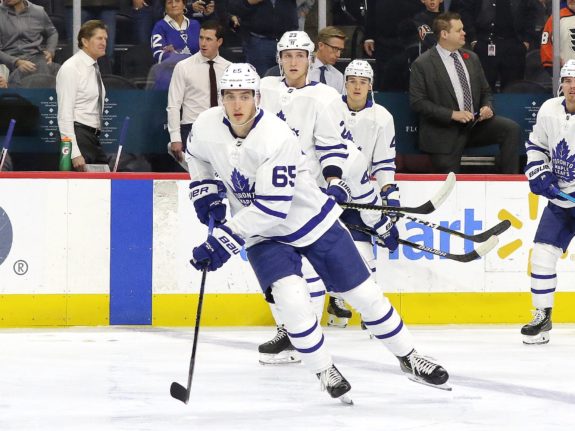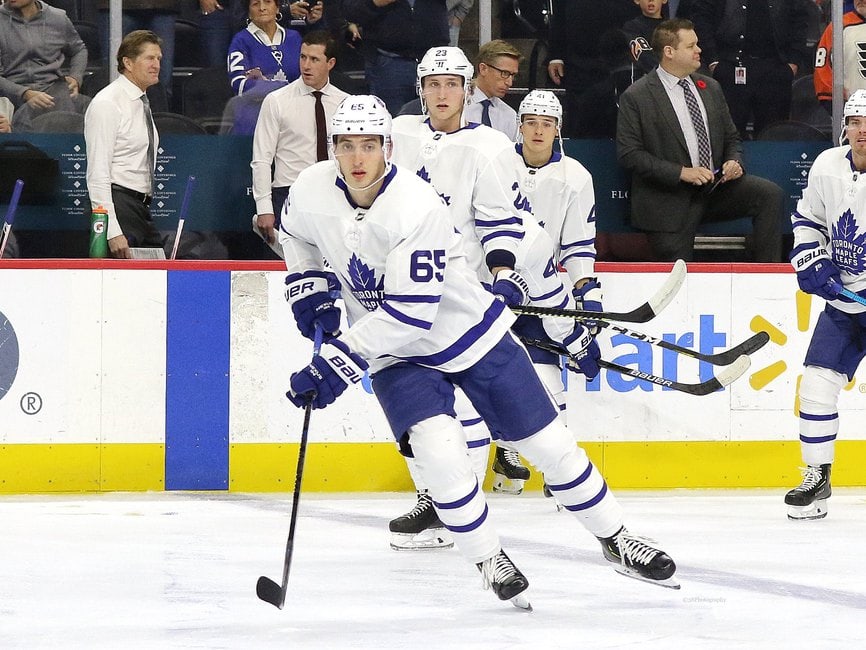 "It's great to see Mickey get it," said captain and linemate John Tavares. "He must have had the most chances in the League without one yet, so it's definitely great to see him get rewarded for the way he's been playing."
Mikheyev scoring, while long overdue, was not completely unexpected. Two other Leafs' players, both defencemen, had their first of the season as well. Travis Dermott, who had not scored in 405 days and Justin Holl, who was goal-less for almost an entire year, unleashed incredible shots to beat Carey Price. Keefe was asked if he knew they had those kinds of shots. "Yeah, of course. No doubt. They only pull it out when it counts the most," said Keefe with a smile.
Much Needed Secondary Scoring
Joking aside, it a positive sign for Toronto. The Maple Leafs have been getting goals from the usual suspects. Adding secondary scoring threats from other areas of the lineup will make this team even harder to manage. Holl believes his team took a big step, "Absolutely, I think that's good for our group because we obviously rely heavily on our star players, and they're bringing it every night, but on the odd night that they're held in check or call it what you want, it's nice to see some secondary scoring. That's the mark of really good teams."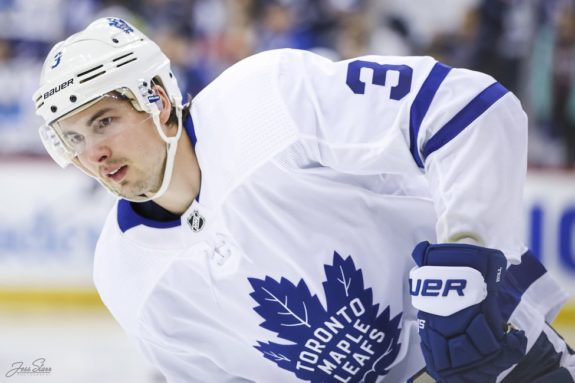 Another defenseman, Jake Muzzin, had three assists. However, Mitch Marner's eight-game point steak came to an end. Matthews's eight-game goal-scoring streak ended, but he did get a point to extend that streak to nine games. I'm sure neither player cares about those stats. The only points they care about are the two points earned and another streak. Toronto has now won four in a row and extended the point streak to nine games.
---
---

Kevin Armstrong is an award-winning journalist with more than two decades of experience. He's been rink side for World Juniors, Memorial Cups, Calder Cups and Stanley Cups. Like many Canadian kids, his earliest memories include hockey. Kevin has spent countless hours in arenas throughout the country watching all levels of the game.