I've been collecting hockey cards for close to 50 years, and the new set of NHL® First Peoples Rookie Cards from Upper Deck is easily my favorite. Upper Deck led the initiative to honour a group of Indigenous NHL hockey players who were never issued an NHL® licensed trading card before by creating a limited edition rookie card set featuring eight players:

1. Dan Frawley – Pittsburgh Penguins
2. Johnny Harms – Chicago Blackhawks
3. Danny Hodgson – Toronto Maple Leafs
4. Victor Mercredi – Atlanta Flames
5. Rocky Trottier – New Jersey Devils
6. William LeCaine – Pittsburgh Penguins
7. Ted Nolan – Detroit Red Wings
8. Jason Simon – Phoenix Coyotes

"The goal was to create a set that was for the community, by the community," says Upper Deck Senior Marketing Manager Paul Nguyen. "It was important that from the start, Upper Deck worked with the Indigenous community to ensure that the set properly celebrated the players and the community as a whole."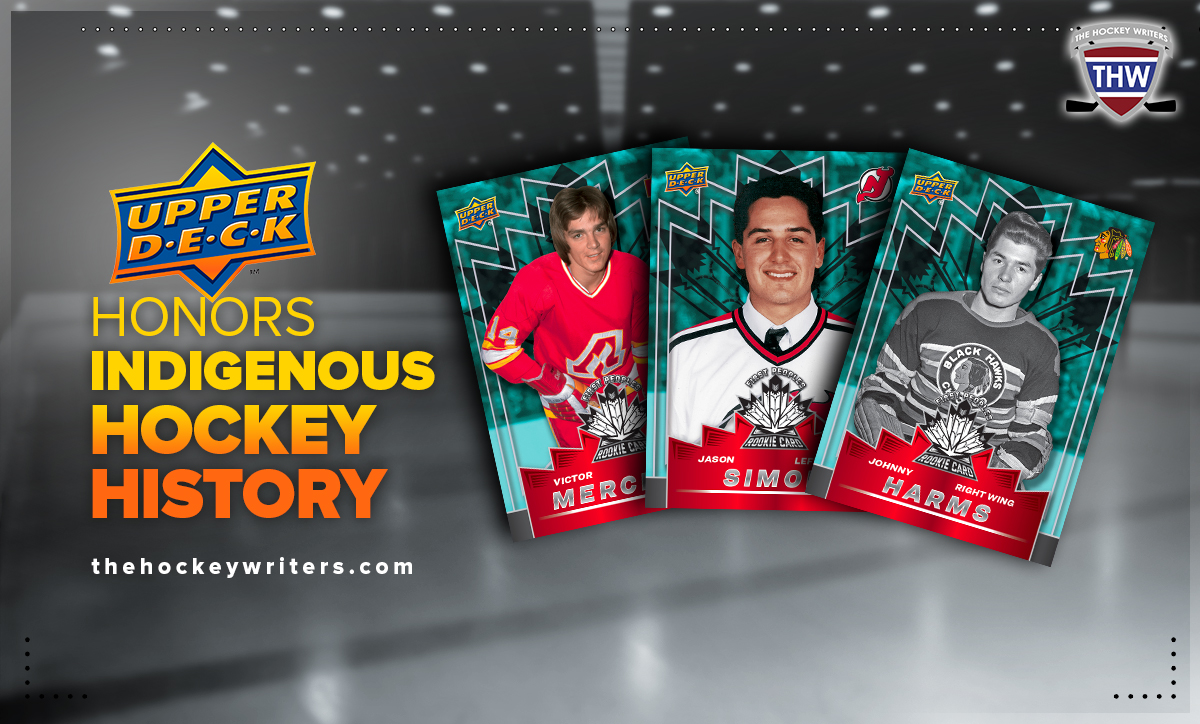 To make the cards as authentic as possible, the set was designed by an Indigenous artist from the Alexis Nakota Sioux Nation, Jacob Alexis, and the card backs were written by Indigenous card collector Naim Cardinal, who is a Cree and member of Tallcree First Nation. Alexis grew up playing hockey, and designing the NHL® First Peoples Rookie Card set for Upper Deck was something he'd always dreamt of. Meanwhile, Cardinal has been collecting hockey cards for 23 years, and his hobby turned into a passion to work with the community to compile a list of over 100 identified players of Indigenous descent.
NHL® First Peoples Rookie Card Set Available Starting January 21
To ensure this special set of cards gets into the hands of fans who will truly appreciate these collectors' items, Upper Deck will be distributing them to:

Indigenous Hockey Camps
-3 Nolan Hockey Camp
-Hockey Indigenous Development Camp

Indigenous-owned Hobby Shop
-First Row Collectibles

Indigenous Hockey Tournaments
-Mushkegowuk Cup – February 17-19 Timmins, Ontario
-Little Native Hockey League Tournament – March 13-18 Nipissing First Nation, Ontario

Free Athlete Signings
On Saturday, Jan. 21, 2023, there will be two free player signings at Certified Diamond Dealer shops. The athletes will sign 5×7 versions of their cards and will have the packs available.

Dan Frawley will be signing at MBA Sports in Belleville, ON – Feb. 11, 2023
Danny Hodgson will be signing at All In Sports Den in Fort McMurray, AB, on Saturday, Jan 21, 2023, from 12-1 pm.
Shining a Light On the Accomplishments of Indigenous Hockey Players
As of November 2022, the NHL has had 7,623 players play in a league game since it first started in 1917. Of those 7,000-plus players, only about 80 have been of Indigenous heritage, which makes up only 1.5 percent of the players in the NHL (From Recasting the History of Pro Hockey's Indigenous Players, New York Times, June 25, 2018).

The first Indigenous player in the NHL was Fred Saskamoose, who played 11 games with the Chicago Black Hawks during the 1953-54 season. Since then, many famous Indigenous hockey players have graced NHL arenas, including Bryan Trottier of the New York Islanders, former Toronto Maple Leaf captain George Armstrong, Jim Neilson of the New York Rangers, Ethan Bear of the Vancouver Canucks, Carey Price of the Montreal Canadiens and former Vancouver Canuck Gino Odjick, who sadly passed away recently at the age of 52.
Related: NHL's Top 5 All-Time Indigenous Players
---
Latest News & Highlights
---

It's also important to note the accomplishments of Indigenous coaches and managers, including former Buffalo Sabre head coach Ted Nolan, who won the Jack Adams Award as the league's coach of the year in 1997. Nolan, who is being honored in this set of Upper Deck NHL® First Peoples Rookie Cards, co-founded the 3Nolans hockey skills development camp in 2013 for First Nation youth in First Nation communities across Canada.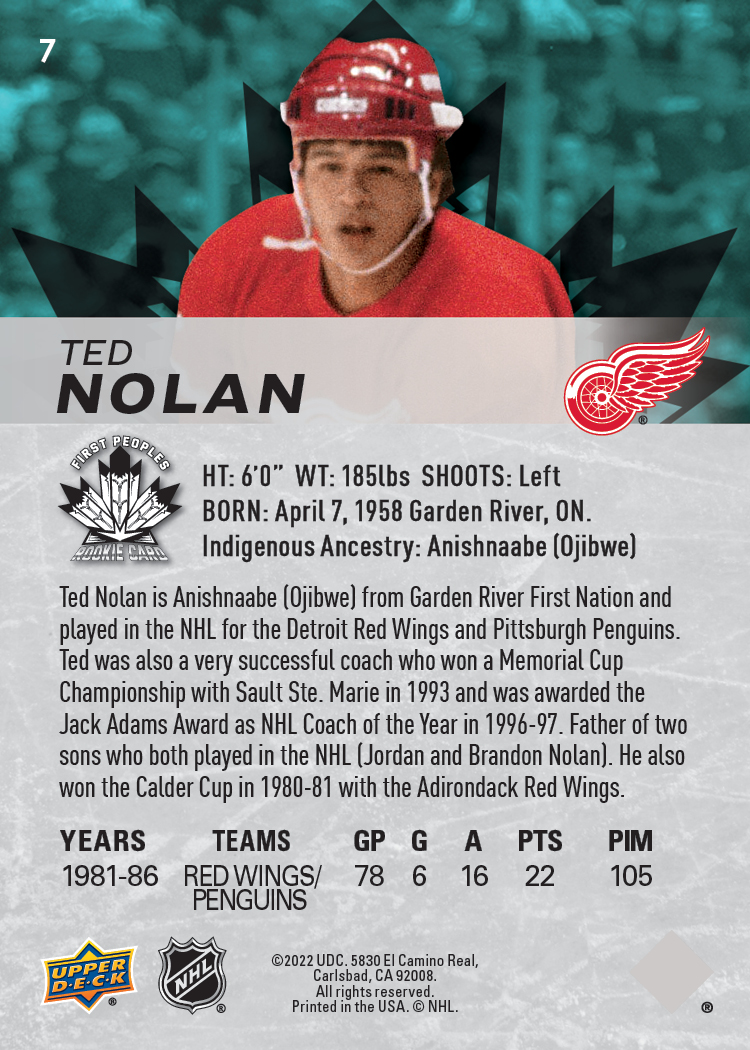 Nolan, along with his two sons Brandon and Jordan Nolan, both former NHLers themselves, developed the camps to specifically work with First Nation youth to further develop their hockey skills and knowledge, but more importantly, teach them the importance of living healthy active lifestyles.
Upper Deck — Honoring Indigenous Players Who Never Got a Card
As a hockey card collector myself, I truly appreciate that Upper Deck is recognizing the Indigenous NHL players who were never issued an official hockey card during their playing careers. This NHL® First Peoples Rookie Card Set was created with respect and with the hope that the next generation of Indigenous hockey players will be inspired to live out their dreams of one day playing in the NHL and having a rookie card of their own.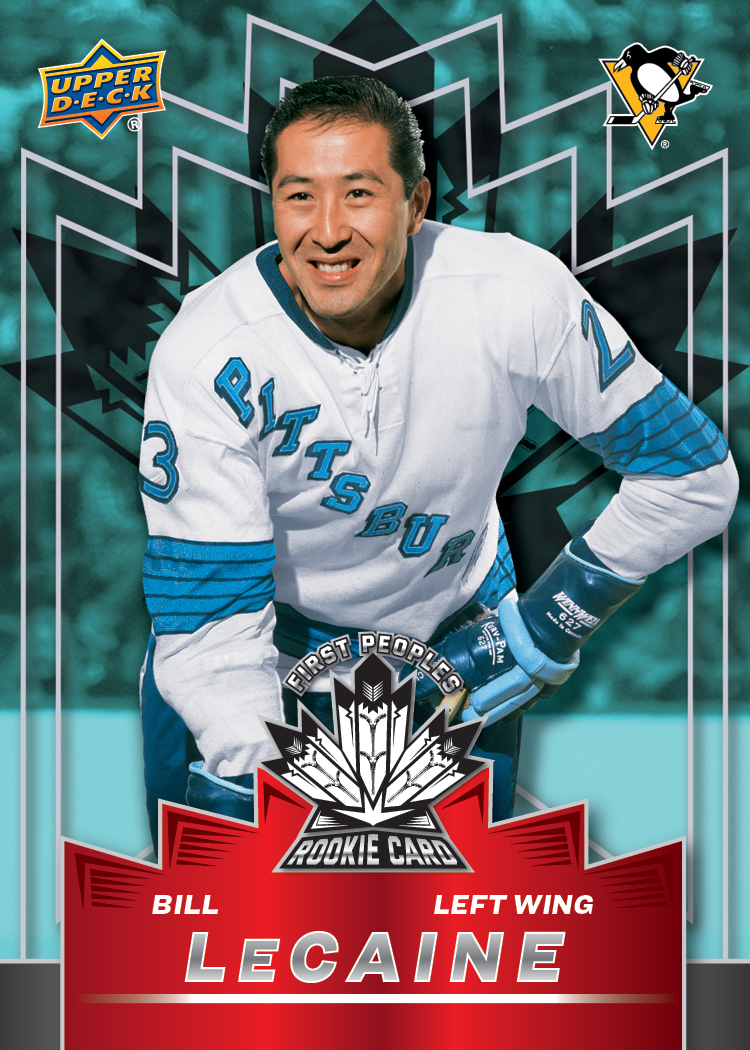 I look forward to the day in the future when I will open a pack of cards and see that a rookie from Saddle Lake, Alberta, Berens River First Nation in Manitoba, or Kitigan Zibi Anishinabeg First Nation in Quebec is making his or her community proud by shining bright in the NHL.
---
---