It was another must win game for the Washington Capitals Tuesday night in Florida, as Washington hoped to avoid a 3-9-1 start. The Capitals entered the third period down 4-3, but scored two goals following a Florida tally 6:25 into the final period to force overtime. Alex Ovechkin only played 16:53, less than forwards Troy Brouwer, Nicklas Backstrom, Matt Hendricks and Mike Riberio, but he totaled a goal and an assist along with third star honors.
His goal came with 2:49 left on the third period clock, as Washington was close to falling to the likewise struggling Florida Panthers. Ovechkin ripped a wrist shot past Florida goaltender Scott Clemmensen for this fifth goal of the season, his fourth power play marker. The Capitals "face of the franchise" took the puck following a Capitals faceoff win, and ended Washington's power play just a few seconds after it began.
"I think we played good hockey, but we make lots of mistakes in our zone especially," Washington's Captain said after the game. "Especially when we lose the puck on the blue line."
More Defensive Struggles
The Capitals defense struggled again Tuesday night, leading to five goals past Washington net minder Braden Holtby. There were once again numerous defensive breakdowns, including a two-on-zero against Washington's young goalie, but he came up with a huge save to bail out the Capitals' defensemen.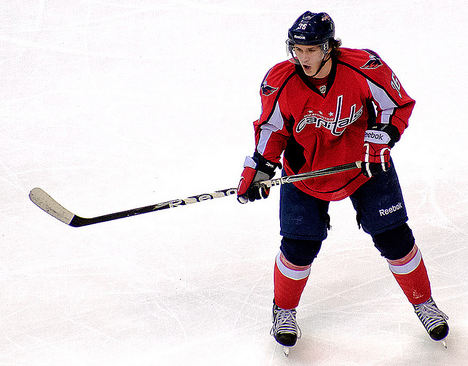 "That's a game we're far from happy with that's for sure," said Holtby. "This win will do us wonders in the long run knowing that we can come back, but at the same time, if we play like that against one of the top teams it's real ugly."
"Me especially and the d-zone, we got to get better and we know that and tonight's a good measuring stick that we know we can get better from."
"I hope they understand to get plenty of goals, we got to take care of our end," Capitals head coach Adam Oates said. "We have the skill level to get goals. We have to take care of our end and that's the most important thing."
Power Play a Driving Force
Washington tallied two goals with the man advantage on Tuesday night, with Mike Riberio's fifth goal of the season along with Ovechkin's third period tally playing a key role in the Capitals victory. With the two power play goals, Washington climbed to fourth in the NHL in power play efficiency, at an outstanding 25.5%. If their man advantage unit can become a lethal weapon like in years past, their might still be a glimmer of hope for this shortened season.
The power play forward combination of Mike Riberio, Nicklas Backstrom and Troy Brouwer has been a solid fixture along with the talented defensemen on the blue line in Mike Green and Tomas Kundratek.
The Capitals return to action on Thursday, facing the Tampa Bay Lightning on the road.
Washington defenseman Dmitry Orlov continues to skate in a non-contact jersey for the Capitals AHL affiliate, the Hershey Bears and is obviously a few weeks away. He'll likely play a few games for the Bears before a potential recall to the NHL.
Capitals prospect Evgeny Kuznetsov committed to play in Washington for the 2014-2015 season. He'll likely compete for a top six forward spot.
You can follow Matthew on twitter @m_speck and email him at mspeck21@yahoo.com with any questions or comments.