Barry Trotz has a decision to make every night — who should start between the pipes? One option is the reigning Vezina Trophy winner who, alongside the great Martin Brodeur, holds the record for most wins in a single season. The other option is a stocky, dependable German-born goaltender posting a better save percentage than the starting goalie.
It's not something that happens every year in hockey – two exhaustive goaltenders playing on the same team. The pair is posting a .929 save percentage combined and each allowing less than two goals every game on average.
But 2017 is a special year for the Washington Capitals. They are hunting for their first Stanley Cup in franchise history. Amid their pursuit, the Capitals have rattled off dominating wins, particularly at Verizon Center. Two of the last four wins at home have been shutouts. Number one, Braden Holtby, collected four wins last week, including his seventh shutout on Feb. 7. Number two, Philipp Grabauer, blanked the Los Angeles Kings on Feb. 5.
Humble Beginnings
Apart from their success, their paths to the NHL share similarities. Holtby was drafted in the fourth round of the 2008 draft, and Grubauer was selected two years later in the same round. Holtby and Gurbauer, at different times, developed their skills with the American Hockey League affiliate Hershey Bears. Holtby found more playoff success than his counterpart but both goalies pitched impressive records during their respective seasons at Hershey.
Following Grubauer's last appearance – a 5-0 shutout over the visiting Kings – the young goaltender told Washington Post reporter Isabelle Khurshudyan, "I don't know when I get to play the next time, so I want to make sure it's the right way, and I'm winning the games. It's a winning business so you've got to win and you've got to have your stats right."
Regardless of who is in the crease, Washington plays the same way every night. According to stat.analysis.com, Washington leads the league with a 65.8 scoring percentage at even strength. In other words, the Capitals score 65.8 percent of the goals in games played. It's not surprising when you think about their recent success at home and their ability to score first in 18 of their last 20 games.
This tweet was posted before last night's 6-4 victory over the Anaheim Ducks.
Verizon Center has been treated to TONS of goals courtesy of the @Capitals.

Last 10 home games: 6-5-5-5-6-5-6-5-5-6. pic.twitter.com/8vzgx2NfrG

— NHL (@NHL) February 10, 2017
That offensive attack alleviates pressure on their goaltenders, decreasing their workload during games, and keeping their energy up throughout the game.
Holtby ranks third in save percentage, registering a .928 mark, which is near Vezina contender Devan Dubnyk's .934 statistic. On any given night, Washington's dual-threat gives the team an advantage. Both men shut down the opposition on every critical play, encourage each other and stand tall between the pipes as the Capitals are striking down wins like bowling pins to distance themselves from the pack in the Eastern Conference race.
Stingy Defense
The Capitals have allowed only 118 goals this season. Washington carries the puck down the ice to keep the play away from their goaltenders and limits opposing scoring chances by possessing the puck and wrangling it away via a heavy forecheck. On occasions, when the defense does break down, Holtby or Grabauer is ready to react. Gruabauer arrived on the scene in 2013 after spending a couple of seasons in the minors. He deploys his swift legs and quick glove hand to play big in the net.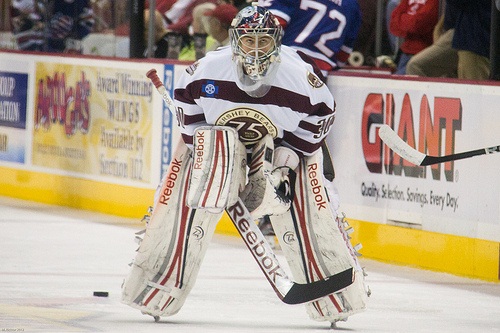 Grubauer often starts against bubble teams, but that is the expectation with being second on the depth chart. In 14 of 15 contests, Grubauer allowed three goals or less, two of which were against divisional foes Pittsburgh Penguins and Columbus Blue Jackets. As a backup, he is a healthy option, but his play gives him a chance to lobby for a no. 1 position.
Holtby is Washington's saving grace in net. He arrived in 2012, stole a first round playoff series and has guarded the iron ever since. Holtby is forging an epic two-year campaign. Many are expecting him to be a strong contender for the Vezina Trophy for the second year in a row. The last time a goaltender earned the Vezina Trophy two years in a row was Martin Brodeur's run from 2007-09.
Trotz has maneuvered Washington's forecheck to be faster and deeper in the opponent's end. Washington's goals-against numbers have dwindled over the past several seasons as a result.
| | | |
| --- | --- | --- |
| YEAR | GOALS AGAINST | GOALS AGAINST AVERAGE |
| 2016-17 | 117 | 2.13 GA per game |
| 2015-16 | 193 | 2.35 GA per game |
| 2014-15 | 203 | 2.47 GA per game |
| 2013-14 | 240 | 2.93 GA per game |
| 2012-13 | 130 | 1.58 GA per game |
| 2011-12 | 230 | 2.80 GA per game |
A potent offense was the key to Washington's success in a time not long ago. That has been replaced with balanced scoring and a formidable defensive structure.The Capitals have not had a tandem this effective since Olaf Kölzig and Bill Ranford in 1997-98.  This rendition of Capitals has two superstars in net who bounce off each other exceptionally well. Both promise a chance to win every night.
Marcus Johansson summarized it well:
"To have two goalies like that, that's a luxury."