Predictions for the Washington Capitals' upcoming season are commonplace, and most of them revolve around the opening night lineup. However, the roster could look radically different this time next year. 10 players are in contract years, as three will be restricted free agents, while the other seven can test unrestricted free agency. Of course, some of these Capitals have more to prove than others. This article is the last of a three-part series (Parts 1 and 2 can be found here and here) and examines two players eligible for free agency and what they must do to earn extensions.
Mike Green
Once a fixture in the Capitals organization, Green is now a popular mention in trade conversations. Those discussions began at the conclusion of the 2013-14 season, with Green's critics citing his lack of offensive production, tendency to get injured, and costly mental errors in the defensive zone. Those in favor of trading Green often ignored his impressive Corsi numbers, both individually and relative to the team as a whole. The signings of Brooks Orpik and Matt Niskanen seemingly bolstered their arguments, as the defense, once among the league's worst, was now impressively deep. In turn, Green was no longer a necessary fixture on the blue line and was chewing up cap space that could be used to sign a second-line center. Yet MacLellan insisted that Green was still a part of the Capitals' future plans, to the chagrin of many.
Caps GM Brian MacLellan says Mike Green still part of Caps' future

— Chuck Gormley (@ChuckGormleyCSN) July 1, 2014
Alex Ovechkin may be one of the NHL's most polarizing figures, but he's got nothing on Green as far as the Capitals fanbase is concerned. Ultimately, Green's critics make the same three arguments for trading him–or letting him walk after the upcoming season: he can't stay healthy; he can't score; and above all, his defensive play doesn't justify his contract. For a blueliner, the last concern is most pressing and should be a serious factor in deciding whether or not his play merits another deal. Even if the Capitals have no desire to re-sign Green, it would be foolish to let him walk for nothing.
But what if they want to make him an offer? At present, Green is the team's highest-paid defenseman and will be looking for a raise. What will it take for the Capitals to commit to Green yet again?
Above all, Green needs to up his offensive production. It's possible that the Capitals won't take his advanced-stats performance into serious consideration, and it's difficult to quantify defensive lapses. Goals and assists, however, are easily measured and weighed most heavily. In other news, the earth is round.
Last season, Green led all Capitals defensemen with 38 points. His nine goals were second only to John Carlson, who scored 10. Green also notched 29 points, good for third on the Capitals. He was among the league's best defensemen in that category. While these numbers are impressive, they weren't what the Capitals had in mind when inking Green to a three-year, $18.25 million extension. For a blueliner that once scored 31 goals in 68 games, they're actually quite disappointing.
However, many of Green's struggles–offensive and otherwise–can be attributed in part to the failings of Adam Oates's system. It didn't favor Green, although he did put his power-play minutes to good use. Assuming Trotz doesn't implement a system that prohibits defensemen from carrying the puck, Green has little reason not to continue the upward trend. 5v5 play will be a huge focus for the Capitals. Green is expected to contribute offensively at even-strength and the man advantage, while tightening up his defense on the former. Even if Green matches the numbers from his vaunted 2008-09, he'll still have detractors who call for trading him. Green's job is to make sure the Capitals' brass doesn't fall into that category.
Evgeny Kuznetsov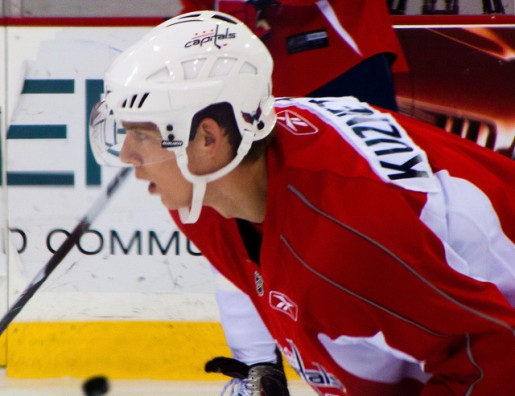 With 17 games played in a Capitals jersey, few conclusions can be drawn from Kuznetsov's first season with the Capitals. His game totals mean he's burned through the first year of his entry-level contract, and he'll be a contender for the Calder Trophy. In his first real season with the Capitals, he has a lot to prove–namely that he can adjust to the North American game.
When Kuznetsov was drafted in 2010, many were surprised that the Capitals snatched him up at 26th overall. The issue wasn't with his skills–hockey sense, skating, and scoring touch in particular–but with his commitment, as teams doubted whether the Russian would ever leave his hometown to play in the NHL.
Four long years of waiting ensued, but Kuznetsov eventually took the plunge and signed with the Capitals in March. He finished with three goals and six assists in 17 games and played about 13 minutes a night by the end of the season. The upcoming season will allow Kuznetsov to step into a bigger role, as Oates frequently stuck him on the fourth line. Secondary scoring is the main focus for Kuznetsov, who put up impressive offensive totals in both the KHL's regular season and playoffs. If he's the right fit for the Capitals' second-line center position, then he'll become an even more valuable asset.
Kuznetsov has been consistently ranked as the Capitals' top prospect in recent years. As a result, he has a lot to prove, but allowing him time to adjust is critical. Is it possible he'll finish among the Capitals' top scorers? Absolutely, but other aspects of his game need consideration. Kuznetsov isn't a one-dimensional player, but offense is clearly his strength. If the goals and assists dry up, he'll be considerably less useful to the team. Another area worth mentioning is advanced stats, which the Capitals are likely using to examine players. Kuznetsov's possession numbers were appalling, though his zone assignments and teammates weighed him down. Even if the Capitals don't value Kuznetsov's Corsi/Fenwick/etc., it's imperative those numbers improve. After all, it's hard to score goals when you don't have the puck. This is another instance of Kuznetsov needing time to develop and hoping for the best results possible.
Thanks to the new CBA, Kuznetsov's 17 games equate to a full season with the Capitals. He'll now have 82 to develop and prove himself. However, it's hard to imagine the Capitals letting him walk after barely a season's worth of time in the NHL. Since Kuznetsov was 21 when he signed, he was only eligible for a two-year ELC.
The next step will likely be a bridge deal of sorts, and to earn it, Kuznetsov must prove that a four-year wait and additional investment will yield great reward. His time in the KHL demonstrated that he can be a valuable contributor at one of the highest levels in hockey, and he'll have the time to prove the same in the NHL. If Kuznetsov brings consistent secondary scoring to the Capitals, expect him to call DC home for the next few years.