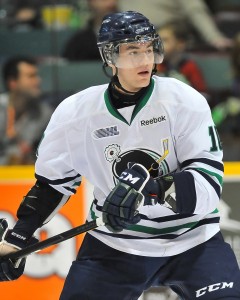 With the 16th overall pick in the 2012 National Hockey League Entry Draft, the Washington Capitals are proud to select from Plymouth of the Ontario Hockey League, Thomas Wilson.
Such words are undoubtedly exciting to hear when you're an 18 year-old hockey player in the midst of chasing your dream of playing professional hockey. Thomas Wilson experienced just that and more at the Consol Energy Center in Pittsburgh during round one of this year's entry draft.
At 6'4 and just shy of 205 lbs., the intimidating forward from Toronto, Ontario proudly approached the big stage to greet his new employers. After embracing the moment and putting on the Capitals sweater, Wilson adjourned to the media frenzy awaiting him just several feet from the draft floor.
Wilson answered numerous questions in a confident manner regarding his rugged style of play, plans for the off-season, and the future expectations.
"I think most noticeably for me, it's my big, physical game," Wilson said when addressing his style of play. "I'm a big power forward and create space for my linemates. I like the physical play and don't shy away from it but I think I've got some offensive potential to come the next few years."
After hearing what Wilson had to say and witnessing his persona that evening, it was only a matter of time that such a crucial asset moving forward for the Washington Capitals would be putting the ink to the paper. It became a reality this week.
In the famous words of the great Stevie Wonder (Signed, Sealed, Delivered, I'm Yours), Tom Wilson is officially a member of the Washington Capitals. The Capitals and Wilson agreed to terms on a three-year entry-level contract. Wilson will make $832,000 at the NHL level and $70,000 at the AHL level.
Capitals management touched on Wilson and what he immediately brings to the franchise, following the conclusion of prospect camp in Arlington, VA:
"He is what we were looking for when we drafted him. He's a big, strong kid that competes," George McPhee said. "Boy, the first three or four shifts of the opening scrimmage earlier in the week I was worried that if he did that all week we'd only have two or three players left on the ice. But we got him to settle down a little bit and protect everyone else for the rest of the week. We like him a lot, great kid, character. He's going to be a pretty effective player."
Wilson is expected to play at least next season with the Plymouth Whalers. Wilson must grow stronger for the physical aspect of the game and fine-tune his skill-set to look forward to any type of permanent residency in DC.
"Sometimes if you're thrown in too early, they become survivors," McPhee said. "It's not about surviving; it's about developing and seeing what we can turn them into."
We already know what Wilson is capable of, but it's the necessary hard work and dedication preparing for life as a NHL hockey player that will keep him skating in Plymouth for at least one more season.
Wilson has a bright future ahead of him, something Caps fans can surely look forward to.
Follow me on Twitter @DarrenCoslov  
Darren is the Washington Capitals correspondent. He spent the 2010-11 season covering the Atlanta Thrashers and the 2011-12 season covering the Columbus Blue Jackets. Feel free to contact him @ DKoz256@yahoo.com. You can also follow him on Twitter. DarrenCoslov