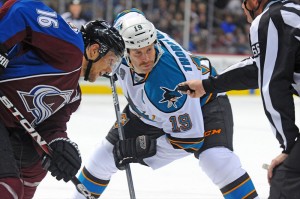 There really is very little debate about it. With 1,078 points (59th in NHL history), seven all-star appearances, an Art Ross Trophy and a Hart Trophy, Joe Thornton will eventually be enshrined in the Hockey Hall of Fame in Toronto. And the resume is as of yet incomplete, the palette unfinished, as Thornton is still just 33. To quote James Garner from Murphy's Romance: "seasoned, not saggy."
Over the past two decades, the quality of modern health care and physical therapy available to the world's elite professional athletes have dramatically extended their shelf lives. Teemu Selanne, back for his 20th season at age 42 after another solid campaign, is one of the NHL's prima facie examples of this fact. For that matter, of the 42 oldest to ever lace 'em up in NHL history, 32 played into the 2000's or beyond. Five are either still active, or potentially available for this year: Selanne, Dwayne Roloson, Jaromir Jagr, Sean O'Donnell, and Ray Whitney. The Dallas Stars made a concerted effort to get better (not to mention substantially older) by signing both Jagr and Whitney to contracts this off-season. With Selanne re-signed, only Roloson and O'Donnell have yet to resolve their situations.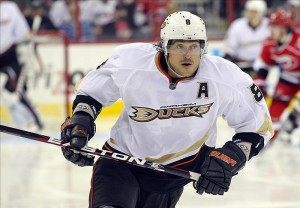 By comparison to that productive group of NHL geriatrics, Thornton doubtlessly seems like a young lad frolicking carelessly through the corn fields of London, Ontario. Always in top physical condition and as durable as they get (just six games missed in the last seven seasons), he may well have six, seven, even eight good seasons left in him. Given the virtual explosion of robotic surgery in recent years, automated advances in the areas of health and welfare seem endless — that is, until the robots run amok like in Westworld or the Terminator movies and destroy mankind. But that's a subject for another day. Robot mayhem notwithstanding, Thornton seemingly has plenty of high-level years ahead of him.
So why would the Sharks consider trading a sure point-per-game Hall of Famer with lots of miles still under the warranty? The following are six reasons to ponder:
Potential returns
Former Major League Baseball GM Branch Rickey once said, "Trade a player a year too early rather than a year too late." Just imagine the haul Jumbo Joe would command. Durable, large-framed, cornfield-frolicking point-per-game centers will forever be in high demand. With Thornton's pedigree, cachet, two-year contract and seasoned-not-saggy physique, a package of a younger top six forward, draft picks and/or elite prospects would certainly be in the offing. Due in large part to low draft positioning as well as trades to bolster the team during playoff races, the Sharks have arguably a bottom-ten prospect pool. Trading Thornton would augment the diminished prospect ranks in one fell swoop.
The readiness of Logan Couture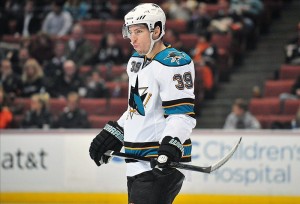 If Thorton were traded, could Couture assume the role of the man at the top line center position? The bet here is that he would. Unafraid to shoot the puck in an era where scoring centers are in demand, he's a two-time 30+ goal scorer. At just 23, he is still young enough for the cliché the sky's the limit to apply. Rumors of his demise — as in being included in a Rick Nash deal — are greatly exaggerated. Couture isn't going anywhere, and as the heir apparent to the top line would fit in nicely in that slot.
Today's NHL philosophy
Warning: the next point is subjective, so objects in the mirror may be closer than they appear. Check out the last five Stanley Cup champions: four (Los Angeles, Chicago, Pittsburgh and Detroit) had a top line center who potted more than 30 goals. Thornton, for all his top-line center qualities, has a soon-to-be-coined affliction heretofore known as wontshootthepuckiphobia. To wit, he's a fantastic distributor, but only scored 18 times last season and has barely averaged 20 goals over the past three years. He hasn't shot the puck more than 178 times in a single season since 2006-07. To put that in perspective, former Shark third-line winger Daniel Winnik, at five minutes fewer offensive ice time per game and in a primarily defensive role, managed 28 more shots on net last year between stints in Colorado and San Jose. I wrote about this very subject almost five months ago here.
San Jose's need for goal scoring from the center position has been magnified over the past several seasons as the offense has gone south for the winter. Thornton isn't changing his stripes. A movement in that direction, even one as bold as involving Jumbo, might actually jump-start the attack.
An advancing team age
The Dallas Stars may take the cake with respect to senior-citizen employment, but San Jose is getting up there as well. With the off-season signing of Brad Stuart, no fewer than eight major contributors will be 30+ by the start of the 2012-13 campaign, and the average team age is 29, almost two full years older than the Stanley Cup champion Kings. Joe doesn't significantly skew the curve by himself, but he could still be used to generate an organizational youth infusion at multiple levels.
The salary cap
While most would agree he's still worth his $7.0 million salary cap hit, the fact remains that it's the highest on the team. With just $4.2 million available under the cap as of this writing and the possibility of seismic shocks coursing through the NHL with the potential impending labor dispute, the uncertainty of what a new deal might look like could impact financial resources going forward. No matter what the returns, a Thornton trade would undoubtedly free up additional cap space.
Creating some buzz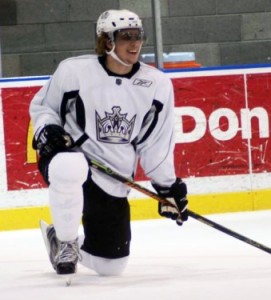 Some question whether or not the Sharks hit a wall after the 2010-11 season and are now on the edge of a mild state of decline. Indeed, after two straight Western Conference finals appearances, they had to win four straight games at the end of the year just to secure a playoff spot, only to be bounced in five games by the St. Louis Blues. Worse still, the team just didn't gel properly last season and too often failed to excite (perhaps not in the same way as the planet Mars apparently fails here) the faithful masses at HP Pavilion. Furthermore, the talk is now all about the champion Kings and their ability to repeat with so many players in their primes locked up. The Sharks have ceded the PR battle to rival Los Angeles. If executed well and after the initial shock were to wear off, a trade might serve as a catalyst toward ultimately increasing fan excitement, not to mention building toward the next great Sharks team.
Summary
There's no compelling or urgent reason to trade Joe Thornton. He's still in or near his prime, provides tangible and intangible returns to the club, has a contract that runs through 2013-14, and is one of the main reasons the San Jose Sharks have been contenders since his acquisition in 2005. Along with Patrick Marleau, he's the face of the franchise.
And yet, the franchise teeters on the edge of a tipping point. If it tips one direction, the Sharks resume their Pacific division dominance and make another deep run through the playoffs, perhaps all the way to the Finals. On the other hand, a turn the other direction means barely squeaking into the playoffs, or worse still, missing them altogether, especially if age finally catch up to them. Joe Thornton is a highly skilled franchise-caliber center who could fetch a veritable treasure trove in a trade. To supplant the Kings, it may just take San Jose's own version of a king's ransom to do so.
Walter McLaughlin is a Los Angeles Kings correspondent for The Hockey Writers. He is an avid sports fan, having followed the Kings since living in L.A. in the mid-1970's, as well as suffering through Seattle sports teams' general futility. He has a Bachelor's degree in Finance and has worked in community banking for over 25 years, specializing in SBA loans. He is married and has two daughters.