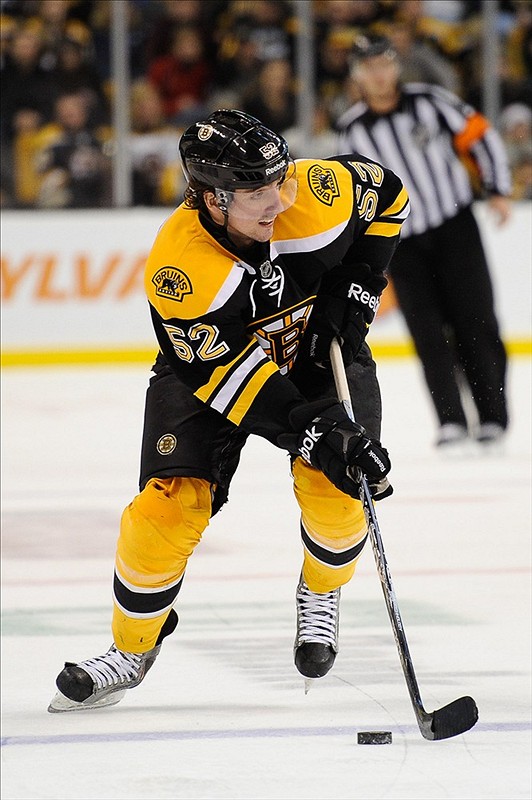 It's been a long road for Zach Hamill so far in his professional hockey career. The former 1st round pick by the Boston Bruins in the 2007 NHL entry draft has played in only combined 20 career NHL games, a total that made the Bruins decide to move on from him. The former eighth overall pick and 24 year old center was traded this offseason to the Washington Capitals, in exchange for AHL all-star forward Chris Bourque. At that time, Bourque was set to become an unrestricted free agent, but signed a two year deal with the Bruins nevertheless.
"I just come here and play my game," Hamill said of any pressure to play well following the trade. "He's a different player than me, I just come here and do what I do best and go from there."
Hamill was a highly touted draft prospect coming from the Everett Silvertips of the Western Hockey League. He posted 93 and 75 points respectively in his final two years before he began his pro career, making him a hot commodity in scouts' eyes.  Following his selection, Hamill began playing for the Providence Bruins of the AHL on the regular during the 2008-2009 season, but didn't post numbers close to what he did in junior. Hamill recorded 26 points in first full year with Providence, including a plus seven efficiency rating.
While it was only his first pro season, Hamill didn't progress as many had planned. He posted 44 regular season points the following year, but then managed only 43 points during the 2010-2011 campaign. Last season, Hamill finally got his big chance at the NHL level with the Bruins, appearing in 16 regular season games, but registered only two points on the season. He also played for Providence that season in the AHL last season, contributing 21 points in 41 games.
His trade to Washington was a chance for a fresh start and he has taken advantage of it in the AHL this season, whether during even strength play or on the penalty kill. Hamill's carved out a role on Hershey's third forward line, centering Stanislav Gailev and Ryan Stoa for the majority of this season. He's also spent time on Hershey's second penalty kill and contributed a shorthanded goal Sunday night.
"He bobbled the puck," Hamill said of his shorthanded marker. "I was pretty tired at the end of my shift so I kind of didn't get up there to fast, but good shot and lucky it went in."
On Saturday night against the Albany Devils, Hamill netted his first goal as a Hershey Bear as he gets comfortable in another organization.
"Last couple games I've felt I've gained some confidence and been shooting the puck more," Hamill said. "Obviously tonight it went in with the good pass, good play by Stoa."
He's been adjusting well to Hershey following the trade from Boston and has also had to learn new systems and the tendencies of his line mates.
"Obviously my line mates and teammates have been good, so I've been trying to take it day by day and get better every day," Hamill said following Hershey's win over the Penguins Sunday night.
Hamill looks to continue his recent success for his new team this weekend, when the Hershey Bears hit the road for a game against the Springfield Falcons.
You can follow Matthew on twitter @m_speck and email him at mspeck21@yahoo.com with any questions or comments.
Matthew Speck covers the Washington Capitals organization for The Hockey Writers. He provides coverage of both Washington at the NHL level and prospect related content. Matthew also covers local sports for the Lebanon Daily News in Central Pennsylvania. You can email him at mspeck21@yahoo.com with any questions or comments.