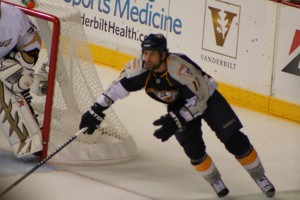 by Jas Faulkner, Nashville Correspondent
History Was Made On Sunday Night
It was one of those moments that was so sweet it made your chest hurt. Along with the usual "we so badass" video was something Nashville fans had never seen before last night: an NHL ad that featured a moment from Predators history. Here it is for those of you who missed it.
Anyone who has ever supported a team for years only to see it get so little love knows the feeling of seeing them finally get some validation. A thirty-second NHL ad may seem like a small thing. It's a blip in the broadcast when many fans run to the bathroom or the kitchen and quick calls are made. Here's what else it shows: hard-working guys who did not and will not give up. It's what happens when proud parents who sacrificed in the interest of seeing their kids achieve success in bigger than life terms. Thirty seconds of video is so short, but it can encapsulate titanic accomplishments on a human scale.
It can and did serve as a harbringer of what was to come over the course of the evening. It sent the message that the Predators would advance to the next round of the playoffs.
Where Were You When Spaling, Tootoo, Smithson and Rinne Ruled The 'Stone?
What was to come was sixty minutes of amazing hockey. In a series that had gotten damned ugly and very personal, the Predators seemed to say, "Stay cool. We've got this."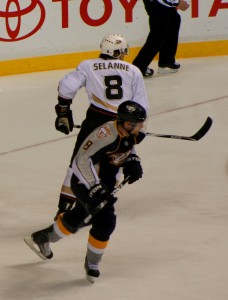 It was the first goal of the night for Nick Spaling. Remember him? He's the sweet kid they brought down from Milwaukee midseason and decided to keep. For Spaling, it's always been about quality over quantity. His goals seem to come just when Predsnation on both sides of the glass need them the most. Spaling's netter happened thanks to Suter's near surgical cut and shoot that was then driven into reach by Tootoo. Both young men are possessed of an almost supernatural ability to see and make the most of those opportunities to make a difference.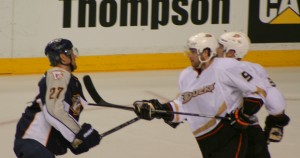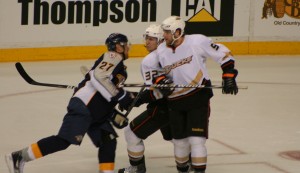 For all the haterade that seemed to be pouring on the ice, the penalites during First were minimal. Sexton got two for holding and Dumont got two for tripping.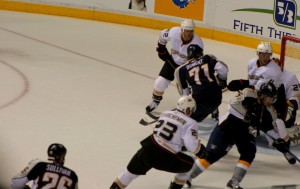 During second period, the Sullivan, Dumont and Geoffrion line placed the puck on the wrong side of Emery, as far as the Ducks were concerned. The success of this line shows what is oh, so right with Nashville this year. Trotz's and Poile's ability to find and develop talent and integrate it into the existing roster has played a huge role in the sucess of the franchise. Fisher and Beauchemin got minors for quibbles and The Wrong Blake got a goal.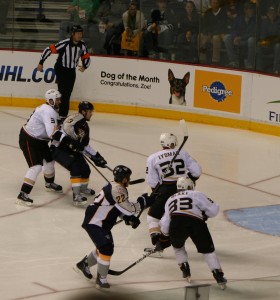 Following what felt like the longest intermission on record* the teams returned to a tied score and a barn full of tense fans. The short of it: at 4:53, Spaling scored an amazing goal, Legwand finished off the Ducks at 19:50.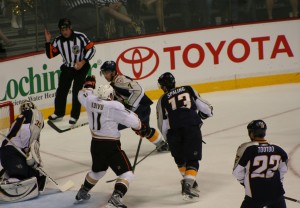 The heart of it: The Tootoo, Smithson, Spaling line is the one Trotz said in coach's press that he would have no problem putting out against anyone at any time. All year, Tootoo has shown a tremendous amount of growth. What has gotten everyone's attention during the playoffs was not a sudden development but the culmination of a season of hard work from everyone involved. Assisted by Rinne and Tootoo, Spaling sent the message to the Ducks and the rest of the NHL that Nashville is a contender.
What This Means For Nashville…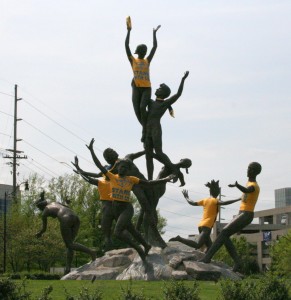 The old "one and done" taunt is no longer acceptable wisdom about Nashville. It means that knowledge of the roster now goes beyond Weber's arm, Hornqvist's aim and Rinne's ability to say ei to nearly everything the opposition throws at him. For longtime fans, its validation. For the people behind the scenes, its the chance to see what has been sometimes dismissed as a social experiment gain some creedence as a smart business decision. It means new fans who have been aware but never really invested in hockey might just come around.
History was made and will continue to be made. From the Predators' first postseason OT win to their breakthrough to the next round and beyond, there's so much more to come.
This is Jas Faulkner who doesn't want to miss a minute of what happens next. I'll be seeing you at the 'Plex and the 'Stone and online at Facebook and Twitter.
————————————————————————-
*It was only seventeen minutes long, like every other intermission. Trust me, it was a long, long seventeen minutes.