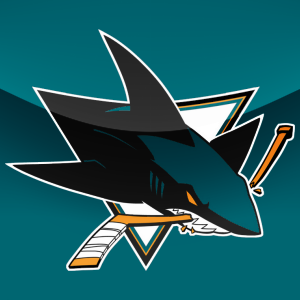 Here is an update on what I believe to be the San Jose Sharks Top 10 prospects, currently playing in major junior or the NCAA. These reports are based on what I have seen from each of these players this season, as well as what several different scouts have said on each individual's play. There may be a few prospects missing from this list, but that simply means they either did not make my Top 10 cut, or I do not have enough knowledge on the player to comment.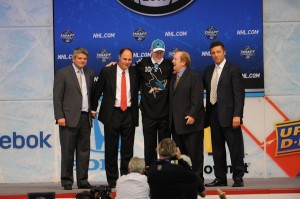 Charlie Coyle, C, Boston University
Drafted: 1st round, 28th overall, 2010
Cap Hit: Unsigned
Born: East Weymouth, MA, 1992
Height: 6'2"
Weight: 207
2010/11 Stats: 37GP, 7G, 19A, 26Pts, 34PIM
Report: The most recent first round draft pick had an exceptional freshman season with BU finishing fourth on team scoring. The filled-out center has tremendous skating abilities and his size allows him to battle with the best of them in the corners and danger-areas of the ice. His ability to play the game at a fast pace and make exceptional plays around the net is a strong point, and that style along with his size should fit right in with what the Sharks are all about.
Scout Says: "He's a smart, versatile player with size and strength and he can make plays."
Taylor Doherty, D, Kingston Frontenacs
Drafted: 2nd round, 57th overall, 2009
Cap Hit: $870,000
Born: Cambridge, Ont., 1991
Height: 6'7"
Weight: 235
2010/11 Season Stats: 68GP, 14G, 39A, 53Pts, 86PIM, -19
Report: This monster of a man has been hands down the most consistent player on the Frontenacs roster over the past two seasons. Not only does the big defensman captain the team, but he has found a way to chip in offensively from the point. As you can imagine, his size also makes him one of the toughest shut-down defensman in the OHL, making him a complete player that could be NHL ready within the next few seasons. The Sharks showed their concurrence by adding Doherty to the Worcester Sharks roster following the completion of Kingston's 2011 OHL season. He is a tremendous leader both on and off the ice, and is not afraid to drop the gloves and stick up for teammates (if the challenger is willing to oblige).
Scout says: "Doherty has shown a greater understanding of using his body both in regards to positioning and in terms of physical play."
Marek Viedensky, C, Saskatoon Blades
Drafted: 7th round, 189th overall, 2009
Cap Hit: $600,000
Born: Handlova, Slovakia, 1990
Height: 6'3"
Weight: 208
2010/11 Stats: 63GP, 36G, 52A, 88Pts, 52PIM, +60
Report: This talented two-way forward had a breakout season in his over-aged year with Saskatoon, more than doubling any of his previous season totals. His size and strength make him an asset defensively and while killing penalties, but as shown this year, he can also make plays and put the puck in the net when playing with other offensively talented players. He has been known to make a perfect piece on a line with players who are still developing their defensive game.
Scout says: "Viedensky is a hard-working player who plays a strong defensive game and kills a ton of penalties. Viedensky is two-way player."
Michael Sgarbossa, C, Sudbury Wolves
Drafted: Signed as free agent, 2010
Cap Hit: $561,666
Born: Campbellville, Ont., 1992
Height: 5'11"
Weight: 175
2010/11 Season Stats: 63GP, 36G, 46A, 82Pts, 53PIM, +16
Report: This hidden gem flourished in the OHL this season after being traded from the Saginaw Spirit to the Sudbury Wolves. His size is one of his only concerns, although he has been known to put on upwards of 10 pounds during off-seasons, and could bulk up to a sufficient 190 before next season. His vision and passing ability is truly something special to watch, but he is also no stranger to scoring as the 18-year-old led his team in goals and points in the regular season. He also led the Wolves in scoring in the playoffs, posting 5 goals, 14 points, 15 penalty minutes and a plus-5 rating in 8 games. Sgarbossa is also willing to drop the gloves against other players in his class to create a spark or answer for a teammate.
Scout says: "Michael is a very talented young man. His signing is a great indication of not only his skill level and dedication, but that he may have been an valuable omission in the draft."
JP Anderson, G, Mississauga St. Michael's Majors
Drafted: Signed as free agent, 2010
Cap Hit: $553,333
Born: Toronto, Ont., 1992
Height: 5'11"
Weight: 185
2010/11 Season Stats: 51GP, 38-10-0-1, 2.36GAA, 0.911SV%, 6SO
Report: JP Anderson has already had a taste of Sharks hockey this season as he was called up to back up Antti Niemi while Antero Niittymaki was injured earlier in the season. Although Anderson was edged off the Team Canada World Junior Squad by his own coach, Dave Cameron, who opted to go with Mark Visentin instead, Anderson didn't let that bother him as he still proved to be the OHL's best goalie in 2011, losing just 11 total games and posting a 2.36 goals against average. Anderson has also played well during the current OHL playoffs, leading his team to the Conference Championships, and will certainly be a major part in the team's Memorial Cup run.
Scout says: "JP is sound positionally and also plays a very mature game in goal."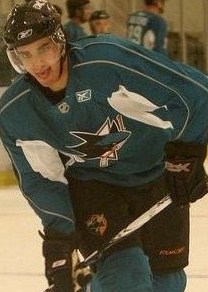 Freddie Hamilton, C/LW, Niagara IceDogs
Drafted: 5th round, 129th overall, 2010
Cap Hit: Unsigned
Born: Toronto, Ont., 1992
Height: 6'1"
Weight: 190
2010/11 Season Stats: 68GP, 38G, 45A, 83Pts, 20PIM, +25
Report: One of two highly touted Hamilton brothers, Freddie also came from a family of Olympic athletes. Both his mother and father competed in the games, and the athletic talent has surely been passed down. In past seasons, Freddie has been known as a solid all-around player who will get even goals and assists. This season, he had a breakout year scoring more goals than ever in key situations. His defensive game is solid as a rock (probably helps when your younger brother is Dougie Hamilton), allowing him to play key minutes on both the power play and penalty kill. He plays wing and center; an asset on any line. Freddie is extremely discipline and has yet to record over 20 minutes of penalties in a single season (although he has been in two career fights). He was also a recipient of the OHL's Ivan Tennant Memorial Award for the most successful scholastic player, where he recorded a 99% average in his grade 11 year.
Scout says: "Hamilton has the smarts, hockey sense and natural goal scoring touch to develop into a solid second/third line player as a pro."
Konrad Abeltshauser, D, Halifax Mooseheads
Drafted: 6th round, 163rd overall, 2010
Cap Hit: Unsigned
Born: Bad Tolz, Germany, 1992
Height: 6'5"
Weight: 212
2010/11 Season Stats: 58GP, 8G, 19A, 27Pts, 47PIM, -36
Report: This brute German defensman has made a solid impact on the Mooseheads upon entering the QMJHL. His size is an obvious plus and does not hinder his skating ability, which is known to be more than exceptional. He is a middle-of-the-pack kind of player as far as points go, but his most recent 27 point season has shown he can be a valuable offensive contributor when needed. He has the stamina to log tons of minutes, but while being big and mean, he could be much more aggressive in his own end, hence his -36 rating; something he will need to improve on in coming seasons.
Scout says: "He's a big and mobile puck-mover with good skating. A prototype of a offensive-defender."
Phil Varone, C, Erie Otters
Drafted: 5th round, 147th overall, 2009
Cap Hit: Unsigned
Born: Vaughan, Ont., 1990
Height: 5'10"
Weight: 186
2010/11 Season Stats: 59GP, 34G, 48A, 81Pts, 30PIM, +22
Report: A solid contributor throughout his OHL career. Had a great season with the Otters this year, playing a discipline, two-way game while still managing to put up top notch numbers. What he lacks in height, he makes up in speed and hard work. He is known as an ultimate playoff performer, which is why he was unsurprisingly one of the Otters best players in the 2011 post-season, racking up 3 goals and 10 assists in 7 games.
Scout says: "Varone is an energy-type forward, so his ceiling of potential at the NHL level could be full-time duty as a third or fourth liner."
William Wrenn, D, Portland Winterhawks
Drafted: 2nd round, 43rd overall, 2009
Cap Hit: Unsigned
Born: Anchorage, Ala., 1991
Height: 6'1"
Weight: 200
2010/11 Stats: 29GP, 2G, 11A, 13Pts, 17PIM, +25
Report: Wrenn moved from Alaska to California at 14 to play for the elite Los Angeles Selects AAA team. He was then noticed by USA Hockey and the following year played for the US NTDP U17 team. After playing his first year with the U17 team, Wrenn began to fill out his lanky frame and find his role as a tough, defensive defenseman. His leadership abilities are well known as he captained the U.S. to a gold medal at the World U18 Championships. This year, Wrenn made the move from the University of Denver to the WHL, where he finished the last 29 games of the season with the Winterhawks. Look for Wrenn to have a breakout season as an over-ager in 2012.
Scout says: "Defensive defenseman with good size and strength. Good character. Offensive skill is not as high as other players.  Wrenn could still stand to work on gap control on the rush and defending the cycle down low."
Curt Gogol, D, Chilliwack Bruins
Drafted: Signed as free agent, 2010
Cap Hit: $546,666
Born: Calgary, Alta., 1991
Height: 6'1"
Weight: 188
2010/11 Season Stats: 62GP, 5G, 9A, 14Pts, 201PIM, -10
Report: Signed as a free agent, Gogol is just the type of enforcer the Sharks like to develop. Although his point totals are nothing special, this bruiser proves his worth but throwing bombs with the best of them in the WHL. His 201 penalty minutes this season place him third overall in the league, and the tough opponent can perform night after night in that regard.
Scout says: "He's know mostly for his toughness, but he's not a huge liability on the ice."
Honourable Mention:
Thomas Heemskerk, G, Moose Jaw Warriors
Drafted: Signed as free agent, 2009
Cap Hit: $531,111
Born: Chilliwack, BC, 1990
Height: 6'1"
Weight: 185
2010/11 Stats: 65GP, 36-21-2-4, 2.94GAA, 0.908SV%, 2SO
Journalism grad from St. Catharines, ON, Canada. Newfoundland heritage. Passionate about hockey whether it's junior or pro. News junkie and literature fanatic. Sun Media Reporter, The Hockey News intern, former Media Relations with the Ontario Hockey League's (OHL) Niagara IceDogs, contribute to an OHL radio show called In the O Radio (www.intheoradio.com), and write prospect features for Andy Strickland's TrueHockey.com. Follow @JeffBlay on Twitter.