This is the eleventh edition of weekly roundup. In this article we take a look at the last seven days of hockey in the NHL. The article will focus on players who have been putting up solid numbers and are likely still available in fantasy pools. We also look at the stars of the game who aren't getting on the score sheet for their team.
Putting up Points
Ryan Spooner – Owned in 39% of Yahoo leagues
Another look at Ryan Spooner's 9th goal of the season #NHLBruins pic.twitter.com/2gpmRm2Av5

— Weekend at Bergy's (@weekendatbergys) January 9, 2016
Boston forward Ryan Spooner has been a huge boost for the team during David Krejci's absence due to injury. Over the eight games that Krejci has been out, Spooner has a solid 11 points. He is playing top six minutes and is on the first power play unit. The Bruins power play is first in the league, scoring nearly 28 per cent of the time with a man advantage. Head coach Claude Julien has also praised Spooner's play of late, noting his back checking and offensive ability on the second line during Krejci's absence. Spooner's ownership has shot up over the last week in fantasy pools, but if he is still available in your league he is certainly worth a pick up as Krejci is still out and his production has no signs of slowing down.
Patrik Berglund – Owned in 7% of Yahoo leagues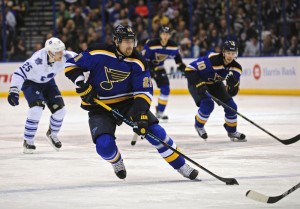 The St. Louis Blues have certainly had their fair share of injury woes this season, but the recent return of Patrik Berglund has been a bright spot for them. In eight games he has six points for the Blues. Berglund is a depth player on a very talented St. Louis team. Right now he is playing on the second line and has also seen some power play time. While his career stats show that this impressive pace will likely not continue, given the talent he is playing with, it is not out of the realm of possibility that Berglund could top his production of 27 points from last season.
Sam Bennett – Owned in 16% of Yahoo leagues
ICYMI: Sam Bennett, doing Sam Bennett things in Edmonton! #CGYvsEDMhttps://t.co/PFTM4livyB

— Calgary Flames (@NHLFlames) January 17, 2016
The fourth overall pick from 2014 has shown flashes of brilliance this season, and he appears to be at it again. Bennett was outstanding last week for the Flames, netting six goals in three games. He was also named the NHL's second star of the week. That puts Bennett at 20 points in 42 games this season. Previous to his scoring outburst last week, Bennett had gone 10 games without a point. He is a young player with a ton of potential and is a high risk/reward pick up.
Andrew Shaw – Owned in 20% of Yahoo leagues
A closer look at Andrew Shaw's FIRST goal of the night #CHIvsNSH pic.twitter.com/RKUQmkL9fE

— Blackhawks SPORTalk (@SPORTalkBHawks) January 13, 2016
Shaw is known more for his hardworking gritty style of play than his goal scoring ability, however his presence on the score sheet has increased since being put on a line with Jonathan Toews and Marian Hossa. Shaw has seven points in his last five games for the Hawks, putting him at 23 points in 48 games this year. He also has a solid 35 PIMs and has finished his past two seasons with over 50 in that category. He is worth a pick up right now, especially because of his aforementioned chemistry with two of the best players on Chicago's highly talented lineup.
Not Producing
Henrik Zetterberg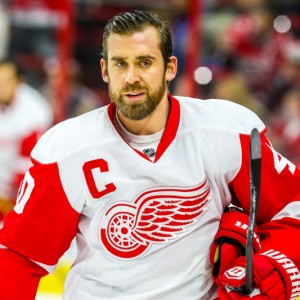 The Red Wings star has only three points in his last ten contests. Not only has Zetterberg struggled, his line mates Justin Abdelkader and Gustav Nyquist have also struggled lately, producing only three and four points respectively over their last ten games. Zetterberg still has a solid 30 points in 45 games this season, putting him on pace for a total of 54 points. Zetterberg has always been a strong fantasy option, nearly always reaching at least a point per game average by the end of the season. Still 54 points would be a significant decrease from his 66 points in 77 games last season. Look for Zetterberg to pick up his play over the second half of the season.
Drew Doughty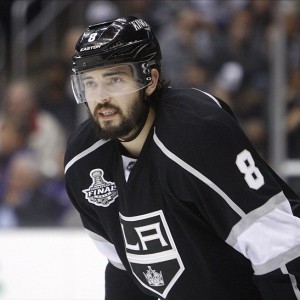 Arguably one of the best defensemen in the league, Doughty hasn't been as present offensively lately as he was earlier in the season. Over his last eight games Doughty only has two points. Despite this, he is still on pace for 45 points, right in line with his total of 46 last season. The Kings are surging right now winning seven of their last ten. Although he is in a bit of a slump, Doughty is one of the most reliable defencemen in the game, owners should not be worried as there is no doubt his production will pick back up.
Kyle Turris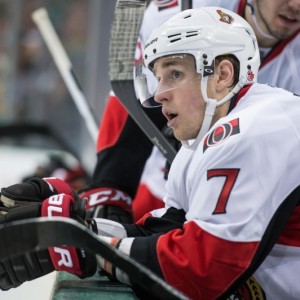 Turris has been in a rough patch lately for the Senators, posting only four assists and no goals over his last 10 games. He is also a minus nine over that span putting him at a total of minus 11 on the season. Turris has finished his past two seasons averaging totals in the mid sixties. This year however, with 30 points in 45 games he is on pace for 54, which would be a drop of 10 points from last years totals. This decrease in production combined with his plus minus is definitely not what the Senators want from their top centre. Turris still has plenty of time to turn things around and spending time on the first line and second power play unit will help his cause. Owners should keep an eye on Turris, if he continues to slump, he may be someone you want to drop from your roster.
Tune in next week as we review the last seven days of fantasy hockey.
I am a recent Carleton Journalism graduate with experience working as a sports reporter for The Charlatan, Carleton's campus newspaper and as an editor for Journalists for Human Rights.