Jim Neveau, Senior NHL Correspondent
Getting the letter "C" stitched onto his jersey is one of the most distinguished honors that a player can receive in the NHL. Nearly all of the game's greatest players have been captains for their respective teams, and even today the game's elite can call the letter theirs. From highlight reel studs like Sidney Crosby to veteran workhorses like Shane Doan and Jarome Iginla are proud to represent their teams in this special way, and another player joined their elite ranks on Friday.
David Backes, most widely known in league circles as "Inglorious Backes" for his penchant for fighting Canadian players prior to the 2010 Olympics, was named the 20th captain in St. Louis Blues history at a press conference at Scottrade Center today. The team had already proven its loyalty to him when they signed him to a five year extension last November, and they took another step in that direction by selecting him to replace Eric Brewer as team captain.
Getting the "C" caps an excellent year for Backes. Not only did he receive the aforementioned extension, but he was also selected to his first career All-Star Game in January, and he also tied his career high in goals (31) while setting a new career mark in points. Factor in his penchant for being responsible defensively, as well as his willingness to stand up for teammates (he had 93 penalty minutes in 2010-11 and has eclipsed the century mark twice in his five year career), and you have the ideal recipe for a team looking to establish its identity.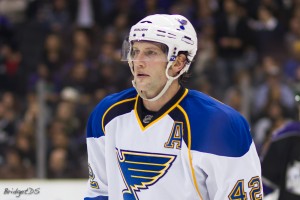 That perhaps is the biggest revelation that the Blues' announcement has brought forth. The team, who has only made the playoffs once in the past six seasons, has really started to define itself under head coach Davis Payne and General Manager Doug Armstrong, both entering their second full years in hose capacities. They acquired goaltender Jaroslav Halak last summer to solidify their crease for years to come, and they have pulled the trigger on several other notable moves, including sending Brewer to Tampa Bay and acquiring Chris Stewart and Kevin Shattenkirk from the Avalanche in a blockbuster trade. These moves all smack of a team trying to chart the course they will take, and Backes ascending to the captaincy is just another piece to that puzzle.
Backes isn't your standard NHL captain by any stretch. Sure, he is capable of scoring 30+ goals a season, but his game is certainly more in the vein of an Andrew Ladd or Dustin Brown than a Jonathan Toews or Eric Staal. He is a gritty guy that a young Blues team is going to love playing for, and although the team has added several veteran pieces to a mix that includes talented youngsters like TJ Oshie, this team was in need of a good compass, and Backes definitely provides that.
The other question aside from identity is whether all of the moves that the Blues have made are going to start paying dividends this season. For a team that doesn't get to play deep into April very often, it can't be easy having to deal with perennial powers like Detroit and Chicago, or even an up and coming team like Columbus. All of these teams look to be competitive this season, so it cannot be overstated that the Blues are up against a stiff challenge.
Fortunately for them, they are starting to approach that level of skill. Last season, they were the 10th ranked offense in the NHL, and they were right in the middle of the pack in goals against, finishing 16th. To bolster that defense, they brought in some crafty veterans who will help at both ends of the ice, with Matt D'Agostini, Jason Arnott, and Jamie Langenbrunner to the mix. Add in their acquisition of a budding young defenseman in Shattenkirk, as well as a couple of developing blue liners in Alex Pietrangelo and Ian Cole, and you're looking at a team that is serious about shoring up their back end.
Offensively the team will still be looking to Patrik Berglund and Backes to provide scoring punch, but Stewart might be a dark horse candidate to have a big season. He scored 15 goals in only 26 games with the team last year, so a breakout year for him is certainly not out of the question. And, of course, there is the ever-present possibility that this could be the year that Oshie could have a monster year. The 11-12 campaign could provide the best odds yet to do just that, considering that he is playing for his first big-time contract, generally a powerful motivational tool.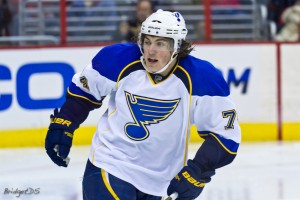 One factor that could play a pivotal role in the team's success could be the health of David Perron. Still dealing with the symptoms of a concussion that he suffered early last year, Perron may not be the most important person on either side of the puck for the Blues, but he definitely means a lot to the team. At only 23 years of age, he is just coming into his own as a hockey player, and while all the concussion related headlines have been swirling around a certain player from Steel City, Perron's struggles with the aftermath of his head injury are just as saddening. He could provide a huge emotional lift if he is able to come back and contribute, but with his absence from the season opener a certainty, the odds of a return to previous levels of production are long at best.
Ultimately, however, the key for the Blues will be whether or not they can navigate the treacherous waters of the Central division. They managed to get 28 points in 24 divisional games last year, but that number will have to go up if they are to bridge the 10 point gap that separated them and the Chicago Blackhawks, who were one spot ahead of them in the standings. That will not be an easy task, especially considering the improvements that Columbus made, but if they can meld together in the way that Payne and Armstrong have in mind, they very well could make the postseason, a feat that has largely eluded them recently.
A refreshing breeze of change is blowing through St. Louis, and the Blues are looking to make some serious noise in a conference that requires near perfection to survive its gauntlet. Whether they will be able to do so or not will obviously be revealed as the season wears on, but one thing is for certain: this is a team on the rise, and the only question is how high they will go with David Backes leading the charge.
James started out for The Hockey Writers covering the Atlanta Thrashers in 2009, and has also covered the Chicago Blackhawks, served as NHL Correspondent, and is now a Managing Editor and the site's NHL Central Blogger. He also writes for The Golf Writers.