Though never an organisation to take the lead on any issue of consequence, the National Hockey League has not helped its cause these playoffs. From allowing a professional sports team to alienate half the population, to fining a player for getting punched in the head and kneed in the face, the NHL has truly outdone itself this postseason.
The lack of rule enforcement, not to mention the lack of consistency when rules actually are enforced, has been blindingly evident, no more so than in the Western Conference Final. This otherwise highly entertaining matchup between the Nashville Predators and Anaheim Ducks has been marred by incident after incident showcasing the league's indecision, hand-wringing and general reluctance to do anything about anything.
Player Safety
Boom, Headshot
The Ryan Kesler-Ryan Johansen battle was well-publicised through the first four games of the series, though it has since cooled down given the latter's rather unusual injury. Kesler, one of the primary reasons no one cheered for the Vancouver Canucks in 2011, is no stranger to playoff controversy. In Game 2, he continued this trend by delivering a vicious drive-by elbow to the face of Johansen.
#NHLDucks' Ryan Kesler delivers a vicious elbow to the head of Ryan Johansen. These two have been going at it all game. #Preds #NSHvsANA pic.twitter.com/65ZaGk7STM

— Grady Sas (@GradySas) May 15, 2017
It would be one thing if Kesler only had pestilence going for him; it would be expected that he would occasionally step over the line. But Kesler is a tremendously talented hockey player who scored 41 goals in a season and has a Selke Trophy to his name (and could well have another on the way). He was even second in scoring this season on the Pacific Division-winning Ducks.
Kesler can influence games with his stellar two-way play, so why he chose to resort to outright dirtiness is a mystery to me. The NHL declining to issue a suspension – or even a fine – for the hit (or for Tommy Wingels' similar hit from last night) is an even bigger mystery.
Pokity Poke
Or, if stickwork is more your thing, Corey Perry, as of the writing of this article, seems to have gotten off scot-free from butt-ending Pekka Rinne in the mask in overtime of Game 4.
That's sums up Perry to a tee right there. Butt end to Rinne's grill. #hello #nhlplayoffs #overtime pic.twitter.com/WvtEuut31i

— Min Dhariwal (@MinDhariwal) May 19, 2017
Though the act does not appear particularly vicious at first glance, the sharp butt-end of a hockey does not need a lot of thrusting power to break a nose or take out an eye. While it is unclear if Perry slid his left glove down the shaft of his stick – thereby turning his tool into a weapon, or if he merely ("merely") punched Rinne in the face, what is crystal clear is that he delivered a headshot to Rinne and got away with it.
A History of Violence
Keep in mind that all of the nonsense in this series comes after we learned that running head-first into the boards does not lead to concussions, and that it is perfectly acceptable to low-bridge the best goal-scorer on Planet Earth.
Everyone loves to see fast, hard-nosed hockey. But the NHL constantly demonstrates a lack of ability to draw a distinction between toughness and medically dangerous. If it keeps allowing these types of plays to go unpunished, the league is tacitly endorsing them.
As comically inept as the NHL usually is when it comes to player safety, they've been absolutely en feugo in the 2017 playoffs – and we're only in the third round!
Abuse of Officials
Ahh, Mr. Perry, we meet again. At the end of Game 5, a 3-1 win for the Predators, referee Dan O'Rourke was separating the Ducks' alternate captain from Nashville's Vernon Fiddler, when Perry tried, with two hands, to yank himself free from O'Rourke's grip.
Um… Perry should be hearing from the @NHL for this. pic.twitter.com/doXwD5LPWD

— Fang Fingers (@FangFingersTN) May 21, 2017
Yikes.
It should be noted that the NHL rulebook is crystal clear on matters such as this, listing a three-game suspension as the only possible response. And yet, here we are, an hour from puck drop, and the Ducks' talented yet thoroughly unpleasant forward appears to have escaped punishment, yet again.
This lack of action on the part of the league is doubly surprising considering the recent history of players making contact with officials. Of course, everyone remembers the Dennis Wideman incident. But this past February, the Ducks' own Antoine Vermette was suspended 10 games for slashing an official. This history of abusing officials should mean that Anaheim has less of a leash with incidents like this, no? Even if this is not the case and the rules are applied equally across the board, Perry's actions still seem to warrant some sort of discipline.
Homophobic Language
Ignoring Precedent
Ryan Getzlaf, one of the most dominant players of this postseason, came under fire this week for appearing to use a homophobic slur. Whether or not you buy Getzlaf's contention that it was borne out of "frustration" and "not necessarily directed at anyone in particular," the fact remains that something untoward was indeed said.
Moreover, the NHL has a precedent for punishing those who use homophobic language, with Andrew Shaw being suspended one game (about 16 regular season games given the current conversion rate) for a similar incident in last year's playoffs (to Shaw's credit, he wholeheartedly apologised for his unwise choice of words). What did Getzlaf get? A $10,000 fine.
Getzlaf's response to the incident, though seemingly not a sanitised prepared statement, was, nevertheless, not exactly satisfying. That said, no one should be saying he is a raging homophobe or an all-around bad person. On the contrary, his charity work to combat Duchenne muscular dystrophy is admirable. Sportsnet even did a feature on Getzlaf's relationship with one of his biggest fans (SPOILER ALERT: many, many onions will be cut).
Rules Are Rules
But, the reality is, he broke the rules, rules that have been painstakingly integrated into the hockey world. English is a fascinating language, perhaps more diverse than any other tongue on Earth, and one that is constantly evolving. There are words considered taboo today (whether with regard to sex, sexual preference, skin colour and or any other denomination) that were once mainstream, and some things perfectly acceptable today were once heartily frowned upon.
No one is perfect; we all say things in the heat of the moment that we later regret. However, each one of us needs to take responsibility for ensuring these things are not instinctual in the first place. And the NHL's rules relating to this issue need to be enforced, whether the perpetrator is a role player, like Shaw, or a superstar having a Conn Smythe-calibre playoffs.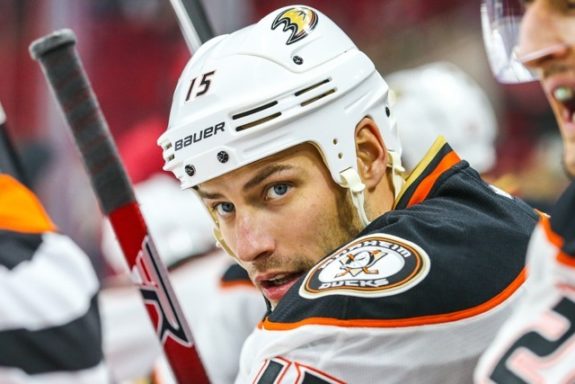 Perhaps the clearest evidence of how out of touch the NHL is with society – not to mention their own fans – is that the GoFundMe page to pay off Getzlaf's $10,000 fine is less than three percent towards its goal.
Getzlaf had near-infinite possibilities of expressing himself, and he chose an option that is simply not acceptable in modern parlance. The league's response to such an incursion was, up until this week, pretty clearly delineated. In failing to uphold their own standards, the NHL not only added to its ever-growing public perception of incompetence, but has potentially also jeopardised its relationship with partner organisation You Can Play.
Gauntlet of Terrible
None of the above takes away from the fact that the NHL playoffs are a two-month marathon of hockey at its finest: big games in big atmospheres, with the best players in the world laying it all on the line. Every year, all the NHL needs to do is ensure the rules are followed, thereby allowing this great game called hockey to issue forth, unencumbered.
But, every year, the league finds some way to shoot itself in the foot. This series is simply a microcosm of the weird, wacky, Bizarro World we enter every year, come mid-April. This season though, the NHL has truly run the gauntlet of terrible.
And yet, here we stand, on the precipice of the two most exciting teams in hockey playing for the sport's ultimate prize. Could anything be more NHL?