Many people in the hockey world are speculating that Roberto Luongo has played his last game in Vancouver.  With Alain Vigneault decision to start Cory Schneider in game four and the youngster's victory in Game 4, it is very probable that Schneider will again get the nod in game five.
With Schneider becoming a restricted free agent at the end of the season, he question now is, will the veteran goaltender Luongo be on his way out of town?  The answer may seem like an easy yes, but there are a lot of difficult variables that all must work out for that to happen.  Luongo has been under fire with the Vancouver fan base for a few years now, and while most fans would love to see him go, but could the Canucks even trade Luongo if they wanted too?  He currently has ten seasons left on his contract, with a salary hit of $5.33 million per season.  The yearly amount of $5.33 million is not that difficult for teams to accept, but the ten years makes this a difficult, and risky contract to take on.
The fact that Luongo will be 43 years old at the end of the contract, which is almost unheard of for goaltenders, almost seals the deal.  The biggest hurdle that the Canucks would face is the no trade clause that goes along with his contract.  Luongo would have to agree, and accept any trade that Vancouver presents to him.  If Luongo does not wave his no trade clause, the Canucks only option would be to buy him out.  This obviously would not help the cap problems the Canucks would face.  They could also waive him, and if he cleared waivers he could be sent to the minors.  The Canucks would then have to pay his full salary for the next ten years.  I do not see any of these things happening.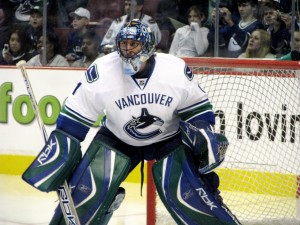 I really do not think that they will be able to move him.  If he did accept a trade, the list would probably be very short.  The next question that arises then is, who would want to acquire him?
There are a few teams that would probably come calling for his services.  The two most likely suitors would be the Florida Panthers, and the Washington Capitals.  The Panthers are an up and coming team, and the only real glaring weak spot they have may be in net.  With veterans Jose Theodore and Scott Clemmensen guarding the nets in Florida, many people wonder if they will be enough to guide this team on a long playoff run.  Luongo would actually be a very good fit in Florida, and would feel comfortable back where he came from.  He has always expressed that he enjoyed his time in Florida.  After the media pressure he has felt in Vancouver, the quiet media in Florida would be welcomed.
The most important component, however, is a simple one: the Panthers would definitely have the cap space.  The big question would be if they were willing to take on this long term contract, and who would they have to give up in return.
As for the Washington Capitals, they have been searching for an awnser in net for years now.  They tried Semyon Varlamov, and that did not work.  They then signed Tomas Vokoun, and that relationship has had its ups and downs.  It also looks like Michal Neuvirth is not the answer, and Braden Holtby is still very young, and inexperienced.  The question now is whether the Caps should stick with Holtby, or do they go on the search again?
The success of Holtby in the playoffs could go a long way toward answering this question.  If they make an early exit, look for them to go get a guy like Luongo.  The problem with Luongo going to Washington is cap space.  The Capitals are up against the wall, unless they let unrestricted free agents such as Vokoun and Alex Semin go.  I could see them letting Vokoun go, but letting a player such as Semin go is unlikely.
It may be a possibility that they would trade him to Vancouver, but then the Canucks would be up against the cap wall.  The Capitals could leverage a few prospects in the deal also.
With the success of Schneider the value of Luongo has went down.  Everybody knows the Canucks will not be able to keep both any longer.  The Canucks could free up enough room by not signing Sami Salo or Sammy Pahlsson, but the possibility of any of this is unlikely.
With the recent success of Cory Schneider his value to other teams may be much higher than Luongo's.  Schneider is a restricted free agent at the end of the season, and there will undoubtedly be teams signing offer sheets for him.  The Canucks must get him signed before any thought of moving Luongo can happen.  It will definitely be a long, and interesting off season in Vancouver.  This situation could even become more complicated if the Canucks could pull of an amazing comeback with Schneider in net.