Last week, we learned that the Big Ten Hockey Conference was moving ahead with a proposal that could change the landscape of college hockey.
According to Adam Wodon of College Hockey News: the Big Ten hockey conference has sponsored a piece of legislation that calls for lowering the age limit for incoming college hockey freshmen from 21 to 20 years old.
Meaning, any player that enrolled in college after his 20th birthday would lose a year of eligibility for every year past 20. Apparently, the Big Ten schools don't want to play any more games against 25-year-old seniors.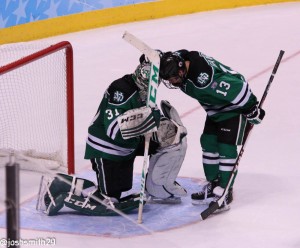 What's really behind the Big Ten's proposal?
The proposed legislation will be voted on during the NCAA meetings in April 2016. According to Wodon, a straw poll was taken at last spring's NCAA meetings and was defeated by a vote of 49-11. Yet, the Big Ten is moving ahead with their proposal. Why?
Many in the college hockey ranks dislike this proposal and see this legislation as self-serving or elitist. I think the proposal is needless, self-serving and petty. The Big Ten schools are tired of losing to the smaller schools and are taking a stand.
Actually, the solution is very simple, if a league doesn't like the type of players that another conference is recruiting, don't recruit those players. However,  leave everyone else alone. Nothing is stopping them from having a conference rule that forbids 21-year-old freshmen. Leave the rest of college hockey alone.
The Coaches Weigh In
As you can guess, with an unpopular proposal like this, some of the coaches lined up to give their opinion's on the legislation.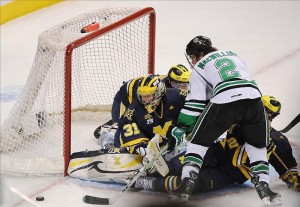 Northern Michigan head coach Walt Kyle ripped the proposed legislation, "A lot of these schools right now, and I'm not naming names, are doing everything in their power to push the scales in their favor," Kyle told College hockey news.
"A lot of these guys should be embarrassed. They want NCAA (tournament) games on home campus sites. Why is that? These are the same guys who started recruiting 15-year olds, then when everyone else did, they started crying about it. When it comes to playing Northern Michigan, Lake Superior, Michigan Tech — instead of two games on their campus, two on mine, they want four games on their campus."
According to Brad Schlossman of the Grand Forks Herald, all eight National College Hockey Conference coaches are against the proposed legislation.
"We are not for the legislation, we like it the way it is," ASU head coach Greg Powers told Cronkite Sports. "For the same reasons the rest of college hockey likes it. Most importantly, I think you're limiting opportunities for kids if you pass this and we're a program that has a lot of kids that fell into that boat.
"Some kids need that extra year to earn the opportunity to play college hockey and I think it's wrong to take that away from them," Powers said.
UND head coach Brad Berry shared his thoughts on the Big Ten's proposed legislation. "Not a big fan of it at all."
Breaking Down the Numbers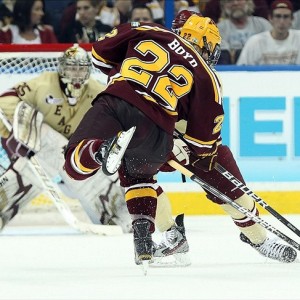 It's well documented, the Big Ten has struggled mightily against the other power conferences during the first two and a half years of the Big Ten's existence.
Recently, stats guru, Ryan Lambert of Puck Daddy did a great job breaking down the Big Ten's pitiful record against college hockey's other  major conferences. You can see by looking at the numbers, it's not pretty.
The only two conferences that the Big Ten Hockey has winning record against is Atlantic Hockey Conference 39-6-4 (.854) and Western Collegiate Hockey Conference 26-23-11.
Against the other power conferences, the Big Ten is below water: the Big Ten hasn't faired well against *East Coast Athletic Conference 9-17-1 (.352), Hockey East 26-34-5 (.438), National College Hockey Conference 12-33-2 (.277). Breaking it down further, the Big Ten is 47-84-8 (,366) against the ECAC, Hockey East and NCHC.
College hockey is a collegiate sport where the small schools actually have a chance of beating the Division I powerhouses on a regular basis.  Looking at the numbers, you can see that it's happened a lot.
I believe that's the point of this proposed legislation. If this legislation is approved by the NCAA membership, it could skew the advantages away from the less fortunate schools and give the bigger, power schools more of an advantage.
*Note, the numbers were crunched prior to this past weekend's games.
Eric is a 1996, 1999 graduate of the University of North Dakota. Eric covers the University of North Dakota Hockey and Division I college hockey. Eric is the Contributing Editor for Inside Hockey.