We're in the thick of the All-Star break, there aren't any regular season games going on, and with little to talk about other than John Scott, trade rumors are beginning to surface. A few months ago, the Islanders revealed that defenceman Travis Hamonic had requested a trade out of Brooklyn. Everyone immediately began to play video game GM in hopes of figuring out where the best fit would be, but no trade has been consummated as of yet. Those talks have quieted since, that is until this tweet:
Friedman on Hamonic: "I have no doubt that's what the #Oilers are considering. I have no doubt they're going to try to get it done." #Isles

— Chris Nichols (@NicholsOnHockey) January 29, 2016
Elliotte Friedman is one of the most respected hockey guys in the business, and when he speaks, people listen. On the surface, it seems like a good match. The Oilers need defenceman badly, and they have a lot of young forwards who could become trade chips. But how much is Hamonic worth, and who should the Oilers be willing to give up?
The Skinny on Hamonic
Travis has a few things going for him. He's only 25 years old, and for a defenceman, that's just the beginning of prime years. He's got a cap-friendly contract, and he has proven to be serviceable and reliable on the NHL level. He's got size, at 6 foot 2 and 205 pounds, and he certainly doesn't shy away from contact. He would be considered more of a defensive defenceman, as he's never scored more than five goals in a season. But, he had a career high 33 points last year, and if he stays healthy he can put up those kinds of numbers consistently. Hamonic cited family reasons for wanting a trade, and as a Manitoba native, Western Canada seems like a good destination.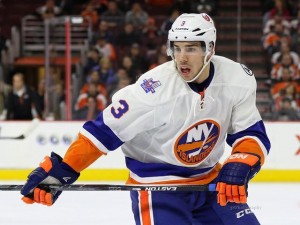 There is every reason to like Hamonic's game, but we have to be careful not to overvalue him. Remember that Garth Snow, the Islanders General Manager, essentially has to move Hamonic at some point, to respect the players request. I don't know that he has all the leverage in this deal, especially that there's only a handful teams that would work in terms of location. Anyone making an offer doesn't need to overpay, because the danger is there to do so. For the Oilers, there are a few names who might be included in a trade for Hamonic.
How About Ryan Nugent-Hopkins?
I understand that in order to get quality defencemen, the Oilers will have to give up quality in return. But is Travis Hamonic worth a Ryan Nugent-Hopkins? Would the Predators have accepted him in exchange for Seth Jones? It looked like the Oilers weren't willing to make that move, and Jones has more upside than Hamonic. It's hard to believe that they would consider trading a top-six centerman for a stay-at-home blueliner.
I like the three-center model that Edmonton has the chance to deploy, with RNH, Connor McDavid and Leon Draisaitl. But perhaps management doesn't want to go in that direction. McDavid isn't going anywhere, and Draisaitl has shown a lot of potential this season. That might make Nugent-Hopkins expendable. But if they do trade him to Brooklyn, the Islanders will have to include a lot more than just Hamonic. So in terms of the Nuge, I'll put this in the "probably not going to happen" category. (Add Kyle Okposo to that deal though? Food for thought). 
Justin Schultz May be on the Way Out
We all really wanted Justin Schultz to work out in Edmonton, but he just hasn't. He seems to be getting worse instead of better, and it doesn't feel like he's a fit on this Oilers team. Does he have much value on his own? Probably not that much, but, he's only 25, and he could potentially look really good insulated on a strong defence corp in another city. There was some talk that Garth Snow wanted another defenceman back in the trade, but is Schultz going to be enough? I doubt it, but it's safe to say that his days in Edmonton are numbered.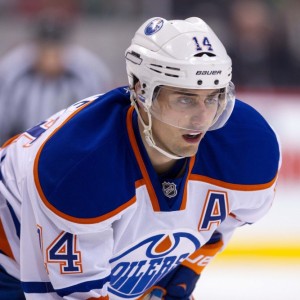 There's Always Jordan Eberle
I kind of feel bad for Jordan Eberle, because he's always the default trade bait in Edmonton. Does that mean he's seen as the least skilled? Who knows, but it certainly looks like his name really is out there on the market. Eberle has shown flashes of brilliance at times, and no one is denying his talent, but it always feels like you want just a little more from him. He's also 25 years old, and he has had some really solid seasons at the NHL level. He scored a career high 34 goals and 76 points in the 2011-12 season, and he has proven to be a consistent 20-goal scorer. While playing for the Oilers.
I like Eberle, but wingers tend to be easier to come by than high quality defenceman or top-flight centerman. (Of course that brings us back to the question of how quality Hamonic really is). Could there be a one-for-one deal to be made? As an Oilers fan, are you okay seeing Eberle swapped for Hamonic? (I've also heard the name Sami Vatanen behind bandied about, and in my opinion he is high quality. But I digress).
Don't Forget Nail Yakupov
The former first overall pick is still finding his footing at the NHL level. Yakupov improved greatly playing alongside Connor McDavid, and the Oilers are hoping that chemistry continues once number 97 returns. Injuries derailed a lot of what the Oilers were hoping to see this season, and who knows if they wanted to showcase Yakupov in order to up his trade value. His own injury didn't help that cause. But he's healthy again, and as the trade deadline approaches, there's always the possibility he could be moved.
Yakupov's offensive output in his short NHL career has been lacking to say the least, but there are a few factors for that. He probably shouldn't have been in the NHL at age 18, but he refused to go to junior, and the Oilers had few options with a first overall pick. His ice time wasn't always favorable, and he tried to do too much to help his flailing squad. You hope that he will continue to get better as he grows, but there is never a guarantee, regardless of draft position. Could he a candidate to move for defensive help? You'd probably want to see more than just Hamonic come back in a trade.
The Verdict
The Edmonton #oilers are the only #nhl team to not reach 80+ points in the past 5 years.I love Eberle but I'll trade anyone now. I want wins

— Michael Chapman (@chapmanmike) January 30, 2016
I would not do an Eberle for Hamonic trade if I was the GM of the #Oilers#Isles #Islanders

— Paul Almeida (@AzorcanGlobal) January 29, 2016
The Oilers should learn from past mistakes and NEVER trade away a center again EVER. The last couple years are proof enough of that.

— Notyerpoppasoilers (@49cbbed8eb214a0) January 30, 2016
There is going to be some kind of trade in Edmonton. The season is all but lost, and there will be plenty of contenders calling the Oilers. I like the idea of getting Travis Hamonic. What the Oilers currently have hasn't been working, even though we haven't been able to see what a healthy lineup would look like, which puts a bit of a wrench in the plans. I'll ask you, Oiler fans, which player would you rather give up, if anyone at all?
Have your say in the comments section below.
Marcy, a former hockey player, is a hockey correspondent on CTV News and TSN radio. She began her career as a Sports Journalist in 2009 and has been part of The Hockey Writers since 2010, where she is currently a senior writer and editor.