Everybody loves some good hockey prospect talk and a while back I wrote a piece about a few Ontario Hockey League players and how close they were to playing in the National Hockey League. In this article, I would like to take a look at five NHL drafted prospects currently playing in the Quebec Major Junior League that we could see in the show soon.
Aside from the currently undrafted Pierre-Luc Dubois, there are many skilled players in the "Q" who go a little unnoticed or maybe even overlooked by a lot of hockey fans. That being said, here's a look at a few of the league's top-end talent. This list is based on the likelihood of each player making the leap to their respective franchise.
5. Dmytro Timashov, Shawinigan Cataractes (Left wing)
Drafted: Round 5, 125th overall in 2015 by the Toronto Maple Leafs
The Maple Leafs organiztion is more than pleased with their fifth round pick from last year. Dmytro Timashov is of Ukrainian decent, and just finished his second season in the QMJHL in a split season between the Quebec Remparts and the Shawinigan Cataraces. Over the course of the year Timashov just got more and more dominant, and eventually became one of the league's strongest offensive forces. In the first half of the season he had an outstanding 53 points, but his time in Shawinigan he was only able to muster up 32 points (still very impressive). Mark Hunter had this to say about the team's "sleeper pick" in an interview with NHL.com back in January.
I don't think he was getting recognition. Now I think people see he's a good prospect for the Leafs. The sky is the limit. He's got more room to grow as a player. He sure showed his ability and talent in this tournament."
Take a look at Timashov's five point night in December against the team he would eventually be traded to later on in the year.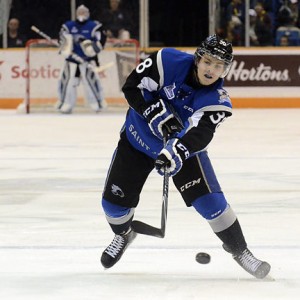 4. Jakub Zboril, Saint Johns SeaDogs (Defense)
Drafted: Round 1, 13th overall in 2015 by the Boston Bruins
Although his production dropped since being drafted by the B's last season, Zboril could be in the NHL soon. The Bruins are facing a difficult dilemma with two of their top defenseman nearing retirement (Zdeno Chara and Dennis Seidenberg). Zboril could see himself in a mentored situation if he gets into the Bruins lineup next season playing alongside Chara. The young-Czech d-man's best skills are his NHL-caliber hockey-sense and long reach that has helped him progress into the defender he is today.
3. Thomas Chabot, Saint Johns SeaDogs (Defense)
Drafted: Round 1, 18th overall in 2015 by the Ottawa Senators
Never shy to take risks on young players, the Ottawa Senators could have another young defenceman in their lineup in the not-so-distant future. Just slightly edging his teammate Zboril, Chabot has excelled since being picked 18th overall by the Sens at last year's draft. Not only did Chabot endure his best junior season, he even represented Canada at the World Junior Hockey Championships last January – and played a pivotal role on the team. Chabot has improved his +/- numbers drastically every year since his rookie season in the Q. At the end of his rookie campaign the defenseman was horrid -29. He then followed up with a +6 in his sophomore season, and got his numbers right up this year when he was a +27, which was tenth best amongst all Quebec league defenseman. Here's a look at the rest of his stats.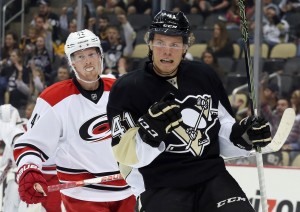 2. Daniel Sprong, Charlottetown Islanders  (Right wing)
Drafted: Round 2, 46th overall in 2015 by the Pittsburgh Penguins
Last year's draft didn't go the way Sprong had hope, but he landed on a team that put a lot of faith in him when GM Jim Rutherford and the Penguins selected the sniper in 2015. The Penguins management liked the play of Sprong so much, that they chose him to play in a portion of the first part of the 2015/16 season. Although the Pens eventually sent him down to develop, they had this to say about his play.
Spending this time in the NHL has been a good development experience for Daniel. But it's important for him to have more playing time."
Sprong was shipped down to play for the Charlettetown Islanders, where he went on to continue his dominant junior hockey play by compiling 46 points in 33 regular season game – while adding 14 points in 15 playoff games. I'm convinced that Netherlands native could be back in the NHL soon, given Pittsburgh's current cap situation. If the Pens are forced to make moves, Sprong could find himself in a similar role to the one he played earlier this season with the Penguins. One thing that will definitley put a damper on his chances with the Penguins next year, is the fact that he recently underwent shoulder surgery that will have him sidelined for 7-8 months.
1. Timo Meier, Rouyn-Noranda Huskies (Right wing)
Drafted: Round 1, 9th overall in 2015 by the San Jose Sharks
An early first round pick in last year's NHL Entry Draft, Meier completed his third and likely his final season in the Quebec league. The Sharks love what the 19-year-old brings to the table. Meier had an above average point season racking up 87 points in just 52 games – split between the Halifax Mooseheads and the Huskies. Meier has proven himself to be a prototypical power forward, and is climbing up the prospect ranks thanks to a berth in the Memorial Cup Final. Meier's dominance has sort of flown under the radar, but his size and skill may be something the Sharks need in a bottom-six role next season.