I think it is fair to say that the NHL has undergone a statistical revolution over the last several years. Whether it is the move towards looking at possession stats like Corsi or Fenwick, placing a premium on even-strength production, or using tools like Hero or Bombay Charts to  compare players, the ability to analyze a player's performance is light years beyond where it was just a few years ago.
Regardless of statistical advancements, the average NHL fan is more interested in just watching hockey and enjoying themselves than they are in pouring through data. This is understandable, but it does lead to the vast majority of "analysis" being based on reputation and highlights than actual quantifiable data. This isn't so much a problem as it is a driver of what I consider to be one of the most interesting things about covering the NHL: the difference between how a player is viewed overall and how his statistics say he should be viewed.
This results in players getting massively over and underrated.  Over the next few days I will look at some players who may be considered among the most under-appreciated players in the NHL, and try to determine once and for all who is the most underrated player in hockey.
The Candidates:
Jake Muzzin:
In the summer I wrote that Jake Muzzin was a top-ten NHL defenseman. I thought I was underrating him because, truthfully, I would have rated him higher than Doughty if I didn't feel I would just get trolled relentlessly for doing so.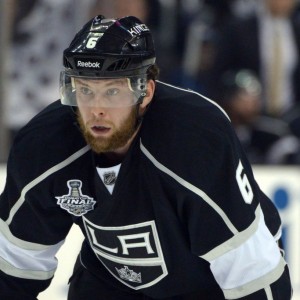 Muzzin is currently the best possession player in the NHL, among defensemen with a 57.23 CF%. He also had that tile last year, posting a 58.2%, and the year before that, he led the league again with a possession rating over 61%. In 2012-13, he was over 63% and again, he led the NHL.  That means that for the four seasons in which the 26 year-old Muzzin has been a regular NHL defenseman, he has led the league in possession stats by a defensemen.
Maybe you don't put any stock in Corsi, but consider this: for a four season period, while Muzzin has been on the ice, no team in hockey plays more of their time in the other team's end than the LA Kings.
No one doubts that Drew Doughty is one of the best defensemen in hockey, but since Muzzin came into the league, here is how they have scored at even strength:
2012-13: Doughty 8 points. Muzzin 9 points.
2013-14: Doughty 14 points. Muzzin 16 points.
2014-15: Doughty 27 points. Muzzin 25 points.
2015-16: Doughty 5 points. Muzzin 5 points.
At 5v5, Muzzin has one more point than Doughty and is a better possession player. In the past four seasons, Doughty and Muzzin rank 2nd and 3rd in the NHL (among defensemen) in shot differential, with Doughty getting a slight edge on Muzzin.
For the four years Muzzin has been in the NHL, Doughty has been his most common partner. One interesting thing about them: when together, they post an amazing 59.5% CF rating. However, when apart, Muzzin rises to a 60.8% while Doughty declines to 55%.
Using all the stats we have at our disposal, the evidence supports the fact that Muzzin is a superior player to Doughty. Now, because Doughty plays for team Canada and is a second-overall pick, it is impossible for some people to consider that he might not even be the best defenseman on his own team.
Whether you agree or not, now that you know some of Muzzin's stats (and I forget to mention that he's a 40 point defensemen with his name on the Stanley Cup twice)  I think we can at least agree that he is a criminally underrated player.
Jason Zucker: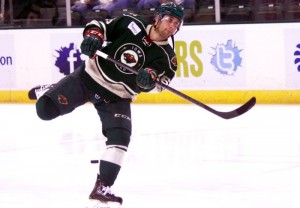 Zucker is a 23 year-old winger who is under six feet and was drafted 59th overall in 2010. By being undersized, drafted late and taking several years to develop, he is hitting nearly all the check-boxes of things that help make a player underrated.
He is yet to play more than 51 games in a season, and yet, he has scored at a very impressive rate whenever he's been asked to play in the NHL ( 2 points in six games in his first taste, back in 2011). So far this year he has a decent count of 6 goals, and is starting to make a name for himself.
Rick Nash, the best 5v5 goal-scorer in the league (by a lot) since joining the Rangers: https://t.co/YHN8NU52Kd pic.twitter.com/s7HgwkxQng

— Zach Ellenthal (@zellenthal) November 22, 2015
If you click on that chart to enlarge it, you'll see that since he came into the NHL, Zucker is scoring goals at the second highest rate in the NHL – his 1.27 goals/60 ranks behind Rich Nash but ahead of Vladimir Tarasenko, Alexander Ovechkin, Max Pacioretty or Corey Perry.
Last season, 17 of his 21 goals (which he scored in just 51 games) came at 5v5, where he also posted a 56% possession rating and an absurdly low PDO of 95.96.  To put it another way, he scored the same amount of even-strength goals as Zack Parise while playing in 23 less games and skating two minutes less per game than he did.
I spend a lot of time talking with people about hockey and since nobody I talk to but rarely mentions Zucker, I am going to have to make him a candidate for the title of the NHL's most underrated player, even if he has only been playing for a limited time so far.
I'll be back later in the week for part 2.
All stats waronice.com and stats.hockeyanalysis.com
Thanks for reading.