The NHL Trade Deadline left more than a void on the first line with the departure of scoring winger Jason Pominville.
It left a void in the captaincy of the Buffalo Sabres.
The team, in what many feel was the right decision so late in the season, decided against naming a captain, instead naming three alternates: Thomas Vanek, Drew Stafford, and Steve Ott.
For quite some time, there has been a noticeable void in the leadership department for the Sabres.  There has been a lack of a clearcut leader going all the way back to the 2003-04 season: that year, Lindy Ruff (then coach), began using rotating captains. The closest he'd come to a true leader was having Daniel Briere and Chris Drury split the duties as co-captains from 2005-2007.
Since then, it was back to rotating captains.  The team thought it found stability enough to name a single captain for good but the problem was that it was new-comer Craig Rivet. What does it say about the team when the guy who just walked through the door is supposed to be the leader.
After Rivet's departure in 2011, the team captaincy belonged to Pominville until his trade at the deadline this past season.
Avoiding the naming of a captain was the right decision; it avoids naming a defacto captain just to name one and allows the players and coaching staff to make a proper selection heading into next season.
With that in mind, who exactly is there and what do they have to offer? The sad part is that there are few candidates. This is due in part to the transition into a rebuild; younger players drive them so veteran leadership is at a premium. So who are the prime candidates to succeed Pominville and adorn the "C" on their chest?
Thomas Vanek
Why he should be captain: The 29-year-old Austrian is the Sabres best skater and arguably it's best overall player (Ryan Miller is certainly in that conversation). Many subscribe to the theme that your best player and your captain are often one in the same.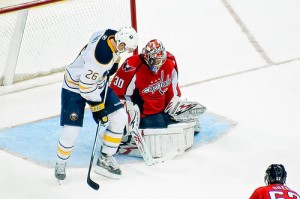 Vanek's role as captain would be to not only lead his team, both vocally and on the ice, but to guide the young players that the Sabres hope will become the foundation of the team. With a proven star like Vanek guiding them, his influence could run deep and help fuel the next level of success in Buffalo.
Not only that but, as many know, Vanek has made it known that he doesn't plan to be apart of a long rebuild and might want out of town should that be the case. He will be an unrestricted free agent following the 2013/14 season and could walk away should Buffalo not deal him before then.
Would the captaincy (and a truckload of cash) be incentive for him to stay? Buffalo fans feel that he's the face of the franchise and many would like to see him stay a Sabre for the remainder of his career. The captaincy would not only show him that this is his team but would add to his legacy in Buffalo.
Why he shouldn't be captain: If he was a leader, wouldn't he have been named captain back in 2011 after Craig Rivet left? Most considered him to be the superior player in comparison with Pominville, yet it was the latter who was named captain.
While it's easy for us, the fan, to make assumptions about leadership of a hockey team, it is true that we don't know what goes on inside the dressing room.  And perhaps Pominville made his presence known there — giving the necessary speeches, saying the necessary things, being that driving motivational force — that made it easy to put the "C" on his chest. Given his demeanor on the ice, it's hard to understand but without being there, we don't know that.
But for Vanek to be the better player, the traditionally more productive player, and the more visible face of this franchise, it said a great deal that he wasn't put in that position.
Steve Ott
Why he should be captain: Coming over from Dallas during the off-season in a trade for center Derek Roy, Ott brought exactly what the Sabres were looking for: sandpaper, sandpaper, and more sandpaper. He knows his reputation and he knows his role: get under the skin of the opposition without crossing that line.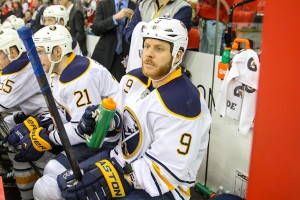 For the most part, "Otter" did that: jawing with opponents, mucking it up with them after the whistle, and unleashing an array of big hits throughout the season. Matter of fact, he threw so many of them, he finished tied for third in the league with 187 total.
While Ott doesn't contribute offensively the way Vanek does, it's clear that Ott's motivational tactics are more vocal. He's always talking, always making his presence felt on the ice even in ways that go unseen by many fans, and always trying to pump up his team.
Why he shouldn't be the captain: Remember when we talked about not crossing that line? Ott struggles with that aspect sometimes. He can jaw too much, fly around just a bit too much, and give a little extra English after the play that can cost him.
To some, this isn't the way to represent your franchise and lead the troops. Ott sometimes engages in theatrics — hand gestures, over-the-top faces — that some feel aren't befitting of a captain.
It's also something to point out that he wasn't captain in Dallas but when you're playing behind Mike Modano and Brendan Morrow, it's not exactly a huge detriment that you couldn't unseat one of them as captain.
So Who's The Captain?
I'll address that after I tell you who will be captain, not who should be captain.
Thomas Vanek will be the next captain of the Buffalo Sabres and I can't really hate that decision. He's the star, he's the face of the franchise, and he's now one of the most veteran of veterans on a very young team. Not only that, but being given the captaincy could be one of the incentives offered by the Sabres in return for re-signing in Buffalo.
Who should be the captain? Ott and here's why: pushing aside the point that, if Vanek were the leader the Sabres wanted, he would've been named captain long ago, Steve Ott oozes leadership.
Certainly, he has his questionable moments and gets a little over zealous when trying to get under the skin of the opposition but it's easy to see his impact on this team and I'm not speaking of the stat sheet.
Sure, his detractors will point to some of his antics and ask "is this how we want to be viewed? With this guy as our captain?" The fact of the matter is that it doesn't matter a lick what the league thinks of our choice as captain. If he's the best fit for this team then to hell with everybody else.
He's not Steve Yzerman, he's not Jonathan Toews, and he's not Mark Messier, but Steve Ott leads this team vocally and emotionally and there really isn't anyone else like him on this team.
So with all due respect to Thomas Vanek, Steve Ott should be named captain because leading isn't just about making the most money or scoring the most goals.
Follow me on Twitter: @RWTFC