The Winnipeg Jets may be in a major battle for their playoff lives as the 2014-15 NHL regular season winds down, but that isn't stopping people, including myself, from looking ahead to the summer.
In what's sure to be a major offseason for general manager Kevin Cheveldayoff and his staff, the Jets are faced with a number of roster questions going forward involving players who are slated to be free agents this summer as well as some big names — Dustin Byfuglien — who are scheduled to hit the market next year. But before worrying about Byfuglien and captain Andrew Ladd, Cheveldayoff has eight players on his current roster slated to become unrestricted free agents on July 1, 2015.
It's almost a certainty that not everyone will be brought back to the fold as Cheveldayoff gets set to make some major decisions about his team's future. However, it's not out of the realm of possibility that quite a few of the players get brought back to help push a team even further into Stanley Cup contention. The question is, which players stay and which players go?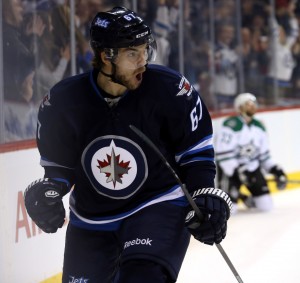 Player: Michael Frolik
Current Salary: $3.3 Million
Re-Sign or Lose: Re-Sign
After only being given a one-year deal last offseason with the Jets, Frolik has earned another multi-year contract be it with the Jets or another team. The 27-year old Czech Republic native has put up his second straight 40-point season for Winnipeg. He's a player who always manages to stay on the ice, and can produce in pretty important situations like the penalty kill. Though it's likely he'll look to sign a deal worth as much as, if not more than, the $3.3 million he's making this season, I think he would take a slight pay cut if offered a multi-year contract by the Jets. I believe that gets done.
Player: Jim Slater
Current Salary: $1.6 million
Re-Sign or Lose: Lose
Slater has been with the Jets/Trashers franchise for seven seasons now, and I think the time has come for the two teams to part ways. He's nothing more than a fourth-liner, at best, and I think Winnipeg could easily replace him via the free agent market.
Player: Jiri Tlusty
Current Salary: $2.95 million
Re-Sign or Lose: Lose
Tlusty was one of Cheveldayoff's big trade deadline acquisitions to help his team get over the hump and into the postseason for the first time since returning to the league in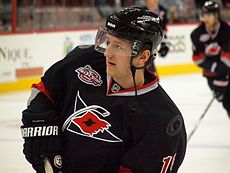 2011.  In 17 games with the Jets, Tlusty's production hasn't been what many hoped for when coming over from Carolina. Despite the history between coach and player, Tlusty likely isn't going to be happy with whatever offer the Jets make to the 27-year old. He's going to command over $3 million on the free agent market, and I just don't see the Jets ultimately paying that much to keep him in Winnipeg.
Player: T.J. Galiardi
Current Salary: $750K
Re-Sign or Lose: Lose
Galiardi was brought aboard on a one-year, two-way contract over the summer to add some depth to the Jets. He's played just 37 games for Winnipeg this year, and has just one goal. I think it's ok for Cheveldayoff to let him walk after the season.
Player: Matt Halischuk
Current Salary: $725K
Re-Sign or Lose: Re-Sign
Halischuk is on his second straight one-year deal with the Jets after spending three years with Nashville. In 46 games, Halischuk has two goals and five assists for seven points. He likely won't ever put up the 28 points he did with the Predators in 2012, but he's a nice depth player to have and should come pretty cheap. I'd bring him back for the same price next year on another one year contract.
Player: Drew Stafford
Current Salary: $4 million
Re-Sign or Lose: Re-Sign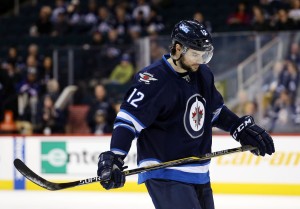 This move is a pretty tough one due to salary. Stafford has been stellar since coming to the Jets, along with Tyler Myers, in the trade with Buffalo that saw Evander Kane shipped off to the Sabres.  In 23 games with the Jets, Stafford has scored eight goals and 18 points after putting up just 24 points in 50 games with the Sabres this season. He's in the final year of a four-year, $16-million contract, and may be looking for a pay raise come July 1. That being said, it's unsure if he'll even get that much on the open market due to his failure to produce at the level he did in his last contract season in 2010 when he scored 31 goals and 21 assists in 62 games.
He's seemed to enjoy playing with the guys in Winnipeg since the deal, and has a jump in his step on the ice that hasn't been seen in a few years. If explained the plan, Stafford is a player that could be willing to take a little less money to stay on a team that aims to contend for years to come. No doubt Cheveldayoff should bring him back on a three/four year contract, provided the price is right.
Player: Lee Stempniak
Current Salary: $900K
Re-Sign or Lose: Re-Sign
The final piece to the trade deadline puzzle, Stempniak was brought aboard to add one more top nine forward to the mix for Winnipeg. He's come in and filled his role pretty nicely with eight points in 15 games. He's helped in nearly all aspects of the game with Winnipeg, and should be able to be kept around pretty cheap. A slight pay raise along with more than a one-year commitment should be able to lock up Stempniak who's been on four teams over the last two seasons.
Player: Adam Pardy
Current Salary: $700K
Re-sign or Lose: Lose
Winnipeg's defense is so stacked and crowded right now that there isn't a real need to bring Pardy back to the mix.  He's been a serviceable player for the Jets during his time, but I can't see him being with the team next season.
---
Who do you think the Jets should bring back, or let walk, for next season? Leave your thoughts in the comment section below!
Michael is a former Managing Editor for The Hockey Writers. He's covered the Buffalo Sabres, along with the NHL in general, for various outlets since 2009. His work has been featured on outlets such as Yahoo, Sports Illustrated and Fox Sports.