July 28, 2015 was Jim Rutherford's best day in his 14 months as Pittsburgh Penguins General Manager.
Rutherford traded Brandon Sutter to Vancouver for Nick Bonino and prospect defenseman Adam Clendening (draft picks were also exchanged). The trade cleared $1.4 million in cap space for the Penguins, which allowed them to sign free agent Eric Fehr to a three-year deal at $2 million per season.
Fehr underwent elbow surgery on June 3 and doctors originally suggested that Fehr could be ready for the start of the regular season. Wes Crosby at NHL.com reported that "the Penguins consulted Fehr's surgeon and were informed he was in the top 20 percentile of individuals who have the injury, in regards to his recovery."
Even if Fehr isn't ready for opening night, the Penguins have sufficient depth down the middle with Bonino slotted in as the new third line center and prospect Oskar Sundqvist itching for an opportunity to crack the NHL roster.
But the swap of Sutter for Bonino — not the Phil Kessel trade — is the highlight of the Penguins offseason so far from a management perspective.
[Related: Crosby vs Malkin: Finding the Fit for Kessel]
Trading Sutter was the logical move for Rutherford. One year before Sutter was scheduled to hit unrestricted free agency, right now was also the logical time. Former GM Ray Shero came to the same conclusion with Jordan Staal in 2012 when he dealt Staal to Carolina (for a package including Sutter) with one year left on his contract.
The Penguins can't afford to spend significant money on lower line players, especially when a player like Sutter needs help around him to perform. From our playoff coverage this spring:
Sutter is a player that needs talented linemates to thrive. He's not going to generate offense on his own. The problem is it's tough in today's cap era to surround him with decent wingers on a third line. Sutter makes $3.3 million. If you assume above-average wingers cost at least the same, an ideal third line for Sutter would total almost $10 million. The Penguins will never be able to afford that in the Sidney Crosby-Evgeni Malkin model. Prediction: A team with a second-line center need will come to the same conclusion and trade for Sutter this summer.
That team with the second-line center need was Vancouver. The Canucks thought Nick Bonino was going to be the ideal replacement for Ryan Kesler — at least according to goal totals — when they swapped the two last summer.
"Bonino was an important piece," Benning said regarding the Kesler trade at the time. "Ryan scored 25 goals for us last year. [Bonino] scored 22 goals last year, so being able to replace [Kesler's] goal production for our team next year…I thought that was important."
Benning failed to consider that Bonino spent significant time alongside Corey Perry and Ryan Geztlaf and on the top powerplay unit that season in Anaheim. Last year, Bonino got slotted primarily with Chris Higgins and Alex Burrows in Vancouver. He had just 15 goals.
Bonino, like Sutter, isn't capable of producing his own offense. That's not a problem for Pittsburgh, as he costs close to half ($1.9M) as much as Sutter ($3.3M) and cap flexibility is what they needed most. It might be a problem for Vancouver though, especially in light of the five-year extension they handed Sutter on Tuesday worth $4.4M per season.
#Canucks sign Brandon Sutter. His $4.375M cap hit in 2016-17 is the highest of any NHL forward to have never tallied over 40 PTS in a season

— Sportsnet Stats (@SNstats) August 4, 2015
If we use Benning's goal-scoring logic, Sutter is a good fit for the Canucks. He scored 21 goals for the Penguins and will likely move into a second-line center role in Vancouver. While that might seem like a great opportunity for a 26-year-old player to increase offensive production, I'm not as convinced.
The Western Conference is getting bigger each year. One Pacific Division GM told me he envisioned an 'arms race' of sorts for big forwards after Los Angeles won the Stanley Cup in 2012 and that seems to have played out.
Sutter really struggles with physical opponents. He's a smart player that positions his body and stick well from a defensive standpoint but can't win physical battles along the boards. That's not good news moving into the Pacific Division, however, Canucks GM Jim Benning sees it a different way:
"I think the West has gotten real fast. Teams are either built one of two ways. There are big, strong, physical teams that control the puck and play a heavy game. And then the other thing we've seen the last couple years are real fast teams. Teams that play with speed. I think Brandon's going to help us out in that area. He's a good skater. He's fast. He gets in on the forecheck so he'll help with our overall team speed."
Sutter's arrival also allows coach Willie Desjardins to slot 2013 first-round pick Bo Horvat into a more logical third line center role. Benning feels Horvat ended last season on a strong note but the team wants to be careful with his development.
"[Brandon] is a leader," Benning said. "He's got high-end intangibles. We're going to have some young players that are going to make our team in the next few years. Along with Bo Horvat and our other young players, Brandon will be a leader of that group."
The Canucks are paying Sutter more than $28 million over the next six seasons. They'll be hoping to receive more than just speed and intangibles in return.
__________________________________________________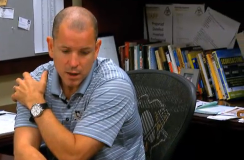 On to the reader questions…
Tony: Why would the Penguins let Assistant GM Tom Fitzgerald go to a competitor?
Fitzgerald was hired on the same day as Associate GM Jason Botterill in 2007 and the two men rose through the Penguins organization together under Ray Shero. But both were left in limbo — and still under contract — after Shero was fired last summer.
New General Managers typically evaluate the staff in place after being hired, clear the decks, and then bring in new executives that they trust. From the Penguins' perspective, they spent millions of dollars managing the transition from Shero to Jim Rutherford and at some point needed to right-size the front office.
Not to mention that Botterill's skillset (salary cap management) is simply more important to Jim Rutherford than Fitzgerald's (player development) at this point in the life-cycle of the franchise.
From Fitzgerald's perspective, taking a job with the New Jersey Devils allows him to escape the cloud of uncertainty surrounding the Penguins and ensure his future in a situation where player development will be critical.
How shallow is the Penguins prospect pool?
Going back to the day Sidney Crosby was drafted in 2005, the Penguins still possess the rights to only six players drafted by them in the first or second round: Beau Bennett (2010), Derrick Pouliot, Olli Maatta, Teddy Blueger (2012), Tristan Jarry (2013), and Daniel Sprong (2015).
__________________________________________________
@MikeColligan Scuderi has a NTC but does he have a NMC? Could the Pens bury him in WBS and pocket 925k? Could sign a decent vet F with that.

— … (@69416073279) August 2, 2015
As far as I know, Scuderi only possesses a limited no-trade clause. If that's the case, he can be waived and ultimately demoted to Wilkes-Barre of the AHL.
Under the rules of the CBA, the Penguins would receive $950,000 in cap relief from Scuderi's $3.375 million cap hit if he were demoted.
__________________________________________________
@GunnerStaal @MikeColligan Kunitz and Perron are clearly the best LW on this team, so why is everyone anointing Plotnikov Malkin's LW?

— mound (@PITmounD) July 29, 2015
The Malkin-Plotnikov connection obviously comes from their shared Russian heritage. Rutherford envisions Malkin being a mentor for Plotnikov off the ice as he transitions to life in the US, but I don't consider him a lock for a position on Malkin's wing by any means.
His skating and ability to keep up with the Penguins' blazing fast elite forwards is my concern, based on limited viewings of Plotnikov. His physical style would also be a good fit on a third line with newcomer Nick Bonino and veteran Pascal Dupuis.
It wouldn't be a shutdown line, but it'd be a third line capable of scoring timely goals — something the Penguins have been searching for since the departure of Jordan Staal.