One thing is for certain, the Dallas Stars will be returning to the postseason in just a few short weeks. They have already clinched their spot in the Stanley Cup playoffs and are currently in a battle with the St. Louis Blues for the top spot in the Central Division and perhaps the entire Western Conference.
The Stars find themselves in their current position for three reasons. Scoring, scoring and scoring. Maybe it isn't quite that simple, but that at least gives you an idea. No team has more goals-per-game than Dallas this season as they have put up 3.22 goals-per-game in 76 contests. The Washington Capitals are the next best team with 3.08 goals-per-game. While the goaltending has improved from last season, the Stars are still giving up a ton of goals. They are 22nd in the league in goals-against-per-game.
Still, they have found ways to win thanks to offense and timely goaltending. The statistics aren't pretty because of the chances they face, but the Stars' goaltenders have made the right save at the right time often enough this season.
If the Stars win the Stanley Cup, they will have done several things along the way. Let's check out why they will win it all this season.
If you'd like to see why they will not win it all, you can read about that here.
Too Much Firepower
The offensive talent that Dallas can throw out on the ice every shift is unmatched throughout the NHL. Generally what you're seeing is Jamie Benn and Tyler Seguin on one line, Jason Spezza and Patrick Sharp on another and then players like Val Nichushkin, Ales Hemksy, Mattias Janmark and Cody Eakin scattered throughout the rest of the lineup. It's hard to match up against. Many coaches in the postseason like to deploy defensive units against the opponent's top scoring threats. Who do you shut down on the Stars?
You can try to shut down Seguin and Benn but then you have a line of Spezza, Sharp and Nichushkin to deal with moments later. Benn and Seguin often find ways around shut-down lines anyway. Benn and Seguin have gone head-to-head with the defense pairing of Shea Weber and Roman Josi for over 25 minutes at even strength so far this season. They've scored once and given up two goals but have posted a CorsiFor% of 59.7.
They've gone up against Duncan Keith for almost 20 minutes this season, trading goals and putting up a CorsiFor% of 64.1. With Keith and Jonathan Toews both on the ice against them, the dynamic duo has put up a CorsiFor% of 70.
When up against Drew Doughty, the stats are similar. A CorsiFor% of 61.1 when up against Doughty. They've posted a 66.7 CorsiFor% when both Anze Kopitar and Doughty are on the ice together.
Are they small sample sizes? Absolutely, but they've performed well against top defensive competition and it still leaves weaker defensemen for some of the other scoring units that the Stars have.
Another reason the Stars are so difficult to match up against is the constant line juggling that happens throughout the game, courtesy of head coach Lindy Ruff. There have been games this season where each period has brought entirely different lines. One period you are up against two lines of Benn-Seguin-Eaves and Nichushkin-Spezza-Sharp. The next period you're up against Benn-Seguin-Sharp and Janmark-Spezza-Eaves with Nichushkin down on a line with Hemsky. Everyone on Dallas seems comfortable playing with one another which helps them match up well against defensive opponents.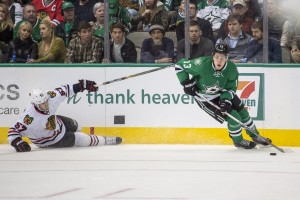 Although they give up their fair share of quality chances, the Stars are often able to get away with it simply because they have the puck much more often than their opponents. They are fifth in the NHL in even strength CorsiFor%, fifth in ScoringChancesFor% and tenth in HighDangerChancesFor% (courtesy of war-on-ice.com). They are able to put up those numbers because of the amount of offensive talent they possess.
Never Out of It
Only the Washington Capitals and Los Angeles Kings have a better winning-percentage when the opponent scores first than the Dallas Stars this season. They have players in that locker room believing they can out-score any deficit and it has helped them stay in games more often than not this season.
When the Stars are down, they put mass amounts of pressure on their opponent. Dallas is second in the NHL in goals scored while they are trailing, just 10 behind Ottawa for first in that regard. Ottawa has also played almost 500 extra minutes in trailing situations. The Stars have the second-best goal differential in the NHL while trailing behind only the Washington Capitals. Only five teams have a higher CorsiFor% while trailing than the Stars as well.
It stems from Captain Benn's refusal to quit on a game. You can tell when the Stars are trailing without looking at the scoreboard simply by looking towards Benn. He will be ultra-physical and it will feel like the puck is always on his stick. Only Erik Karlsson has amassed more points while trailing than Benn and Karlsson has almost double the amount of time-on-ice while trailing. That determination trickles down to the rest of the team and has made for some incredible comebacks this season.
Winning the Close Ones and Putting Them Away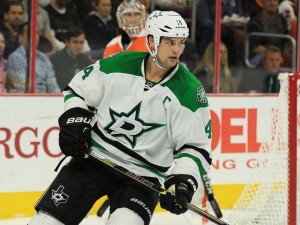 Games tend to be tightly played in the postseason and if the regular season is any indication, the Stars should fare well in those contests.
The Stars have completely flipped the switch on being able to put games away this season, something they struggled mightily with last season. They have 20 empty-net goals this season, most in the NHL. That has helped them earn the third-best winning-percentage in two-goal-games in the entire league. They've been given the go-ahead to risk icings by firing towards the empty cage and it has paid off this year.
Their performance in tight games has helped the Stars rack up the wins so far. While playing 5-on-5 and in close game situations (within one goal in periods one and two or tied in the third), Dallas has put up 104 goals which is by far the best in the league. Their +13 goal differential in close games is sixth-best in the NHL behind four playoff teams in the East and the Los Angeles Kings. The Stars have also posted a 5-on-5 CorsiFor% of 53.3 in those situations, fourth-highest in the NHL.
Will it Be Enough?
If the Dallas Stars continue their dominance in those three aspects of the game, they will have a good shot at winning the Stanley Cup. It starts there though, as the goaltending and defense cannot be relied upon to win 16 games in the postseason. If the Stars are going to have a realistic shot at winning the Cup, it will be the offense that carries them to it.
Jordan has been covering the Stars for The Hockey Writers since February 2015. He is originally from Iowa City, Iowa. You can follow Jordan on twitter @jordan_dix