The much-anticipated 2015 NHL entry draft will take place on Friday in Florida, and the two big names of the day are Connor McDavid and Jack Eichel. They will be always linked together, their careers will forever be compared, and in ten years time we may be debating which player should have gone first overall. If McDavid wasn't eligible this year, there is little doubt that Eichel would be the consensus first overall pick. However, this draft belongs to McDavid. He is the one the scouts are pointing to as the best, though Eichel himself would disagree.
The social media hype-machine is in full force when it comes to these two kids, both of whom have yet to suit up for an NHL game. I understand the love affair we have with these kinds of stories. Two "generational" talents, a Canadian vs. an American, the endless debate over which player will have a better career. If you want to know my opinion, well I'm in the McDavid camp. I believe his hockey sense, his speed, his anticipation, his hands, his work ethic, and natural-skill is second to none. But obviously someone was going to offer a predictable argument that Eichel could still go first.
Some Buffalo Sabres fans will tell you that they wanted Eichel all along, because what else are they going to say? They have to save face in this situation, ignoring the obvious disappointment coming from the team when the Edmonton Oilers won the draft lottery. Make no mistake, though, because Eichel isn't considered a consolation prize. He's going to be a great player. But at the end of the day, we don't know who will end up better. Even the best projections can still be wrong. And over the past few years, we've definitely seen mistakes atop the draft, and there are certainly debates still raging.
Here is a look at the comparables of some recent drafts. *Note: A minimum of 200 games played is required*
2004: Alex Ovechkin vs. Evgeni Malkin
Ovechkin: Age 29, 760 regular season games, 475 goals, 420 assists, 895 points
Malkin: Age 28, 587 regular season games, 268 goals, 434 assists, 702 points
The Penguins were the worst team in the league but lost the draft lottery, missing out on Alex Ovechkin. But, some would argue Malkin is the more skilled player of the two. He and the Penguins have won a Stanley Cup, while Ovechkin and the Capitals are still looking for their first. Ovechkin has been able to stay healthy, while Malkin has dealt with consistent injury issues. OV is arguably the best goal-scorer of our generation, but has yet to play in a conference final. In retrospect, which player would you choose first?
2006: Erik Johnson vs. Jordan Staal vs. Jonathan Toews
Johnson: Age 27, 456 regular season games, 48 goals, 145 assists, 193 points
Staal: Age 26, 607 regular season games, 151 goals, 192 assists, 343 points
Toews: Age 27, 565 regular season games, 223 goals, 283 assists, 506 points
There is little doubt that the St. Louis Blues probably would have taken Toews if they could go back in time. Perhaps the Penguins would have as well (they already had Crosby and Malkin, though). Interestingly, Nicklas Backstrom and Phil Kessel went four-five respectively, both stars in their own right. Of those five players, who would you have chosen first?
2008: Steven Stamkos vs. Drew Doughty
Stamkos: Age 25, 492 regular season games, 276 goals, 222 assists, 498 points
Doughty: Age 25, 524 regular season games, 66 goals, 201 assists, 267 points
This debate is a fascinating one, because while Stamkos is regarded as one of the best snipers in the league, Doughty is one of the game's top defenceman, and he has two Stanley Cups on his resume. Having a cornerstone defenceman is so crucial in this game, and Doughty is that guy. But Stamkos is certainly no slouch. Which player would you rather have on your team?
2009: John Tavares vs. Victor Hedman
Tavares: Age 24, 432 regular season games, 174 goals, 227 assists, 401 points
Hedman: Age 24, 392 regular season games, 39 goals, 143 assists, 182 points
Another forward vs. defenceman situation. Tavares was the consensus best player without question at the time of that draft, but Hedman is emerging as one of the better defenders in the league. At this point, I would still go with Tavares. What say you?
2010: Taylor Hall vs. Tyler Seguin
Hall: Age 23, 299 regular season games, 106 goals, 157 assists, 263 points
Seguin: Age 23, 354 regular season games, 130 goals, 152 assists, 282 points
We didn't know with certainty that the Oilers would choose Taylor Hall, though ultimately they did, and many still question who is the better player. Hall has better stats in fewer games played, and no offence to Edmonton, but all while playing on a bad team. Is Seguin the beneficiary of playing on better teams and with better supporting casts? I would still take Hall by a slim margin, but not everyone would agree.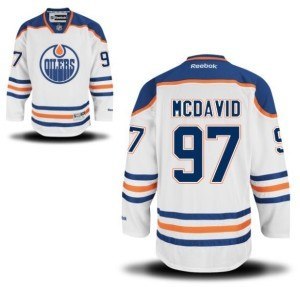 This stroll down memory lane has taught me something: Debating a players superiority to another is not a black and white issue, because there are so many factors to consider; the team, the quality of line-mates, and injury luck to name a few. I'm going to settle the McDavid/Eichel debate in this way: Let's enjoy watching these guys as individuals rather than by comparison to each other. If we're going to debate something, I'd rather see if Jack Eichel can become one of the best American-born players in history, instead of calling him "the guy picked after McDavid". I'd rather see how far these two guys can take their respective teams.
Which one will be better? I have no idea. I just hope they both have long and illustrious hockey careers so that the fans can enjoy watching them for years to come. And we should let them actually start playing in the NHL a little before wondering who should have gone first.
Marcy, a former hockey player, is a hockey correspondent on CTV News and TSN radio. She began her career as a Sports Journalist in 2009 and has been part of The Hockey Writers since 2010, where she is currently a senior writer and editor.