There is a common narrative that tends to run through almost all sports at almost any level. Defense wins championships.
That line may ring true, but one thing is for certain — if Team North America wants a shot at the trophy in the World Cup of Hockey, their defense will have to stand tall against some of the best offensive talent hockey has to offer.
The stellar under-23 team boasts an outstanding crop of young defensemen. The defenseman who made the cut are Aaron Ekblad, Shayne Gostisbehere, Colton Parayko, Seth Jones, Morgan Reily, Jacob Trouba, and Ryan Murray. While these young guns may have an absence of experience, they certainly make up for it with the grit, speed, and explosiveness that they bring to the table.
So will the highly touted youngsters fare well in the tournament? Let's take a closer look.
Dynamic Defensemen
Dynamic is the name of the game for a few guys on the North American roster, and no one demonstrates that better than Shayne Gostisbehere of the Philadelphia Flyers.
Known to Flyer fans as "The Ghost Bear" (save the emojis for later), the lively 23-year old defenseman was called up this past season when Flyer veteran Mark Streit was sidelined with an injury for a few weeks. Gostisbehere brought life to the Flyer power play and revamped the team as a whole. They eventually broke out of their scoring slump and punched a ticket to the playoffs.
That is a prime example of how he is fearless when jumping into a play, and it is the cornerstone of what makes him such a dynamic defenseman. Gostisbehere finished 1st among NHL defensemen in overtime goals, second in shooting percentage, third in game-winning goals, and 8th in points-per-game, despite only having played on three-quarters of a season.
That is the guy North America  will heavily rely on to create offense from their own zone. He will no doubt be one of the key pieces moving forward in the tournament, especially in clutch situations.
But the aggressiveness doesn't end with Gostisbehere. Enter Morgan Rielly.
Rielly is an interesting player, in the sense that he possesses a very intriguing skill set, but hasn't yet found chemistry in Toronto to be a top tier offensive defensemen. Take a look at his scouting report from Hockey's Future:
"Rielly was the top offensive defenseman in the 2012 draft class, and one of the WHL's top defensemen in 2013.  His skating, passing, and puck skills are all top-notch, and he puts those skills to good use.  Rielly has the look of a future power-play quarterback and puck-rushing defenseman.  He'll need to work on his defensive game, but that isn't likely to keep him from making an arrival in the NHL sooner rather than later."
Despite being a top-10 pick, he hasn't had the chance to prosper in Toronto as of yet, and as everyone knows, the Toronto defense has been an overpaid, hot mess for years now. That doesn't bode well for Rielly's case.
Despite Toronto's defensive troubles, he has still managed to increase his point production every year since he joined the Leafs three seasons ago.
That is just a small sample of what Rielly is capable of when given space and time, in fact, it's a lot like what Gostisbehere brings to the table.
North America has two defensemen that are both dynamic enough to stand their ground in front of the net, create a structured breakout, and go end-to-end if needed. That is really something that only team Canada can match, and that will help them moving forward.
How About Defensive Defensemen?
All this talk about scoring and we're almost forgetting about defensive play and luckily there is no shortage of two-way and defensive defenseman on the North American roster.
The first of those can be found in 6-foot, 6-inch defenseman Colton Parayko. Parayko broke into the NHL this season with the St. Louis Blues and made his mark on the blue-line in almost no time at all. He is a big defenseman, but quick on his feet, and has a monster shot from the point.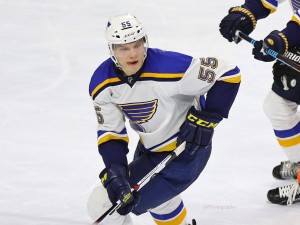 Aside from those characteristics, Parayko also has outstanding possession metrics. The 23-year-old had the best Corsi-percentage among all rookie defensemen (55.08%) and finished in the top-20 among all NHL defensemen. Those numbers also were tops among St. Louis defensemen, beating out Kevin Shattenkirk and Alex Pietrangelo.
The other big gun on the blue-line, and possibly one of the most important anchors to the blue-line, is Aaron Ekblad. Ekblad came to Florida as the first overall pick in the 2014 NHL Draft, and he immediately made an impact in Florida and has been a huge part of the resurgence of the Panthers in recent years.
Ekblad finished his rookie season with 39 points and found himself with some hardware, winning the Calder Trophy at just 18-years old. He, like Parayko, also led all rookie defenseman in Corsi-percentage, and that was on a Florida team whose defense was nowhere close to as good as St. Louis's was. Ekblad has also established a plus-30 rating across just two seasons in the NHL which is incredibly impressive, especially at just 20 years old.
Who Matches Up?
Putting all of this together for the World Cup will prove to be tricky. Todd McLellan has a lot of talented defensemen on his hands, and here's who seems to match up best.
Shayne Gostisbehere/Aaron Ekblad – These two are arguably the most important pieces to North America's defensive corps. Gostisbehere brings the speed flexibility to start a breakout and escape a forecheck, something that will match up well with the speedy forwards of the team. He also is a guy who has proved to be clutch time and time again. Gostisbehere is to go to guy for creating offense on the backend.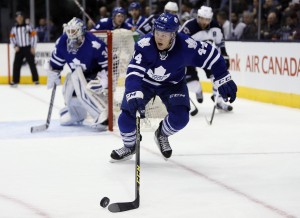 On the other hand, Ekblad has proved through two seasons already that he can handle top line defensive minutes. He's averaged nearly 22 minutes a night through his first two seasons. He is extremely responsible defensively, can quarterback a power play, and can kickstart an offensive if need be.
Morgan Rielly/Colton Parayko – This pairing definitely brings a lot of questions along with it, specifically on Morgan Rielly's side of things.  I mentioned before that he has an outstanding skill set, but has been stuck in limbo on a Toronto team that is just not very good. He will now be able to use his speed and finesse to thrive while on the ice. Couple that with the fact that he has Colton Parayko alongside him and a very lethal combination could arise for North America on the blue-line.
Seth Jones/Jacob Trouba – This third line pairing should be more than sufficient to get the job done for North America. Neither of these guys will light it up offensively, but they fit the role for third line defensemen. Jones hasn't really lived up to all his hype since being drafted and was largely overshadowed in Nashville by Roman Josi and Shea Weber. Jacob Trouba had a very good first two seasons for Winnipeg, however, he saw his numbers drop this past season, despite playing in more games.
Regardless of who the pairings are, the top four defensemen for Team North America are going to be extremely exciting to watch. Their speed, size, finesse, and playmaking abilities should lead the team to prosper throughout the tournament, and I wouldn't be surprised if it punched them a ticket to the championship.
---
The Hockey Writers coverage of the World Cup of Hockey 2016 is being brought to you by PrimeSport, the official Fan Travel & Hospitality Package Partner of the World Cup of Hockey 2016.
Matt is a contributor for the Philadelphia Flyers at The Hockey Writers. He has previously covered the Flyers for GrandstandU. He enjoys playing hockey and making music in his spare time.